Hamilton Bermuda Hotels
Our Top Picks
So you are looking for the right Hamilton Bermuda hotels. You want to stay at the heart of Bermuda, enjoy everything this island has to offer, and get all in one place. 
Yes, it's a great place to stay, but only if you find the right hotels in Hamilton Bermuda. 
Frankly, my family and I end up spending much of our time in the city of Hamilton irrespective of where we stay during our vacation in Bermuda. 
Why is that so?  
Hamilton is the city port and capital of Bermuda. All the sightseeing boats, ferries and local buses depart from Hamilton. Many of the major cruise liners arrive at the Hamilton harbor. The bustling Front Street is the main shopping area of the island and this is where you will also find many of the best Bermuda restaurants and dining choices.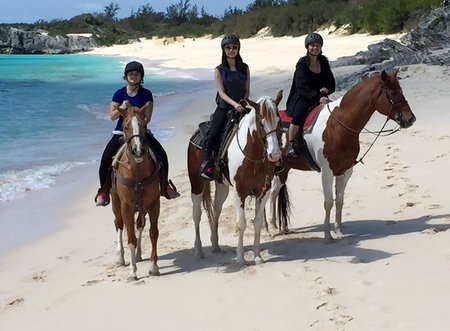 However when it comes to finding accommodations in Hamilton, we are extremely choosy. We have been coming to Bermuda since many years. From all our experience, we now have a fair idea about which are the hotels in Hamilton that offer the best value for money. 
But before I give you the list of our top favorite Hamilton Hotels, let me tell you something that is important for you to note.  
Except for one private yacht club accommodating visitors, there are really no hotels right inside the city limits of Hamilton. However, there are a number of them nearby within the Pembroke parish. And many of them are quite conveniently located, and within a few minutes walk or bus ride to the city center. 
One more point before I pen down our top picks of Hamilton Bermuda hotels: There are some hidden facts that we discovered during our stays in Bermuda. 
7.25 percent Bermuda tax is added to room tariff 
A service charge, ranging from 10 to 15%, also gets added to your room rate in lieu of tips 
Service charge does not cover bar tabs  
Children tariffs vary according to their age  
Here are my categories for Hamilton Bermuda hotels. I have done this based on the rates charged for a double room during tourist season (May - October). During off-season (November - April), the rates of these Hamilton Bermuda hotels can be considerably lower. However note that the rates are only indicative and subject to change. 
$:       100$-150$ : You won't get a decent one in Hamilton at this rate :( 
$$:     150$-250$ 
$$$:   250$ - 350$  
$$$$: 450$ onwards  
Mazarine by the sea has a lovely cottage and 7 apartments in Bermuda. It's right on the oceanfront and offers a great budget accommodation for a quiet stay. It is only 10 minutes walk from the city of Hamilton on the North Shore Road. This is where it gets as quiet as it can be in near Hamilton Bermuda. Great choice for a romantic vacation. 
Kingston House Bermuda offers a superb B&B lodging option if you prefer to stay a little away from the main city of Hamilton. The house, which gives a casual relaxed feel with home comfort, is located at an elegant garden suburb on the west of Hamilton city. If you like tranquility but want to be close to all the city actions, this can be a great choice.  
Robin's nest offers a set of excellent self-contained apartments in Bermuda. If you like to stay a little away from the main city of Hamilton, this can be an excellent option, although it takes only 10 minutes to reach the city by bus. 
Rosemont offers very nice Bermuda apartments in a central location in Pembroke parish. Most of the apartments have great views of the Hamilton harbor. This property is only few minutes away from the downtown Hamilton and provides all convenience required by both vacationers and business travelers. 
This is probably the only Bermuda inn which was built specifically as a guesthouse. Oxford House has won the Guesthouse Merit Award from Bermuda Department of Tourism every year since 1996. It's located in a fashionable garden suburb of Hamilton. 
This elegant hotel is located on a tree-lined lane near Hamilton and offers some of the best Bermudian hospitality. You have a choice of either the pink manor houses or estate's quaint white-roofed cottages. All are surrounded by lush tranquil gardens where you can enjoy the sun on lawn chairs or on the terrace beside a secluded pool.  
Rosedon hotel Bermuda is a quiet, friendly and a relaxing place, and is surrounded by lush tropical gardens. The hotel has 44 rooms individually decorated with traditional English and Island flair. The hotel employs a staff of 30 people. On an average the staff members have been with the hotel for 20 years or more. One gets the feeling of one happy family working together. 
Located right on the Hamilton harbor, Waterloo House Bermuda is an elegant and one of the most British of the Bermuda hotels. With a manor house and surrounding cottages dating back to 1815, the hotel has over four acres of terraced gardens. 
There are 410 elegant rooms and also suites of varying sizes and decor, many with private balconies, overlooking the Hamilton harbor. The harbor with colorful sailboats and sleek yachts looks marvelous from the hotel. 
Related Articles 
1) Check out
Hamilton Bermuda
for hotels, restaurants, attractions, activities and other information about Hamilton city. 
2) Check out
Pembroke Parish
know about where Hamilton City is located and also about all its attractions, activities, restaurants, hotels and more. 
Stayed in Hamilton Bermuda Hotels?