Bermuda Dockyard Glassworks
Do you love glassware?
The Bermuda Dockyard Glassworks is the place to go if you love glassware. It has a wonderful selection of classy glassware. 
You can buy items reflecting Bermuda life, including whistling tree frogs, honeymoon hogs, multi colored angelfish and local birds. 
You also get plates, pitchers, objects d'art, jewelry. They have it all. They are all so beautifully crafted and are so colorful. Some of them can be quite pricey. So don't look at the prices to begin with. 
Rather watch flame-work artists, lamp workers and bead makers at work creating those beautiful items. You can sit in the spacious studio's armchair theatre and watch how the beautiful glassware items are created right in front of you. 
Dolphin - Bermuda Dockyard Glassworks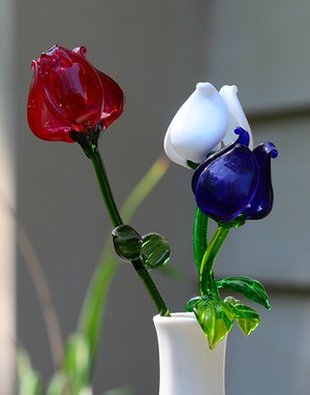 And now if you look at the prices, you will understand the real worth of the items and why they are priced such. 
At the lower end, there are little glass frogs, fish and other small items. priced from $10-$25 or so. Some of them are filled with colored sand. Or at the more expensive side, you get plates, pitchers, glasses and so on. Here the prices can be hundreds of dollars. It all depends on what you buy. The dolphin on the left was priced at $125. 
Related Articles 
2) Check out
Bermuda Glassware and Ceramics
to explore all the exquisite glassware items & crystals that you can get in Bermuda and the best places to buy them. 
Visitors' Reviews & Comments 
Review and share your experience.