The Harmony Club Bermuda
Located in Paget Parish, Harmony Club Resort has Bermudian cottage-style architecture with a beautiful garden setting. The resort has 72 air-conditioned guestrooms with pink-and-white colors. Rooms are either of traditional decor with Queen Anne-style furniture and hardwood floors, or contemporary decor with light-colored furniture and tiled floors. 
Rooms are furnished with Cable/satellite TV, Air conditioning, Climate control, Telephone with Voice mail, dial up Internet connection, Coffee/tea maker, Hair dryer, Ironing board, In-room safe, Clock radio and such.  
Next to the lobby there is a small sitting area and lounge. You can enjoy live musical performance here in the evenings.  
The hotel has a swimming pool, sauna, spa tub, putting green, and two tennis courts. You can also avail discounted scooter rentals right next to the hotel.  
Harmony Club Bermuda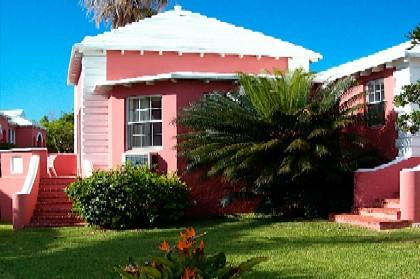 Harmony Club has three nice restaurants: 
Casuarina - Offers buffet breakfast. It also serves dinner with choices of appetizers and main courses, such as porcini-mushroom ravioli in white-wine sauce or Mediterranean-style stuffed pork loin. Manu changes every night. 
The Tavern - Daily lunch served with soup, salads, sandwiches and hot items. Also, daily afternoon tea with cakes, finger sandwiches, and cookies.  
Bay Grape - Casual bar/lounge serving wine, cocktails and other drinks. There is a live musical entertainment and dancing most nights.  
UPDATE: Harmony Club Bermuda has closed down. This gorgeous resort has closed in 2008 and no longer available as commercial accommodation to visitors. This used to be one of our favorite resorts in the island. 
So what happened to it? 
Bermuda Government has now taken over Harmony Club and uses it to accommodate government officials and overseas police hires. Adults only resort Harmony Cub used to offer all-inclusive packages until 2005. After that it switched to regular plans with rates including only breakfast and room. It continued to run as an adults resort until it was sold out to the Bermuda Government in 2008. 
Related Articles 
Visitors' Reviews & Comments 
We'll be celebrating our 24th anniversary on April 23rd. We've been looking at places to stay in Bermuda for next year on our 25th. Did the government maintain the beautiful gardens at Harmony Club? We renewed our marriage vows under the moongate in the gardens on our 10th anniversary. The magic of Bermuda has kept our marriage going and we're still in love. If they did maintain the gardens could we renew our 25 year vows? 
Just a couple of onions - Bill & Carol (March 2012) 
Hi, The gardens have been maintained as before. Unfortunately Harmony Club has been taken over by the Government and is close to public since 2008. It is now managed by Bermuda Housing Corporation and used for Government officials and overseas police. I'm sure you will find many other great properties in Bermuda with beautiful gardens and moongates to celebrate your 25th anniversary. Wishing you all the very best - Raj 
We stayed @Harmony club in 1988 on our honeymoon. We loved the place & staff sooo much we went back for 12 more years. Balcony 66 was our favorite. We renewed our vows in 1998 in the gardens under the moongate. The moongates & God up above continued to bless & protect our marriage. April 23rd we will be married for 23 yrs.We thought on our 25th we could renew those vows again @ Harmony Club. - Bill & Carol