Bank Of Bermuda
Now HSBC Bank Bermuda Limited
Bank of Bermuda, now the Head Office of the HSBC Bank Bermuda Limited, is one of the few high-rise buildings in Hamilton as most of the town structures are less than three stories in height.  
The Head Office of the bank is located on Front Street near the ferry terminal. Inside the head office the bank has a collection of rare and valuable coins dating back to historical times. There is a 1887 made 5-pound coin which caused a lot of anxiety among the British once. Why so? 
The coin depicted queen Victoria wearing a crown. The crown on the coin was so small, many thought that the queen looked ridiculous with such crown on her head. And that created a big confusion and anxiety among the people of Bermuda. Within the local community, the bank provides services such as Savings and Checking accounts, Loans and Mortgages, ATM and Debit card facilities, Portfolio and financial planning services and such. 
Bank of Bermuda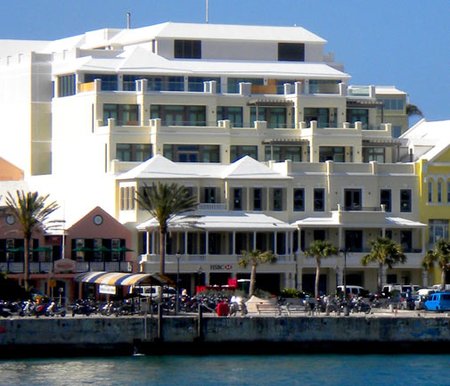 For foreign investors and customers, it offers Commercial Banking, Asset Management, Global Fund Services, Corporate, Investment Banking and Markets activities. 
Since 2004, the Bank of Bermuda has become part of the HSBC group. 
Update: Sadly, the bank doesn't have coins on display any more, the Head Office building is no longer open to the public. 
Address and Contacts 
HSBC Bank Bermuda Limited (Formerly Bank of Bermuda) 
Head Office: 6 Front Street, Hamilton HM 11, Bermuda. 
There are several branches in Bermuda. 
Phone: 441/295-4000 Fax: 295-7093 
Website: www.hsbc.bm 
Open Hours & Services 
Branch: Harbourview Center, 37 Front Street, Hamilton. 
Monday - Friday: 9:00am - 4:30pm 
24-hour ATM facility, Advance Order Pick Up, Quick Deposit Box, Safety Deposit Box, In-Branch Internet Banking, Same day credit for ATM deposits etc. 
Related Articles