Carter House Bermuda
Carter House is one of the oldest homes in Bermuda built in 1640 by the descendants of Christopher Carter. So who was Carter? 
George Somers was the first who started the British colonization in Bermuda in 1610. 
When he started his sail towards Jamestown from Bermuda, he asked three men to stay back to continue the British claim of Bermuda. Carter was one of those who stayed back. 
So why Carter out of the three who became so well known? 
Carter was actually a rogue of a kind. He along with the other two found huge amount of Ambergris on the shore. Ambergris is a waxy substance that is secreted by sperm whales. It was earlier used in making perfumes and was supposed to be very expensive. 
Carter House Bermuda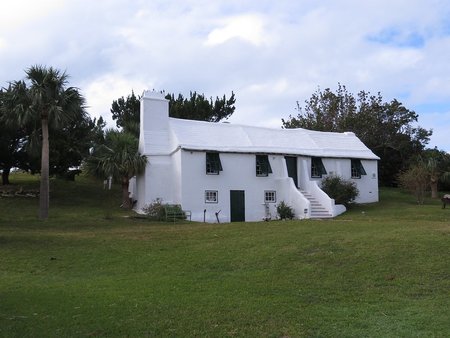 When the three men found such huge quantity of Ambergris that were washed ashore, they decided to smuggle it back to England. However on the final day when they all got into the boat, Carter lost confidence and instead handed over his two mates to Governor of Bermuda putting the entire blame on them. 
So Carter survived and finally settled in Coopers Island in Bermuda. His descendants later built this house known as the Carter House in Bermuda. In 1700s, Carter's great grand daughter Martha Hayward lived in the house for many years. 
The building is made of Bermuda stone. Upper floor can be reached by an outside staircase as you can see in the picture. There are large chimneys on the sides. It is a great example of Bermuda's old vernacular architecture.  
The house has survived all the hurricanes since it was built including the devastating 2003 hurricane Fabian. The house has been maintained almost to its original colonial condition.  
Earlier during the US Military operation in St Davids (between 1941 - 1995), there was no public access and Carter House was used as a beauty parlor. Now it has become St Davids Historical Society Museum. You will see exhibits depicting history of Bermuda including whaling, farming and other aspects. There are antique furniture and artifacts inside including an old tavern table. You will also see the original cooking fireplace. 
Bermuda government is now working on endemic plantations in the area surrounding the Carter house. If you look around, you can see many types of endemic trees including loquats and palmettos. 
You can visit Carter House on Wednesdays between 10am and 3pm. There is no admission charge. However, do check the entry timings before visiting. 
Location and Contacts 
Address: Southside Road, St David's, St George's Parish 
Phone: (441) 293-5960; Bus route #6.  
Related Articles 
1) Check out
Bermuda Museums
for great museums & historical buildings in Bermuda. 
2) Check out
St George's Town
to know about the historical Town of St. George, its attractions, activities, restaurants, hotels and more. 
3) Check out
St. George's Parish
to know about the parish where the town of St. George is located and all its attractions and activities. 
Visitors' Reviews & Comments 
Review and share your experience.