Town Hall at St. Georges Bermuda
Town Hall is located at the eastern side of King's Square in St. Georges Bermuda. The building was originally constructed in 1782 during the British colonial days. 
Today, the Mayor of the town and the council meets here regularly to take decisions related to the town's administrative matters. 
Bermuda cedars
have been used extensively for the interiors which is aesthetically designed and has lovely cedar ceiling and floor. 
Here are what you will see inside: 
1) A flagstone has been brought in 1998 from Sir George Somers's home town in England and has been laid at the entrance way of the town hall. Somers was the founder of Bermuda whose ship
Sea Venture
strayed in a storm and wrecked near the shore of St. George. 
2) Portraits of earlier Mayors of the St. Georges town. For over 100 years, mayors have been holding the civic government meetings at the town hall. 
Town Hall, St. George Bermuda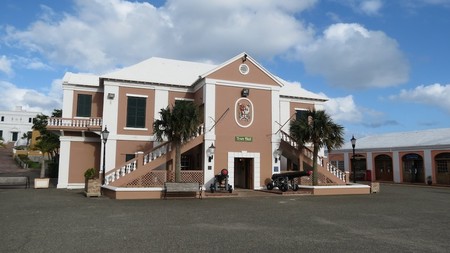 3) Bermuda cedar furnishing, chairs and tables along with Mayor's Throne. If you want, you can sit on one of them and get your own photograph taken. 
4) An 1861 painting of
St. George Harbor
created by the Edwin James, a renowned British artist who was a resident of the town. 
5) Letters from Queen Elizabeth II, etc 
Inside Town Hall, St George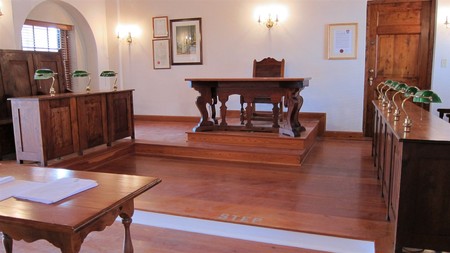 Admission is free. There are toilets just behind the Town Hall. 
Open Hours 
Open to public 10a.m - 4p.m, Monday-Saturday (when not in session). 
Location and Contacts 
7 Kings Square, Town of St. George's, Bermuda 
Phone: 441/297-1532 
Related Articles 
1) Check out
St George's Town
to know about the historical Town of St. George, its attractions, activities, restaurants, hotels and more. 
2) Check out
St. George's Parish
to know about the parish where the town of St. George is located and all its attractions and activities. 
Visitors' Reviews & Comments 
Review and share your experience.