Crystal Caves Bermuda
Located in Hamilton Parish Bermuda,
Crystal Caves
is one of the largest and famous caves in the island. It is about 36 meters (120 feet) below the ground level. 
With its dramatic formations of stalactites and stalagmites which are crystal-like pointed structures naturally formed out of limestone rocks, the view of the sight is just awesome.  
There is a lake called the Cahow Lake within the caves complex that has crystal clear water. 
You can walk over a pontoon bridge that goes across the lake. The lake has a depth of 17 meters (55 feet). 
As you walk over the bridge and look up, you will see stalactites dripping from the ceiling. If you look down through the perfectly clear water, you see stalagmites rising from the cave floor. 
Crystal caves Bermuda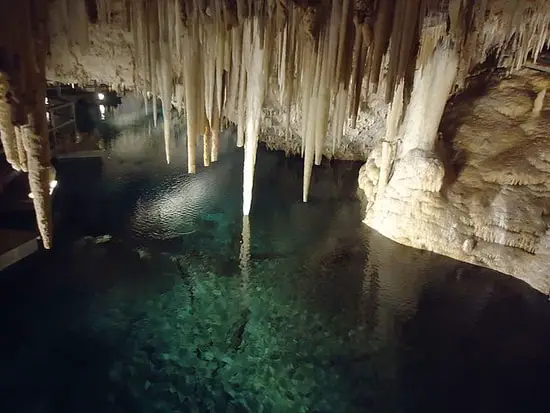 Crystal cave was discovered in 1905 when two young boys were attempting to retrieve a lost ball. They saw the ball dropping into a large hole. As one of them went deeper and deeper into the hole to fetch the ball, he realized that it wasn't an ordinary hole. It was leading to some wondrous cave. 
The owner of the property Mr. Wilkinson was immediately informed. He then used a rope and lowered his 14-year old son through the hole. At a depth of about 120-ft and using a bicycle lamp, his son for the first time saw the wonder of the caves. 
The hole through which the boys entered is still visible. But you don't need to now squeeze yourself through the hole to enter the Crystal Caves. A separate entrance has been created. 
Fantasy Caves Bermuda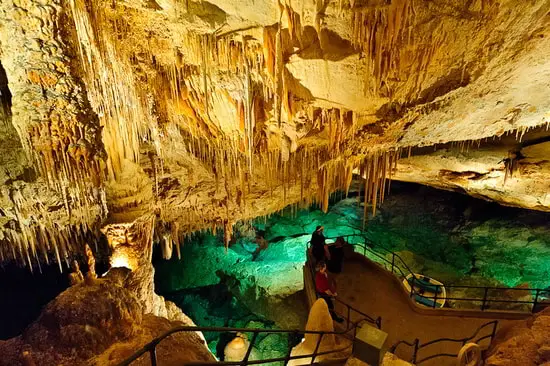 Close to the Crystal Caves is the Fantasy Caves located within the same complex and is one of Bermuda's natural wonders. This was initially opened as a show cave in 1914 and was closed down during the World War-II. It was later re-opened to the public. 
At Fantasy caves, the climb down is quite steep and therefore climbing up can be a little cumbersome and tiring. The guided tour for Fantasy Cave begins with a walk through the park that joins with the Crystal Caves. Fantasy Cave is a virtual jewel box filled with formations from top to bottom. 
You can see the rare chandelier like cluster of soda straw formations at the ceilings. Entire walls are covered with calcite mineral deposits that look like frozen waterfalls. It takes about 30 minutes to see one cave and 75 minutes if you plan to cover both Crystal and Fantasy caves. 
You can take a guided tour in the caves complex. The guides are quite knowledgeable and will give you lots of information about the caves, its history and the formations. 
Here is a
Map of Crystal Caves
complex. This will help you understand how the caves complex is laid out. 
There is a small gift shop at the Crystal Caves location called Fiddlestix. It sells small souvenirs and gifts. There is also a nice cafe called Cafe Olé having shaded tables and a menu of light meals, snacks, beverages and daily specials. 
For lunch you can also go for Bermuda's oldest and famous pub
Swizzle Inn
which is located close by in the same area, although they serve mainly pub fares during lunch time. 
Updates July 2011: There is one side of the Crystal Caves which the tourists never get to see. Far below the waters and under the boardwalk, there is a spectacular amphitheater that has been discovered by an elite set of divers very recently (see the picture below). The divers have found two giant pillars under the water and also a giant manta ray which is a rare sight in Bermuda's waters. They have also identified a deep cut on the reef face some 370 feet blow the water surface indicating where the sea level was some thousands of years back during Ice age. 
Crystal Caves Underwater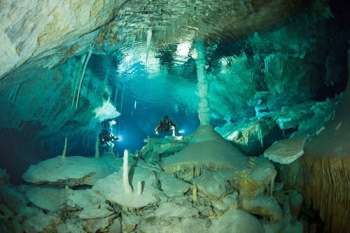 Photo by Jill Heinerth, a diver. 
Open Hours 
Both Crystal caves and Fantasy caves are open daily from 9am - 5pm. Last combination guided tour is at 4:30pm. The guided tour takes place every 20 minutes. 
Admission Fee: 
$22 for each cave for adults, $10 for children between 5-12, under 5 free. Combination ticket to both Crystal and Fantasy Caves is $30 for adults, and $12 for children between 5-12. Reservation is not required. Credit cards are accepted. 
Location and Contacts 
8, Crystal Caves Road, off Wilkinson Avenue  
Bailey's Bay, Hamilton Parish, Bermuda. 
Phone (Crystal Caves Information Center):  441/293-0640; Email: info@caves.bm 
Bus Routes: #1, 3, 10, 11 
Related Articles 
1) Check out
Bermuda Caves
to know about the other great caves in Bermuda. 
3) Check out
Hamilton Parish
to know about other great attractions in the parish. 
Visitors' Reviews & Comments 
Dan O'Brien (May 2013) 
I am visiting shortly and plan on going to the CRYSTAL CAVES with my elderly father. How many steps from top to the bottom of the caves. Thank you 
Raj (bermuda-attractions.com, May 2013) 
The complex has two caves - Crystal and Fantasy. Both caves have 80+ steps plus a ramp. Fantasy is deeper and has 88 steps. However the steps in Crystal cave is more gradual while fantasy steps are steeper. Both caves have handrails and places to sit on the way down or up. So one can take it easy and negotiate the stairs at slow pace. You will need to climb back up the same way. However if one has serious knee problems, or other difficulties like claustrophobia or heart problems, then I would suggest not to take the caves tour. It does get a bit humid inside as you climb down. But otherwise, it's a great place to visit. 
Debby 
Hello, I'm currently on a cruise ship in Kings Wharf (today and tomorrow) and only just learned about the Crystal/Fantasy Caves. I'd love to visit them during my time here and will try the ferry and buses you mentioned. What is the cost for the ferry and the bus? Can you also give me an approximate travel time to/from the caves by ferry and bus? Also, what would be a great but not too costly place to have lunch while I'm at the Caves and Kings Wharf? Any cultural foods I should try? I'm hoping to have as close to the 'native' experience as possible. Many thanks for your time and guidance. 
Raj (bermuda-attractions.com) 
Hi Debby, Check out this link for
Bus & Ferry Fares
. From Kings wharf take a direct ferry to Hamilton City (20 minutes) or to St. George (35 minutes). From there take a bus to Crystal caves (around 25-30 minutes). There are several restaurants around. From the Crystal caves you can try the Swizzle Inn (Bermuda's oldest and famous pub. You will get standard pub fares though). Here are all the other
Restaurants in Hamilton parish
where Crystal Caves is located. I have discussed the restaurants at Kings Wharf in the following link:
Kings Wharf Dockyard
. Bermuda fish chowder, wahoo steaks, pawpaw casserole, Hoppin' John peas & rice are some of our favorites and will give you some local flavor in food. Have a great time in Bermuda!! 
Celia Wickham 
Very interesting and awesome viewing... especially seeing Manhattan, the Empire State building and the World Trade towers AND... to learn upon my return to NYC that the two boys were boys of color who originally found the cave...one of them the grandfather of a friend...