Clairfont Bermuda
Great Apartments
Hotel Category: $  Location: Warwick Parish, Bermuda 

Clairfont Bermuda in our view is one of the finest apartments and budget accommodations in the island offering great value for money. 

 

Warwick long Bay

, one of our top favorite beaches in Bermuda is just minutes away by walk from Clairfont Bermuda. 

 

Furnishings at Clairfont, while not exactly fancy, are quite nice. Most of the rooms are quite spacious as well. Corrine Simons is the manager and she is really finicky about cleanliness. The hotel is virtually spotless. 

 

Kitchens and baths were upgraded in 2007. There are two studios and six one bedroom units at Clairfont Bermuda that are all self contained. All the units have fully equipped kitchens. All accommodations also have bathroom with tub and shower, air conditioning, telephone and TV. All units have either a balcony or patio with tables and chairs.  

 

Clairfont Apartments Bermuda 

 

The studios have king-size beds and separate kitchens. The four sunny upstairs units have balconies, and the downstairs apartments have patios, leading to a lawn and a nice pool.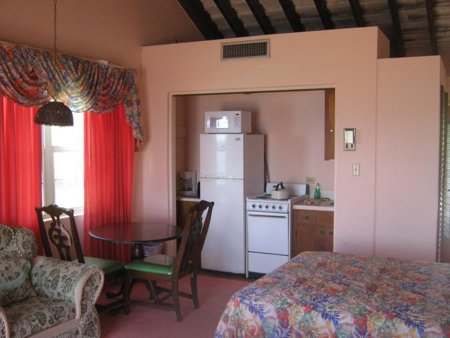 Since the accommodation at Clairfont is limited, one advantage is that it never looks crowded. However, the downside is that it becomes full easily and you therefore need to book well in advance. 
Clairfont Bermuda is very close to the south road where you can easily take buses to both Hamilton and Kings Wharf Dockyard. 
Nearby Attractions & Facilities 
Check out
South Shore Beaches
to know about the stretch of beautiful beaches, coves and a sandy trail that you can access so easily from Clairfont. 
The South Shore
Swizzle Inn
, a branch of Bermuda's famous old pub is also near by (to the east of the apartments) and is seven minutes by bus. If you walk quickly, you can reach in 30 minutes. The Italian restaurant
Tio Pepe is
located near Horseshoe Bay Beach.
Henry VIII pub
is located 10 minutes by bus to the west. You can buy your groceries from Modern Mart, a supermarket located 10 minutes by bus to the east. The nearest bus stop on the south road is about 3 minute walk from Clairfont Apartments. 
The Warwick Children Playground is 3 minutes walk (great for families with children). Hamilton city is only 17 minutes by bus. The nearest bus stand is about 3 minutes walk. 
Location and Contacts 
6 Warwickshire Road, South Shore, Warwick Parish.  
Phone: 441/238-3577, Cell: 441/334-8649, Email: clairfont@logic.bm. 
They accept credit cards. The monthly rates (that are available between November to February) are substantially lower than the daily rates. Repeat guests get 10% discounts on the room rates. 
Related Articles 
Visitors' Reviews & Comments 
Philip G (May 2013) 
My wife and I just spent five nights in early May 2013 at the Clairfont apartments (our decision to stay there was largely based on this web site). We found it to be a great value and very pleasant. We had a studio downstairs with a separate kitchen, all of it spotless. Marilyn Simmons, the owner and manager, is very nice and fair. Her son Ronald is helping to oversee renovations and upkeep and the other staff members were also very friendly. Long Bay beach is breathtakingly beautiful and very easy to get to on foot (just be careful crossing South Road!), as are Jobson's Cove and other nooks and crannies along the shore. 
There are a few noisy roosters in the neighborhood, but that sort of adds to the charm of living in a residential neighborhood as opposed to some megaplex resort. Walking along South Road is unpleasant, so get bus tickets and take advantage of the excellent service. The last bus back from Hamilton leaves at 9:15, which could be a nuisance if you want to stay in town late. I believe the number 8 bus runs later along Middle Road, and you could take it to Heron Bay marketplace and walk back about 1 mile along Camp Road (up and down a fairly big hill). 
We had the advantage of being there in the slow season and the apartment next door was vacant while the staff was busy repainting it. Perhaps if people had been staying next door it might have seemed a bit more crowded when we stepped outside, but when you look at the price of other hotels and the cost of dining out in Bermuda, the Clairfont is a great value and run by nice, hardworking people. 
Ron Moore 
The Clairfont has good reviews from repeat guests as having clean and comfortable or adequate rooms and the location appears to be ideal for a stroll to the gorgeous beaches and to the bus. We're forced to move from 1 room to another in the middle of our stay due to prior bookings and because it's our 30th anniversary, I looked last night at The Reefs for the last 4 nights with the current promotion (stay 4 nights, get $400 off). Unfortunately they are booked those nights and it didn't matter because the cheapest rooms are $570+!