Bermuda Weather in November
Temperature in November drops further compared to
October
and varies between an average high of 75 degree Fahrenheit to a low of 67 degree. 
The water temperature also comes down to 74 degree. But Water visibility remains at 100-120 feet making it a great time for scuba diving or even snorkeling. 
You will probably need a wet suit if you plan to be in waters for long. 
Cruise season comes to an end in November. But there are some great events that take place in Bermuda during November.  
The official hurricane season of Bermuda ends in November. There is a low chance of hurricane strike during this time. But even if it does, don't worry. Bermuda is generally well prepared to handle hurricanes compared to many of the Caribbean islands. To know when and how hurricane strikes in Bermuda and its impacts, check
Bermuda Hurricane
. 
Here is a picture of how a typical day in November looks in Bermuda. 
Typical Bermuda Weather in November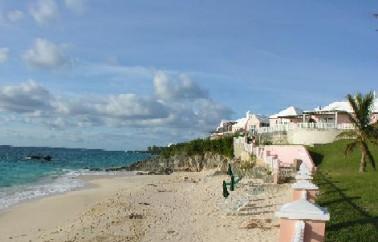 A chart showing average high and low temperatures in Bermuda in November. 
 

Air Temperature 

High (°F)

Air Temperature 

Low (°F)

Sea Temperature 

Average  (°F)

November

75.0

67.0

73.8
Note that the above temperatures are average over the whole month of November. A particular day may have highs or lows that may be slightly different from the above. 
The following chart shows typical temperature in November by time as the day progresses. As you can see in the chart below, the typical early morning temperature is at 70.3 degrees and then it rises during afternoon to 73.2 degrees, and drops in the evening to 70 degrees. The night temperature is the lowest. 
A typical November day temperatures in Bermuda by time: 
 

Early Morning 

(°F)

Afternoon 

(°F)

Early Evening 

(°F)

November

70.3

73.2

70.0
Other important Bermuda weather information in November: 
| | |
| --- | --- |
| Average Humidity | 72% |
| Average Rainfall | 4.1 inches (Rains about 14 days in the month, but in short spans) |
| Average cloudiness/sunshine | On an average you can expect 5 hours of clear sky and sunshine in a day. |
| Average water visibility | 100 - 120 feet (30 - 35 meters) |
Related Articles