Achilles Bay Beach Bermuda
This is a tiny beautiful beach located north east of St. George's town and right next to the
St. Catherine Fort
. 
So why this name to the beach? It has a shape of a heel. So somebody correlated this with the Greek mythology and the great warrior Achilles who died from an arrow that was shot at his heels. And hence the name. 
If you visit St. Catherine's Fort, you can combine it with a lunch at
Blackbeard's Hideout
Restaurant and a visit to the beach.  
You need to climb down the stairs of the restaurant into the Achilles Bay. Not many know about the beach. But you can always imagine what would happen when a cruise ship docks at St. George and everyone is craving for some space in the sun and sand. 
Achilles Bay Beach Bermuda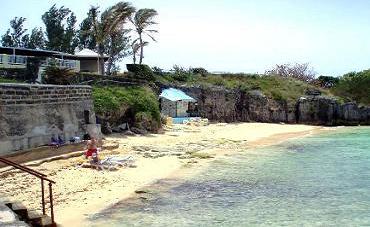 I would still say that the beach is relatively less crowded compared to some of the other ones nearby like the
Tobacco Bay Beach
. Another reason why you may find the beach not so crowded because it is really small. So it isn't good for sunbathing as there is not enough space for many. 
But the beach and the bay is ideal for swimming and snorkeling. The shallow water stretches for quite some distance into the bay and therefore swimming and snorkeling here is quite safe. There are some rocks in the bay and you can sea different types of fish and colorful marine life there including parrot fish, squids and lot more. 
There is a large rock jutting out from the water that has a ladder fitted into it. You will of course need to swim to reach the rock. You can then climb down the ladder under the water to take a look at the sea bottom. The water is quite shallow, so there is really no danger there. 
You can also get beach chairs, umbrellas and floats right on the beach. The views of the bay is simply fantastic. If you visit the beach, time it such a way that you don't miss the sunset. Achilles Bay beach used to be a private beach once, belonging to St. George's Club. But now it's open to public. 
Achilles Bay - Rock with a ladder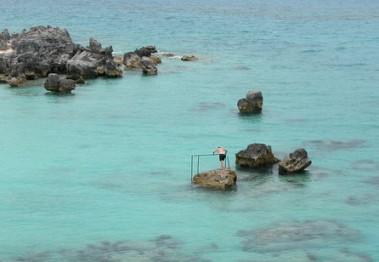 Location: 
Achilles Bay is located north east of the
Town of St. George
and is not on a main bus route. You can walk from Kings Square. It will take about 20 minutes, but it's a hilly road. Otherwise take a minibus from the
King's Square
or a taxi. The beach is right next to
St. Catherine Fort
. 
Related Articles 
Visitors' Reviews & Comments 
Review and share your experience.