The Dining Room Bermuda
$$, Continental 
The Dining Room is a relatively new restaurant in Southampton Parish that has come up in place of the earlier
Lighthouse Tea Room
. 
It is located at the base of the Gibbs Hill Lighthouse on a hill top and occupies the same space as the earlier Tea Room. 
The new owners are Odilio and Natalie Angeli who are in hospitality industry for more than 20 years and own other restaurants in the island as well. 
They have really done up the interiors well and the restaurant now has a new look altogether. 
It looks contemporary and quite colorful inside. Contrary to the Tea Room, The Dining Room is now a full fledged restaurant that serves lunch and dinner. They also serve breakfast on Saturdays and Sundays. 
So if you plan to visit the Gibbs Hill Lighthouse and climb the 185 spiraling stairs to the top, this is an excellent place to come down, relax and have your meal. The inside dining room has a seating capacity of 50 along with the bar. There is also an outside terrace area where up to 100 persons can be seated. The outside area has an excellent view of the Great Sound water area, the south shore and the surrounding place. 
The Dining Room Restaurant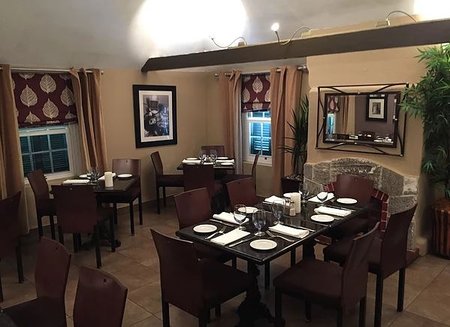 The restaurant offers nice dishes including imaginative salads, fresh fish, seafood and home made desserts. You also get traditional chicken dishes, curry and even black pudding. They make great pizzas as well. Prices are quite reasonable compared to some of the other restaurants in Bermuda. There is a bar at the corner serving good wines and Martini among other drinks. 
The Dining Room can be booked for special occasions like private parties or wedding. They also provide take away services. 
Update February 2013 
The Dining Room has been further revamped with new interior painting, kitchen re-tiling, new chef and new menu. The new chef Vincent Purcell from England who has diverse experience as a chef brings in a bistro or a gastropub like feel in the restaurant. The menu would change every week but would continue to offer dishes at reasonable prices. For example appetizers are within $16 and main courses with $30. There is also a take out menu. 
The new burger bar serves five different types of burgers including Truffle burger and the Dangerously Hot Burger. Although the menu changes weekly, on any day you will get selection of at least five starters, five main courses, desserts and several specials for the day. 
Some of the starters offered (rotationally) includes Bermuda Fish Chowder, Lobster Tempura, Stuffed Portobello Mushrooms, Seared Calfs Liver, Spanish Sizzling Shrimps Pil Pil, Wahoo Carpacio and so on. Some of the main courses offered are Trio of Fish Charbroiled, Pumpkin Ravioli, Lamb Shank, Rib Eye, Chicken Breast, Half Spiny Lobster brasied etc. 
Other items include Truffle fries, potato Parmesan fries, pan roast duck, risotto parmagiana, fish & chips and lot more. They continue to offer a range of excellent thin crust pizzas. In desserts, they have a range of cakes, ice creams, tart, sorbet etc. 
Other than many different types of spirits, the bar offers wine by the glass and draft beer.  
The owner also plans to introduce traditional English lunch on Sundays shortly which will include items such as roast beef, lamb, cottage pie and such. 
Open Hours 
Lunch: Thursday to Saturday 11.45am to 2.30pm 
Dinner: Every Day 6pm to 10pm 
Breakfast: Sunday from 10am to 2.30pm 
They accept credit cards. Dress code is smart casual. Try to reserve in advance because the space is limited and the restaurant is quite popular to both tourists and locals. 
Location and Contact 
68 St. Anne's Road 
You can reach by Bus #7 or 8. 
Phone: 441/238-8679 
Email: thediningroom@northrock.bm 
Related Articles 
4) Check out
Southampton Parish
to know about the parish including all its attractions, activities, hotels and other information. 
Visitors' Reviews & Comments 
Sara 
Whenever we visit the island we go to the Lighthouse Dining Room. Our whole family loves it - the interesting spices, the traditional curry, the pizza and the terrific fresh fish.  It s tiny, and can be a bit noisy, the staff is very friendly and helpful and we just love the food. The wine list is comfortable and can be very reasonable.  We take our well behaved children and they are welcomed.  There is no 'kids' menu so if you are looking for chicken tenders, don't.  The neighbors (who have a loud, barking dog???) complained and we understand that there is no longer outside seating at dinner - but it is still a great spot.  
Andrew McLauchlan 
I never tried the little Tea Room but the new restaurant is fantastic and definitely worth a visit.. had a wonderful breakfast there with friends and will most certainly be returning.