Martello Tower Bermuda
Martello Tower, located at the Ferry Point in St. George's Bermuda, was built by the British Army at the time of Major Thomas Blanshard. 
The construction of the fort started in 1823 and completed in 1828. 
The fort looks like a cylindrical egg shaped tower. It's made of hard Bermuda stones. The walls are 9-11 ft. thick & resistant to cannon fire. 
The only access to the tower is through a narrow drawbridge over a moat to the second level. The British had built many such Towers in other countries during the 19th century. But this was the only one built in Bermuda. 
Martello Tower Bermuda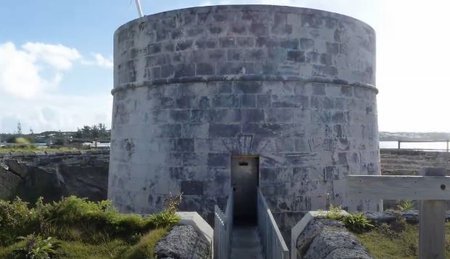 The towers were named after the place Cape Mortella in Corsica. This is where 22 men from a large circular tower had put up a spirited fight against British attack in 1794, although they had to finally surrender after two days of intense battle.  
The British were so impressed with such a structure that they went on to construct such circular towers all over the east and south coasts of England and called them Martello Towers. The towers were typically 40-feet high and had a garrison of one officer and 15-20 men. It had a single cannon mounted on its flat roof. 
If you climb up to the top of the tower, you get a great view of the coastline and can easily understand the advantage the British army had from here while protecting the Ferry Reach. 
Towards the north of the tower, there is a magazine room that stored up to 220 barrels of gunpowder. The walls of this magazine was further strengthened with flying buttresses. However, the roof of the magazine was kept weak so that in case of any explosion, the roof would be blown off while the magazine would still remain intact.  
The fort was restored in 2008. A cannon from the
St. Catherine Fort
has been brought in and mounted on the tower so that it looks like the original one of 19th century. 
Martello Tower is open from 10am to 2pm during the summer time. During winter, you will need special permission from the Department of Parks Bermuda, to enter the fort. 
Location 
Located on a high ground at Ferry Point, St. George Bermuda. You can reach by ferry, or by bus route #1, 3, 10, 11. 
Related Articles 
1) Check out
Bermuda Forts
to know about the historic forts in Bermuda. 
3) Check out
St. George's
to find out other great attractions in the parish. 
Visitors' Reviews & Comments 
Review and share your experience.