Bermuda Craft Market
Located at the old cooperage building in the dockyard, Bermuda Craft Market has one of the largest collections of art and handcraft from over 60 local artisans. 
It was established in 1987 by the Bermuda Chamber of Commerce and Bermuda Tourism Department to retain the heritage of old craft practices and make available such items as souvenirs to the tourists. This building where the craft market is located, used to be a warehouse and a barrel making workshop. 
The Royal Naval Dockyard during the 19th century served the British ships. Barrels and kegs were in high demand because the perishable goods like food stuff used to be stored in wooden barrels and liquids in kegs. Hundreds of workers worked at the cooperage during those days making barrels which used to be loaded into the ships filled with provisions. You will still find the old handmade barrels in the craft market that have been preserved to showcase early practices. 
Bermuda Craft Market Displays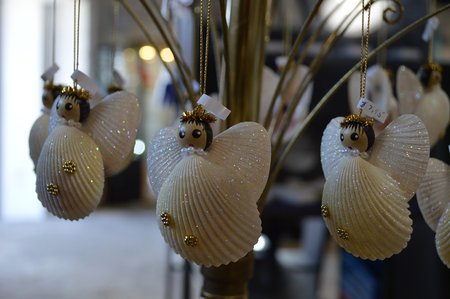 As you go around, you can see the artists making the items with their amazing skills. You can have a friendly chat with them if you want. You will find items like dolls made from banana leaves, jewelry made from semi-precious stones & wires, china & sea glasses with exquisite floral paintings on them, cedar items, art & paintings, candles & stands, jams & jelly, locally made honey and lot more. 
There is a wood turner who gives a weekly demonstration of his skills making wonderful wooden items like trinket boxes, bowls and many other items.  
During the winter time (November to March) when the place is less crowded, you can even join some artists making your own stuff under their guidance and take it with you. 
During the summer time, the craft market offers free tasting program at the cooperage for various locally made food & beverages including Bermuda rum, beer and many other items. 
The Bermuda Craft Market has been given a charity status by the government because of its objective to showcase old art and craft work that are rare to be found these days and also train other artists to acquire such skills.  
However, the charity status does not necessarily make the items inexpensive. In fact some of them can be quite expensive. They accept credit cards. 
Open Hours 
Monday to Saturday 10am to 5pm. 
Sunday 11am to 5pm. 
Location & Contacts 
4 Freeport Road, Royal Naval Dockyard, Sandy's Parish 
Phone: 441/234-3208 
Email: bdacraftmkt@northrock.bm 
Check out
Dockyard Map
to see the location of Bermuda Craft Market and all other attractions in the dockyard complex. 
Related Articles 
2) Check out
Dockyard
to know about all other great attractions in Kings Wharf Dockyard 
Visitors' Reviews & Comments 
Review and share your experience.