Bermuda Caves
Do you know that the caves in Bermuda started forming about one million years ago? Yes that's true.  
During that time, the sea level was 125 meters below the present level and Bermuda's land size was 20 times more than what it is today. 
There were enough fresh water in the island so that caves could be formed. But from the post glacial time, the sea level started to rise and many of the caves have been drowned into the sea. There are totally some 150 known caves in Bermuda. 
Most of these caves are concentrated along the strip of land between
Harrington Sound
and
Castle Harbor
towards the eastern side of Bermuda. While some caves have inland openings and can be explored by general tourists, there are many others which are underwater caves and can only be explored by the divers.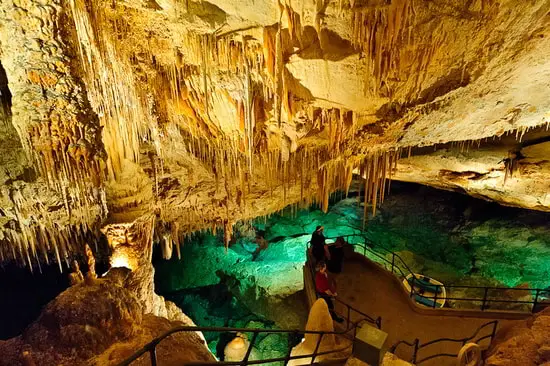 Caves in Bermuda were first discovered during the early colonization in 1600s. It is heard that Sir George Somers who came ashore after his ship Sea Venture got wrecked near Bermuda's shore in 1609, was the first to discover the
Prospero's Cave
. However Captain John Smith was the first to make a published reference of a Bermuda's cave in 1623. 
So if you are planning for caving in Bermuda or spelunking as they call it, the island has plenty of caves to offer complete with lakes, stunning formations and even underwater caverns & grottos. Check out the links below to know about the best caves in Bermuda. 
Crystal and Fantasy Caves
: Take a guided tour through the underground Crystal Caves and Fantasy Caves having great formations of stalactites and stalagmites. The cave complex is located at Hamilton Parish. 
Devils Hole Aquarium
: The hole is actually a collapsed cave, having formed a natural sweet-water aquarium. It's located in Smith's parish. 
Leamington Caves
: The caves have great crystal formations and underground pools. It's located in Hamilton parish, Bermuda. 
Admiral's Cave
: This is one of the largest dry caves in Bermuda located in Hamilton parish, having several pools and full with formations. 
Jeffrey's Cave
: Located in Smith's parish, this cave is named after a slave who escaped his master and hid at this concealed cave for over a month before he was re-captured. 
Church Cave & Bitumen Cave
: Both these caves are located in Bermuda's Hamilton Parish and below the Ship's Hill on the grounds of
Tucker's Point Club
. The highlight of Church Cave is its 1,500 square meter lake which is the largest underground lake in the island. The maximum depth of the lake is 22 meters. Bitumen Cave is located just north of Church Cave and is the deepest underwater cave in Bermuda. It has an 8 meters wide pit that reaches into a lake. 
Related Articles 
Visitors' Reviews & Comments 
Review and share your experience.