Bermuda Sea Glass Beaches
My interest towards Bermuda sea glasses picked up few years back when several viewers of my website started asking me about the glass beaches and the kind of treasures you can find there. Some even wanted to know specifically about the colors and textures, and exact directions to the beaches. In almost all our subsequent visits to the island, we went to the glass beaches, collected sea glasses and gathered lots of information about them. I had later compiled this page to put together all such experience and information. If you are a sea glass freak and visiting Bermuda, this page is all that you probably need to scan. 
So what are Sea Glasses? 
Sea glasses are all crafted naturally by the sea from man made glasses. Their origins are mostly from glass bottles, jars and pottery that were discarded and tossed into the sea by some insensible human beings. Such wastes could have been thrown from the boats or even from the shore, but the nature is an expert creating good from the bad.  
Sea Glass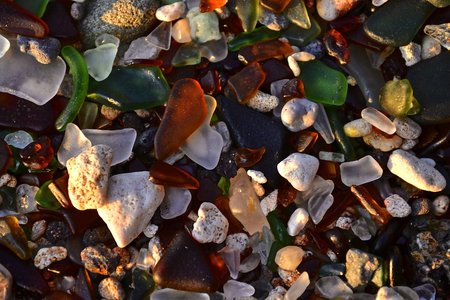 Under the custody of the sea and wave actions, these glass pieces go through continuous tumbling and friction for years. The glasses are dragged through the sand, underwater rocks and sea shells. As a result of this they are broken up in small pieces, get worn, edges get naturally smoothened and the bodies get polished. They look like wonder gems. 
Water currents carry these glasses until they are finally washed up the shore and made available again to human beings in different forms and shapes altogether. Some of the best sea glasses would be frosted and soft. The most commonly found sea glasses have colors like green, milky white, brown and clear. Orange glasses are the rarest of all. Only one in 10,000 pieces collected is usually an orange sea glass. The next rare ones are ruby red and cherry red... one in every 5,000 pieces collected. The other rare sea glasses are cobalt blue, red, purple, pink, yellow and such.  
Sea Glass Beaches in Bermuda 
So where do you find these natural jewels in Bermuda, and that too free? In general, you won't find the sea glasses in all beaches in Bermuda. However if you are lucky and have the habit of only looking down while waking on a beach, you might be able to discover one or two while strolling even on a popular public tourist beach in Bermuda. 
But if you are serious in making sea glass collections, you will need to go to the specific beaches that are known to offer the treasures. But why not in the other beaches? Because the direction of the water currents and the wave actions make some beaches more wealthy than the others. And the contrast can be so stark that while one beach might have a wealth of sea glasses, the one next to it may have none. 
So where do you go for the beach glasses? Here the best beaches to find the sea glass jewels in Bermuda: 
If you are docked at Kings Wharf or Heritage Wharf in Royal Naval Dockyard at the western end of the island, this glass beach is very convenient to access. It's only a few minutes bus ride or about 20-minutes walk from the dockyard. You will find loads of sea glasses here of different colors. Check out the link for details. 
If you are visiting the Alexandra battery in St. George's, right next to it is the Building Bay beach which is hardly known to the tourists. But this beach too can offer you a wealth of beach glass treasures.  
Location of Alexandra & Building Bay Bermuda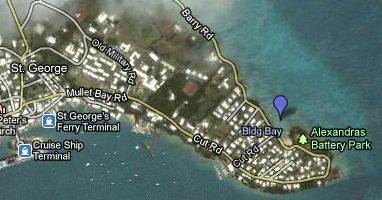 The beach is located on Barry Road at the south eastern end of St. George's Island. There is an old fort/battery here and the beach is located just below the battery. From Kings Square of St. George's Town, it is about a mile and takes about 30 minutes walk to reach. While the walk to the beach is a little uphill, walking back downhill with your booty would be a lot easier. There is no mini bus services there. You will need to take the Cut Road from St. George's. It goes all the way up to the Gates Fort where it turns left and continues as Barry Road. You will need to follow the Barry Road towards St. Catherine's fort, i.e. towards north, and shortly see a farm and cemetery. Across the road is the beach. You will need to climb down carefully. The beach is some 25 feet wide and 35 feet into the sea. The best of the sea glasses here can be accessed through snorkeling. The glass pieces are generally submerged on the seafloor. You won't need to go too far. You can find the sea glasses in 1-foot to waist deep water. 
Best time to find Sea Glasses 
Your chances would be far better to find the great pieces if you can time it right. Visit the glass beaches during the low tide. This is when the water would have receded far enough having exposed the foreshore and making the washed up sea glasses easily accessible. Another good time is just after the high tide. This is when strong wave actions would have just ended and there would be good chances of finding the glasses on the foreshore. 
You can get information about low and high tides online from weather.bm. If there is a storm, then take the advantage of visiting the beach just after the storm has subsided. Again the strong wave actions during the storm would have dumped a lot of sea glasses into the shore. However, do not go with the expectation that the wealth is waiting for you to be picked up. In general, be prepared to comb the beaches carefully if you are looking for that precious gem. Also do not forget to search the shell and pebble piles on the shore. This is where the great jewels often like to hide. 
Please Note: Due to continuous and rampant collections of sea glasses by tourists that make the beaches often devoid of the little jewels, the Bermuda Authorities have now made restrictions to collecting sea glasses from some beaches. For example collection of sea glass from Black Bay beach is now prohibited. 
What to do with the Sea Glasses? 
Well it's up to you what you do with them. You can throw them one by one into the waters and give them back to the sea if you want. When I had no idea about the glasses, I thought that's all one can probably do with them, just like the game fish that you catch for fun and release them back into the waters. Well  I later learned that there are better things that you can do with the glasses. They make great jewelry. There are international companies that are thriving on making expensive jewelry from the sea glasses collected from Bermuda's beaches. 
If you too want to make one from your own collection, like a necklace or a pendant, there is a way to do it in Bermuda itself and that too at a reasonable price. There is a lady named Kelly who makes great sea glass jewelry. She has a small store in St. George's at Somer's Wharf Complex (Unit #3, 16 Water Street). Take your pieces to her and she will make one quickly at a small charge (like $15 or so for a pendant). That will serve as a great memento and personal collection from the island. You can also use these nature jewels to adorn your house in various ways. For example, half fill a simple glass jar with the sea glass pieces of different colors and fill up the rest with water. It looks beautiful, particularly if you have the frosty sea glasses and can make lights pass through them. With some innovation, you can find other great ways too. Like have some scattered on the base of a candle stand. It looks great. 
Complete Bermuda Vacation & Travel Guides on eBooks! 
Related Articles 
Visitors' Reviews & Comments 
(Ordered from older to current entries)  
Boyd (August 2012) 
Interestingly the beaches have had a LOT of glass removed. At the rate the bags of glass are being taken to the ships it won't be long before there will be little to find. No doubt you are a skeptic, look at the trees...? What trees? Exactly.. before people started to arrive the forests were great. We have destroyed the planet we live on. This is a limited resource used to make ornaments and jewelry with. I guess there are few restrictions on what people do in Bermuda. Take a piece or two. Do u really need a bucketful ? 
Jenny McPherson (December 2012) 
I regretfully agree with Boyd. I was so thrilled at finding what I thought was 'the' seaglass beach that I posted it as one of my top favorite things about living on this most gorgeous of islands. I was then horrified, simply drop-jawed, to hear that buckets were being taken away by tourists from the environmentally stupid cruise boats (duh! Call me naive!?!).  I took my review off tripadvisor immediately and (thankfully) discovered that I'd inadvertently been led, myself, to the wrong beach... Having since found a soul-filling seaglass beach it is, as it must be since folks don't use 'common sense', 'signed' to let people know of penalties for taking away the glass in order that it should be there for future generations. I was a girlscout for 12 years of my life and there's a girlscout directive that said, 'count 13, pick 1' (if you really really must have that blossom, burl, rock, or in this case, piece of seaglass). With the advent of digital photography, that and a couple of pictures suffice to bring the beach back to you when you're 'down'. By all means, Buy one of Ms. Diel's beautiful seaglass creations to support Bermuda and be reminded of the awesome power of sea against glass. 
Phyliss Shaw (February 2013) 
I am planning a trip to Bermuda in June 2013. The sea glass beaches are one of my first stops. When I come to Bermuda I am not coming there to destroy the island but to enjoy its beauty. It saddens me that some of you label "all" cruise tourist as stupid and irresponsible. Yes some may take more than is required but you shouldn't say all of us are doing that. I think the environmental impact was done by the factory that was throwing all the bottles into the sea not tourist picking up the glass off the beach. Generalizations of any group or people is wrong. Kinda like if I said, All environmentalist have tunnel vision and are small minded.  
Helen (July 2013) 
Re Comments about stupid tourists. It is GLASS. It should not be on the beach to start with as it is human trash. It is a danger to both sea life and humans ("fresh" sea glass hurts!). The more that is taken off the beaches the better it is for the environment at least! 
SLK (August 2013) 
It saddens me to read some of these posts. We lived on the island in the  mid-1960s when we burned our trash in metal containers in our yards...and "recycled" our glass which was eventually taken out to sea and dumped.  I believe that's where the bulk of this seaglass is now coming from. At that time, trash was being disposed of by the most economical & environmentally kind way we knew of.  Today, we know better. 
If you find a piece of jagged glass on a beach, it is very likely from some uncaring visitor who has left it there...not washed up from the depths. And the tales of selfish people hauling it off the beaches in 50 lb increments? Doubly sad.  I still have a handful of glass my Mother & I collected 50 years ago. Incredible memories of a small child and a Mother who has now passed. There's enough for all if moderation & thoughtful collecting becomes the rule. Kind of an "honor system" -- leaving some for all to enjoy. Honor and a respect for fellow visitors. 
Diane Gomes (September 2013) 
Raj - I've just found out that the WEDCO has put a sign up at Sea Glass beach near Dockyard stating that the removal of seaglass from Bermuda is now illegal. Is this the case everywhere on the island? We are arriving for a week stay at the end of the month and are planning on visiting our favorite spots off the beaten path to see what treasures we can find. Sea glass beach not being one as the glass there is what I can find at home. Do you know if it is now illegal everywhere? 
Raj (bermuda-attractions.com) September 2013 
Hi Diane, Wedco has administrative authority over the west end properties including the dockyard and adjoining areas. Black bay beach (the sea glass beach where the sign board is put up) is under them as well. Due to large scale removal of sea glasses (mostly by cruise visitors), Wedco has taken this step so that the beach doesn't one day become completely devoid of its key attraction. However, you can still collect sea glasses from the other beaches like the one near Alexandra Battery (at the eastern end) etc. Regards 
Denise Conti (September 2013) 
We are in Bermuda and went to Black Bay Beach not knowing of WEDCO sign. You absolutely cannot pick up glass there anymore.  They threaten prosecution! They say the glass is THEIRS!  Tons of it there still but what is the attraction if you can't pick it up!  You can go look and take pictures and that's it!  I think this move will bring less people to Dockyards.  If anything, maybe they should limit what you can take or something like that.  What good is preserving it?  The ocean may eventually take it away. Alexandra Battery is quite plentiful but there aren't COLORS here in Bermuda.  Green is plentiful.  Brown and clear as well. Blue chips here and there but nothing substantial. Bermuda is absolutely gorgeous and well deserving of a visit.  We should all boycott Dockyards and if their business falls off then maybe they will reconsider the glass collecting!  
Coleen Kelly (April 2014) 
I was in Bermuda twice already and love it so much . I am coming back again . I went to a small beach by the convicts graveyard the first time I was there. I want to go back . Last time we had a scoter. This time it will be bus and ferries . Does the bus stop near there ? I want to get sea glass again ? Also thank you for all the info you provide .. Love you !!! 
Raj (bermuda-attractions.com) April 2014 
Hi, Convicts Cemetery Beach is known as Black Bay Beach. Take bus #7 or 8 from the dockyard (only few minutes ride). Get off at Royal Naval Cemetery. It's about 300 yards from the bus stop. You will get details
here
Claudine G (November 2014) 
I have been to Bermuda a few times and to a lot of the beaches there, it is a beautiful place and I  returning in May/2015. I have always loved Bermudas sea glass and admit I have taken a small amount, I have made Christmas ornaments for my Christmas tree. If it is Bermudas wishes then we should honor that. 
Bermuda Sea Glass Beaches
Reviewed by
Raj Bhattacharya
Rating:
5.0