Flight MU-2B, a victim of Bermuda Triangle
The 40-year old lady Jennifer Blumin, an event planner and the CEO of the event management company Skylight flew to Puerto Rico to spend the Mother's Day (Sunday May 14, 2017) along with her two sons (3-year and 4-year) and her boyfriend Nathan Ulrich, 52. She owned a small private aircraft Mitsubishi MU-2B-40 with twin turbojet engines. 
An MU-2B Aircraft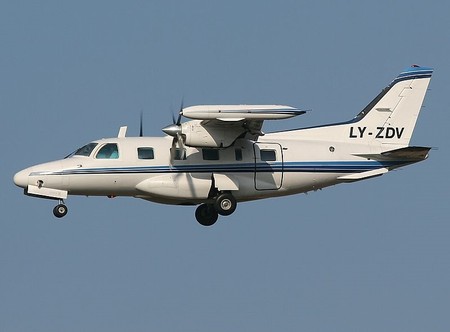 Source: Wikimedia Commons 
Next day on May 15, 2017 they were returning home to New York. Nathan was an experienced pilot and was himself flying the plane. The flight took off from Rafael Hernandez Airport in Borinquen (Aguadilla, Peurto Rico) at 11:08am on Monday, May 15. They were to make a landing at 2.44pm at the Space Coast Regional Airport in Titusville (South Florida) to refuel the aircraft. 
However at 2:10pm when the plane was only 37 miles east of
Eleuthera (Bahamas)
, the Miami air traffic control could no longer trace the aircraft on its radar. Apparently there was nothing wrong with the weather. The flight simply vanished. It was flying at an altitude of 24,000ft at 345 miles per hour. 
Next day (on Tuesday May 16) an extensive search operation was launched by the US Coast Guard. The Royal Bahamas Defense Force as well as the US Air Force too joined the search operation. Finally a helicopter of US Coast Guard was able to locate a floating debris field on the Atlantic ocean about 15 miles east of Eleuthera. It took about 30 hours of search operation to locate the flying debris. 
Items such as a aircraft seat and few others were recovered from the debris. From all the evidences found, it was ascertained that the debris was indeed that of a MU-2B aircraft. However none of the bodies could be recovered or traced. 
So what could have happened? Since the weather was not reported as adverse, equipment failure could be a reason. However as on date, no specific reasons could be assigned for this incident. Puerto Rico, the island from where the flight took off is one of the corners of Bermuda Triangle, and the flight path over Bahamas en route to South Florida also lies on the triangle area. So this incident would go down as another case of an aircraft disappearing in Bermuda Triangle. 
Update: On May 17, 2017 the New York Post reported that an aircraft debris was found floating about 15 miles east of
Eleuthera of Bahamas
. And it matches with that of the lost aircraft that was flown by Nathan (a twin-engine turboprop MU-2B). The Coast Guard also tweeted out a picture of the debris and said that the search was still continuing. The Coast Guard had searched about 8,200 square miles of sea area around Bahamas and they think the debris belonged to the lost MU-2B. 
Related Articles
Your Reviews
NOTE: I manually evaluate all posts and include only the ones that are original (not copy pasted from other sources) and having some serious matter.