Bermuda Clocktower Mall
Located at the Royal Naval Dockyard, it's hard to miss this impressive building with its twin clock towers. 
The two towers on the two sides of the building are 100-foot high, one having a clock that shows the real time and the other with a clock that shows the time of the high tide. 
The clocktower building was built in 1850s as a warehouse for the British Navy which once had an active operation at the dockyard. The walls of the building are some 3-foot thick. 
Today it's a major shopping mall at the western part of Bermuda. 
Clocktower mall has quite a few outlets of the major stores of the island that have their main branches in
Hamilton City
and elsewhere. In 1990, the Clocktower was opened as a shopping mall for the first time with some 10 stores in it. Now the mall with its lower and upper level galleries, have some 25 stores. 
Clocktower Mall Dockyard, Bermuda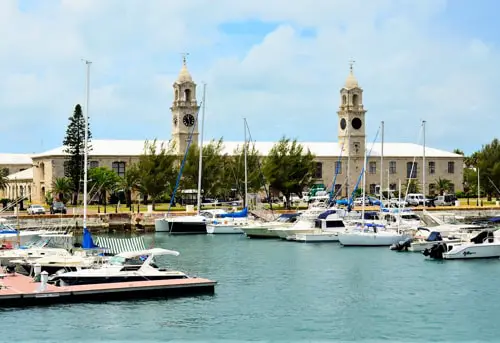 Clocktower Mall Open Hours 
The stores in the Clocktower Mall are open all seven days a week. Here are the timings: 
January - March (10am to 5pm) 
Location & Contacts 
Royal Naval Dockyard, Sandy's Parish 
Check out
Dockyard Map
to see the location of Clocktower Mall 
Here are the main stores in the Clocktower Shopping Mall 
AS Cooper & Sons 
They have several branches and outlets including in Hamilton City. The store has accessories, gifts, souvenirs, as well as perfumes at duty-free prices. They also sell glassware items, handcrafted jewelry from local designers. But we love the miniature wooden models of island's famous buildings and monuments. Phone: 441/295-3961.   
Bellisima (closed) 
Store selling high-end designer sunglasses, bags and accessories from big brands like Dolce & Gabbana, Gucci, Giorgio Armani, Robert Cavalli etc. Phone: 441/735-5595. 
This in my view is the most interesting shop in clocktower mall with unique collections. Most of the products are Bermuda-inspired. You are not likely to find these items outside the island. You will get hand-painted wood carvings such as boxes, tropical fish, doorstops, many with the pink Bermuda cottage design. You also get nice candles and wind chimes. Tel: 441/234-0837 
Caesar's Health Store  
Sells a range of T-shirts and souvenir items. Here you will get Bermuda's locally made windbreakers. Some unique stuff includes island tea, spices and sauces. There is a range of health, beauty and toiletry products and other essentials like suntan lotion, snorkel & beach gears. You will also get cool drinks, snacks, locally made cookies and cakes, and chocolate bars. Phone: 441/234-3728. 
Calypso 
A boutique store stocking great collections of women's wears sourced from various countries of the world including Milan, Paris, London, New York etc. It also has one of the largest collections of swim wears. There is also a section for shoes. Other items include Italian ceramics etc. 
Phone: 441/295-2112; Email: customerservice@calypso.bm 
Crisson Jewelers 
This is a branch of a family business since 1922. They are known for their high quality jewelry and watches. Prices here are generally cheaper than the U.S retail price. 
Daisy & Mac 
Stores for kids. You will get dolls, stuffed animals, all kinds of toys, children's clothing, shoes, art & craft, books and more. Phone: 441/234-7477 
Davison's of Bermuda 
The store sells casual sportswear, T-shirts, jackets etc. for men and women. The light and comfortable cotton shirts, pants, and shorts are quite popular. Phone: 441/297-8363 
Dockyard Linen 
You will get elegant gift items that are not very expensive. The shop includes fine collection of Bermuda tea towels, bun warmers, tablecloths, place mats, plus many other accessories.  
Phone: 441/234-0341 
Duchess Boutique 
A store selling women's clothing, shoes, accessories and handbags. You will also get locally made Crave by Duchess body oils and lotions. Phone: 441/234-3824 
E.R. Aubrey Jewelers 
They are in business of jewelry since 1954 and have large collections of Tanzanite, Mexican Fire Opals, Emeralds, Rubies, Sapphires, Diamonds, Topaz, and various other stones. They are also well known for Bermuda Lucky Stones and Destination Bangles. 
Phone: 441/234-4577; Email: eraubrey@ibl.bm 
Fairtrade Bermuda 
Husband & wife Boyd and Muna Vallis run this store. It offers nice souvenir and gift items like carved wooden animals, wind chimes, jewelry and trinkets that they bring in from Indonesia. The shop also sells various art & craft items, furniture, clothes and other accessories. The couple boats of selling items at the right and affordable prices. Phone: 441/234-5657. 
Humidor 
A shop for the smokers in Bermuda. They sell Cuban cigars as well. But if you are an American, you can't take them back to the U.S. Phone: 441/234-1017 
Lisa-Anne Rego Gallery 
This is an outlet of the artwork created by Lisa Anne, a Bermudian artist who studied in Glasgow School of Arts in UK. She has also been an artist-in-residence of Masterworks Foundation of Bermuda. Her artworks are mainly themed on children and architecture, and are usually created with soft pastels and oils. Phone: 441/238-1407; Email: info@lisarego.bm 
Luxury For Less 
Fashion accessories including handbags, earrings, necklaces, bracelets, scarves and more. The store offers a cozy boutique environment. Phone:  441/295-9128 
Nannini Häagen-Dazs Ice Cream Parlor 
Great place to indulge in Häagen-Dazs ice creams, sorbets and frozen yogurt. There are some 16 flavors in cones, sundae or milkshakes. They even pack it so that you can take it back to your hotel or cruise ship. Phone: 441/234-2474 
Orchid 
Women's apparel (mostly Thai make products). Phone: 441/234-0285 
Perfume Shop 
You get nice collections of fragrances and cosmetics. The shop is owned by Gibbons Company which has a large store at Reid Street in Hamilton City spreading across three floors. 
Phone: (441) 405-0006 
Pulp & Circumstance 
This stationery store has photo albums, pens, delicate pastel notepaper with pictures of Gombey dancers. They also have stationery that are themed on Bermuda. They have received Bermuda Gold Award for excellence in shopping and services. It also has a range of high-end gifts and stationery selected from sources around the world. Phone: 441/234-1698. 
Ship's Inn Book Gallery 
Run by Sherlyn Swan, it has assortment of used books with some having rare titles as well. The new books are mostly about the island. Phone: (441)234-2807 
Sidekicks 
A sport shop selling all items on soccer or football including jerseys, balls, bags, scarves, hats ands more... Phone: 441/232-7433. Email: sidekicks@northrock.bm 
The shop is run by a well known local artist Carole Holding. She is also a renowned chef. This shop has gift and souvenir products that have paintings with floral and island themes, and are designed by Carole. It also offers authentic local food products. Check out the link for details. 
The Grand Bazaar of Bermuda 
The store has a nice selection of unique Bermudian gifts, such as popular Bermuda hanging lanterns, hand-painted ceramics, lamps, bags, cushion covers, fish magnets, handmade jewelry, and linen clothing and ocean-inspired souvenirs. Many of these items are brought in from Turkey by Husband & Wife Bulent and Teresa Ganal. Phone: 441/234-4646  
The Littlest Drawbridge Gift Shop 
This shop is packed with unique handmade gift items. Aromatic Bermuda treasures including boxes, pens, goblets, vases and bowls, as well as sachets, cedar essential oils and incense cones. And you will find authentic Bermuda bags with cedar handles, jewelry, Cuban cigars and Royal Naval Dockyard souvenirs. Phone: 441/234-6214 
Related Articles 
1) Check out
Bermuda Shopping
to know all about shopping and the best stores in Bermuda. 
2) Check out
Dockyard
to know about all other great attractions in Kings Wharf Dockyard 
Visitors' Reviews & Comments 
Gorski 
I was in Bermuda last year and picked up perfume from the Perfume Shop in King's Warf and I want to order some more from them. Can you give me a telephone# or website for the Perfume Shop in The Clocktower shopping area? Thank you 
Raj (bermuda-attractions.com) 
Hi, The Perfume Shop at the Clocktower Mall in dockyard is owned by the Gibbons Company. 
Phone (Perfume Shop): 441/ 405 0006 
Email (Gibbons): webstore@gibbons.bm 
Website: www.gibbons.bm