Bermuda eBooks - Complete Vacation Guides
The eBooks below are complete vacation guides for Bermuda in the areas of attractions, tours, activities, shopping, dining, nightlife etc. You can read them on your PC, laptop, iPad, tablet, smart phone, ebook reader etc anytime you like, you don't need to be connected to the internet. 
Why are these eBooks by far the best?
All my descriptions are based on over 12 years of experience and findings in Bermuda. I update them frequently to include new additions and changes. My eBooks are always the first to publish latest changes in transport fares, tours, new shopping & dining experiences, current offerings of Visitors Service Centers, new island activities & festivals etc. They would act as your exclusive guides to plan every step of your vacation in Bermuda. And all my ebooks are free of ads and annoying external links. 
The Special Offer!
I have created several eBooks on different subjects so that you can choose the one(s) that are of interest to you. However for the entire collection of eBooks, I offer a special discount (of more than 20%) in the overall price plus a free valuable eBook from my side with packed useful information. 
What type of eBooks are these
The eBooks are PDF files and password protected. Virtually all devices (like laptops, PCs, ebook readers, iPads & tablets, smart phones etc) can easily read PDF files. Note: The eBooks can not be printed. 
Payments
Payments are accepted through secured PayPal gateway. You can either pay using your credit/debit card or from your Paypal account. If you do not have a Paypal account, you can sign up for one when prompted (it's free and easy). On receiving the order, I shall send you an email with your eBooks as attachments (please read the section on 'Delivery of eBooks' below). 

The eBooks (Release 2020)
1. Bermuda's Top Attractions 
This eBook with over 105 pages describes all the greatest attractions of Bermuda with pictures. The first section is about the lovely beaches, beach facilities, nearby eateries, whether the beach is secluded or great for families & kids, suitable for swimming & snorkeling, transports to reach, beach map and many other information for beach lovers. The second section is about the other top tourist attractions like museums & historical buildings, amazing caves, aquarium, churches, heritage sites, historical forts, lighthouses, parks & gardens, nature reserves etc.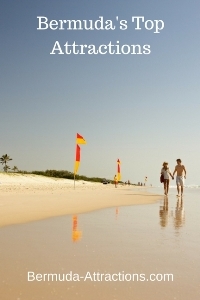 US$ 7.00 
2. Best Tours of Bermuda 
Knowing about the attractions is one part. You will then need to carefully design tours (whether guided or self guided) to experience the best of Bermuda. Otherwise you may end up wasting a lot of your precious time. This eBook of about 80 pages will present to you: 1) The top guided tours in Bermuda and the local operators. 2) Many FREE self guided tours. You will know about the best boating & sailing tours including sightseeing, snorkeling and sunset cruises, self guided tours on public bus & ferry, walking tours & hikes, guided tours on taxi, minibus, vans, train trolleys and more. With many free self guided tours guiding and timing your moves and offering you wide combination of experiences, you can actually save several times the price of this eBook.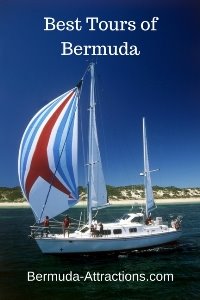 US$ 7.00 
3. Top Activities in Bermuda 
This eBook with over 75 pages will guide you through all the top activities in Bermuda including snorkeling (both beach side and offshore), boat rentals to explore Bermuda waters, helmet diving (underwater sea walk), kayaking, water & jet skiing, parasailing, scuba diving, windsurfing & kiteboarding, fishing, whale watching, dolphin interactions, golfing, horseback riding, bird watching, children's playgrounds and more.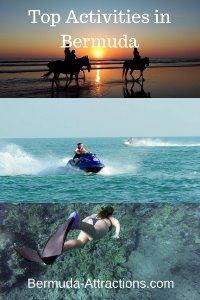 US$ 6.00 
4. Bermuda Shopping, Dining & Nightlife 
This eBook of over 150 pages has three separate sections. In Shopping, it will guide you on what to buy, what are Bermuda's original produce and which are the great stores for Souvenirs & Gifts, Art & Craft, Perfumes & Cosmetics, Glassware, Jewelry, Clothing, Books and more. In Dining you will know about Bermuda's top restaurants by cuisine like Bermudian, Continental, Italian, American, British, Chinese, Indian, Sushi etc and also by category, i.e. budget, mid range or upscale. The Nightlife section is about the top bars, pubs, nightclubs, night-time and festive celebrations.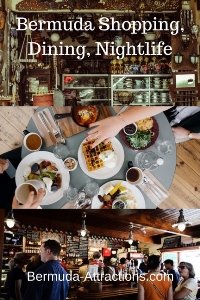 US$ 6.00 
5. Bermuda Collection (All eBooks) 
If you like to take the entire collection, then as a Bermuda lover myself, I'll offer something special to you.  
First of course, you get all the four eBooks: 
1. Bermuda's Top Attractions 
2. Best tours of Bermuda: Guided & Self Guided 
3. Top Activities in Bermuda 
4. Bermuda Shopping, Dining, Nightlife 
Second, you get a free 45-page eBook ('Bermuda Tourist Info & Travel Tips') which is worth $5 itself. It has all the essential information like location of the Visitors Information Centers & what they offer, Island Weather, ATMs & Banks, using Cell Phones & Calling Cards, Wi-Fi Internet Access, Store Hours, Custom Duties, Public Transports (buses, ferries, taxis, scooters...), Bermuda Public Holidays, Using Credit & Debit Cards, Travel Documents, Health & Safety, Dress Code, Local Food & Drinks, and lot more handy information that you would love to have. 
Third, look at the price! You save $11 (includes the ebook which is given free with the collection). 
US$ 20.00 
Delivery of eBooks
Once you place the order, I send the eBooks to your email address as attachments. I usually deliver it within one or two working days. 
Check your Spam/Junk folder in case you don't see it in a day or two. 
For any delivery related questions, please use this
Contact Me
link and write to me. 
Terms & Conditions, and Disclaimers
The eBooks are suitable only for viewing on electronic media like eBook Readers, iPad, Tab, Laptop, PC etc. They are not printable, and can not be reproduced in any part, shared in public or used in any commercial purpose. Buying the eBooks confirms your agreement to the full terms & conditions and disclaimers as stated in
Terms & Conditions
. 
Happy reading!! 
Raj Bhattacharya
Raj is an avid traveler and a full-time travel blogger. He has traveled to numerous countries across the world and loves to keep travelling. His mission here is to help viewers like you visiting Bermuda or seeking insights into related matters with the most comprehensive content. Since years now he has been helping countless viewers by posting quality articles on this website, answering questions and sharing experiences. Launched in 2008, this website is Bermuda's leading source of online information since many years.