Bermuda's Top Beach Bars & Restaurants
What to expect 
You don't want to leave the sand, instead like to enjoy some cocktails, great food and lovely sunset over the north Atlantic while feeling the sand below your feet. There are several beach bars and restaurants in Bermuda that can easily fulfil your dream. Some are right on the beaches, while others overlook the beaches. Some of them like the ones at Tobacco Bay and Elbow Beach also have various other beach facilities and water sport operators located right on the beach. 
There are also rentals available like loungers with canopy, kayaks, paddle boards, snorkel gears etc. So you can enjoy some great water based activities like snorkeling or even jet ski ride followed by a drink to refresh yourself, and combine that with some grilled seafood or chicken. 
Here are all the top beach bars and beachside restaurants in Bermuda including ones on private beaches. 
Best Beach Bars & Restaurants 
Tobacco Bay Beach Bar & Restaurant (Location: St. George, Category: $, Cuisine: snacks) 
It's located on the popular
Tobacco Bay Beach
in St. George's. You can take the minibus service from Kings Square (5-6 minutes) or walk along Government Hill Road (about 25 minutes) to reach the beach. The bar & restaurant is tucked at one side of the beach and near the entrance. There is also an open seating area under canopy. 
The bar menu includes cocktail specials like Tobacco Bay Mojito, Tobacco Bay Swizzle, Ginger Beer Margarita etc. Frozen cocktails include frozen Dark n' Stormy, frozen Daiquiri, Pina Colada, Margarita etc. There are several types of canned beer available including Corona, Heineken, Budweiser, Coors Light etc. You can also get bucket of 6 canned beers on ice. 
In spirits you get rum, gin, vodka, whiskey, tequila. There is a small selection of red, white and bubbly wine as well. $8 for a spirit like rum or tequila is the cheapest I have seen in the island. Premium whiskeys like Black Label is $10. The food menu includes items like jerk and grilled chicken burgers, fries, wings (barbecued), fish nuggets, mozzarella sticks, chicken tenders, sandwiches etc. Rentals include loungers with umbrellas, paddle boards, kayaks, snorkel gears & others. 
During summer (May to September) bonfire and live guitar music are held on the beach on Fridays. While the bar & restaurant operates daily between 10am to 6pm, it is extended till sunset on Fridays and Sundays. 
Location & Contact: #9 Coot's Pond Road, St. George. 
Gombeys Bar & Restaurant (Location: St. David's, Category: $, Cuisine: Bermudian and Bar Favorites) 
Opened in 2002, this is a gem located by the
Clearwater Beach
in St. Davids. You can take the minibus service from Kings Square at St. George and get off at Clearwater Beach. Gombeys is right next to it. 
This is our personal favorite because you can get a true flavor of the island here along with authentic local drinks and cuisine. You will meet up with lot of locals, particularly the local residents of St. Davids. This is not a typical touristy place and you can chat with locals for hours or watch soccer matches. The owners Marlon Laws and his wife, and the four staffs are exceptionally friendly. 
The main bar area is huge and has a roof cover, however all sides area open. You can sit around the bar on high bar chairs. There is lot of seating space under the roof. There is also an outside seating area. Although the beach and the water is not visible from the bar area, the beach is right outside. 
The fish sandwiches here are some of the best in the island and so are the Jamaican jerk chicken and Bermuda fish chowder. Cold beers are really refreshing after a hot sunny day on the beach. The island cocktail Dark n' Stormy here is probably the best I have had in several years. Food and drinks are inexpensive compared to prices elsewhere. They serve lunch and dinner, and of course drinks. They are open daily from 10am until 1am at night. You can simply walk in, there is no reservation required, there is enough room for all. They accept cards. 
Gombeys also offers rentals like chairs and umbrellas, kayaks etc. Other than Clearwater beach, there are five other beaches nearby and the
Coopers Island Nature Reserve
is right across where you can take a stroll. 
Location & Contact: 193 Cooper's Island Road, St David'S, St George's. Phone: (441) 7340858. 
Mickey's Beach Bistro & Bar (Location: Paget, Category: $$$, Cuisine: Mediterranean) 
This beach bar & restaurant is located right on the sand, which means your feet can be on the sand as you sip a cocktail and dine. Mickey's is located on Elbow Beach in Paget and is part of Elbow Beach Hotel. However all are welcome. There is a large roof covered alfresco area with plenty of seating. 
And outside you can be in the open under the umbrella and right on the sand with the waves pounding steps away. With the backdrop of swaying palms and coconut trees, the setting is ideal for a beach bar. Dinner menu is more elaborate and they set up candle lights on the tables. Some of the favorites here are the local fish, grilled chicken, fish sandwich, burgers, steaks etc.  
Mickey's - On the beach seating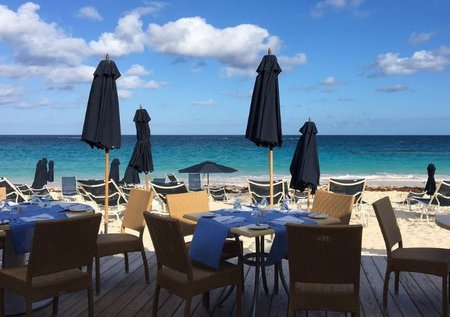 A water sports operator Blue Water Divers operate from the beach close by. Other than scuba diving, they offer a number of rentals including snorkel gears, paddle boards, kayaks, DPV scooters, sail boats, wetsuits etc. 
Rum Bum Beach Bar (Horseshoe Bay Beach-Southampton, Category: $, Cuisine: Beach Fare) 
Set up on one side of Horseshoe Bay Beach, it's an open air seating with round white tables with chairs laid out on an open concrete patio. The servers at the bar counter are friendly and efficient. View of the beach and the water from the beach bar is wonderful. 
You get simple beach fares here like Caesar salad, ham/bacon/cheese burgers, fish n' chips, chicken nuggets, sandwiches like chicken breast on a bun ($8) or fish cake on bun ($7.50) etc. You can add fries and a small soda for $3.50. Ice-Creams are also available. 
In drinks you get beer, cocktails, soda, non-alcoholic frozen drinks, bottled water etc. Try out the island cocktail Dark n' Stormy or Rum Swizzle ($7 each) before going out to the beach. 
Beach House at Blackbeards (Location: St. George, Category: $$, Cuisine: Caribbean/Seafood) 
It overlooks the wonderful Achilley's bay. You can walk down the stairs to the beach. This is one of the best places in the island to watch sunset. On one side of the beach is the historical St. Catherine's fort. Seafood is great. They offer a free shuttle to take you back to the town square or St. George's club. Visit
Beach House at Blackbeard's
for full info. 
Coconuts Restaurant & Beach Bar (Location: Southampton, Category: $$$, Cuisine: Caribbean) 
This is part of The Reefs hotel in Southampton and offers a great opportunity of beachside dining along with cocktails. You can either sit inside the covered restaurant with wonderful views of the private beach or outside right on the sand. During the day time you can take your cocktails and food sitting on lounge chair on the beach. The hotel also offers a special romantic dinner for couples on the beach with 5 course meals and glass of sparkling wine. It requires advance reservation, however all including outside guests are welcome. Visit
Coconuts
for full info. 
Breezes Restaurant (Location: Sandys, Category: $$$, Cuisine: Caribbean) 
This is another on-beach bar & restaurant on the western coast of the island offering spectacular sunset views. Other than open seating right on the stretch of sand, there are sections with roof covers. The place looks mesmerizing when the torches on the beach are lit up. Grilled chicken, local catch, rack of lamb are some of the favorites here. They serve nice selection of cocktails and spirits. Visit
Breezes Restaurant
for full info. 
Cabana Bar & Grill (Location: Southampton, Category: $$$, Cuisine: snacks/seafood) 
This beach bar is located on the private beach (East Whale Bay, South Shore) of Hotel Fairmont Southampton. You can walk in, there is no reservation required. Tables with canopies are arranged on the lovely pink sand with the ocean right in Front. The beach is right next to Horseshoe Bay Beach and is detached from the main hotel property. You can also enjoy bonfire on the beach. There is also an adjacent terrace for dining and a separate smoking section. The bar serves great cocktails. Cabana is open daily from 11am to 5pm (drinks available up to 6pm).  Sunset Beach Barbecue is held every Thursday from 6pm until 12am. Visit
Fairmont Southampton
for location and contact details. 
The Princes Beach Club (Location: Sinky Bay/South Shore, Category: $$$, Cuisine: Bermudian) 
This is a private beach club of Hotel Hamilton Princess. It opened in 2015. It's accessible mainly to the hotel guests although depending on guests situation, daily passes are also offered to islanders and outsiders. The exclusive beach club is nestled on the private Sinky beach of south shore. Tables with canopies are laid out right on the sand.  
Princess Beach Club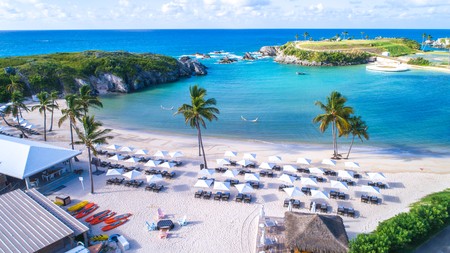 There is also a roof covered section. Other than cocktails and dining from a menu designed by celebrity chef Marcus Samuelsson of New York, you can enjoy several activities here including snorkeling, lounging on water hammocks etc. Complimentary shuttles are provided by the hotel to transport guests between its Hamilton location and the beach club. 
Related articles 
Visitors' Reviews & Comments 
Share your experience.