Breezes Restaurant Bermuda
$$$, Caribbean Cuisine 
This restaurant is part of Cambridge Beaches Resort and located right on the private Long Bay beach with wonderful view of the ocean. Being on the western coast of the island, this has to be one of the top spots for
sunset views
. The beach itself is a narrow stretch of sand and therefore only one row of tables can be laid on the beach. Son once you take your seat on the beach, there is no other table in front to block your views ahead. 
However there are also couple of sections (alfresco) with covered roof but with equally lovely view of the beach. If you are sitting right on the sand, during high tide your feet would likely be wet. When the darkness falls and the torches on the beach are lit up along with the candle lights on the tables, the ambience looks magical. 
Breezes offers several appetizers, salads and soups of different types including fish chowder. Some of the great dishes here during dinner are grilled chicken breast, roasted rack of lamb, baked lobster tails, local catch (usually rockfish or wahoo) served with vegetables, grilled rib eye etc. 
During lunch the food is mainly burgers, fish sandwiches, wraps, jerk chicken, chicken wings, fries etc in addition to salads & soups. Local fish is usually available too. You also get desserts like ice cream floats, banana splits, milk shakes, fresh fruits etc. During dinner the choices of desserts are more including pudding, custards, cheese cakes etc. 
And to accompany all this, there are nice selections of cocktails as well as cognacs, aged rums, single malt whiskeys, liqueurs etc. Service can be laid back at times but friendly nevertheless. 
Breezes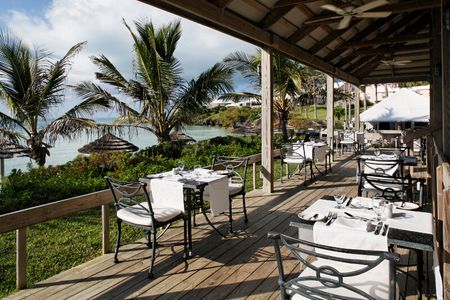 Indicative Prices
Appetizers, Soups, Salads: $10-$13, Main Courses: $27 to $45. 
Open Hours
Breezes is open during summer and serves lunch & dinner. However advanced reservation is required for dinner. The best part is while you can reach this beachside restaurant on land, you can also access the beach and the restaurant by boat from the western coast. So after boating around a bit, you can plan to take your dinner here. 
Location and Contacts
30 Kings Point Road, Sandys Parish, Bermuda (west end). 
Hotel Phone: Call 1-800/468-7300 in the U.S or 441/234-0331 in Bermuda 
Road Map 
Raj Bhattacharya
Raj is an avid traveler and a full-time travel blogger. He has traveled to numerous countries across the world and loves to keep travelling. His mission here is to help viewers like you visiting Bermuda or seeking insights into related matters with the most comprehensive content compared to any other online resources. Since years now he has been helping countless viewers by posting quality articles on this website, answering questions and sharing experiences. Launched in 2008, this website is Bermuda's leading source of online information since many years. 
Related Articles
3) Check out
Restaurants in Sandys
know about all the great restaurants & bars in and around Southampton parish. 
Visitors' Reviews & Comments