Breezes Restaurant Bermuda
$$$, Caribbean Cuisine 
The Restaurant andáAmbience
This restaurant is part of Cambridge Beaches Resort and located right on the private Long Bay beach with wonderful view of the ocean. Being on the western coast of the island, this has to be one of the top spots for
sunset views
. The beach itself is a narrow stretch of sand and therefore only one row of tables can be laid on the beach. So once you take your seat on the beach, there is no other table in front to block your views ahead. 
However there are also couple of sections (alfresco) with covered roof but with equally lovely view of the beach. If you are sitting right on the sand, during high tide your feet would likely be wet. When the darkness falls and the torches on the beach are lit up along with the candle lights on the tables, the ambience looks magical. 
Breezes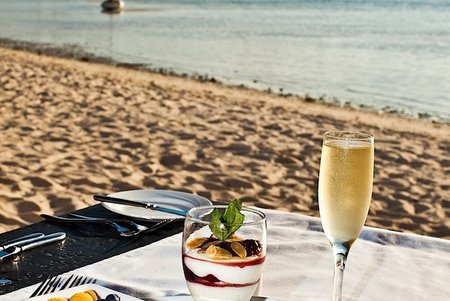 Source: Cambridge Beaches 
Food andáDrinks
The menu encompasses a list of appetizers, main course and dessert items, seafood and meat selections, however in our opinion it could do with adding a bit more variety. You will find salads and soups of different types including fish chowder which is made rich with rum and sherry. The daily soup specials are quite nice too. 
The Watercress and goat cheese salad is beautifully dressed and very flavorful. In appetizers you can also try the baked Mahi Mahi which comes with an orange and avocado salad, or the Bermuda style tikka, spicy tiger prawns (though it could be a bit too spicy for some). 
Some of the great dishes for entree here during dinner are roasted rack of lamb, baked lobster tails, local catch (usually rockfish or wahoo) served with vegetables, the Surf n Turf (especially from September to March with the spiny lobster in season) with beef tenderloin and lobster half tail etc. The stuffed Lobster with its excellent crab stuffing is delicious too. We even enjoyed the Jamaican vegetable stew as an entree. There are quite a few gluten free options which are marked clearly on the menu, however there isn't much choice in vegetarian dishes. You can choose from a variety of sides like the sweet potato mash, local style mac n cheese, sautÚed collard greens etc. 
During lunch the food is mainly burgers, fish sandwiches, wraps, jerk chicken, chicken wings, fries etc in addition to salads andásoups that include the fish chowder and a chilled soup of the chef's choice. The fish sandwich here is quite good and an upscale variety of the casual fare. Its brings to you a local amberjack which is coated in a crispy herb batter and served on a raisin bun.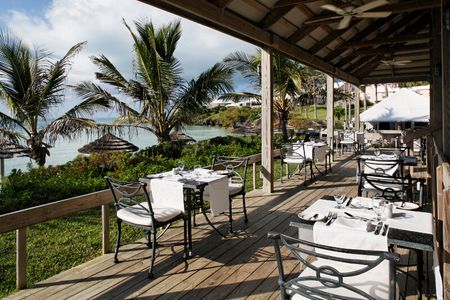 Source: Cambridge Beaches 
Local fish is usually available too along with the Catch of the Day served with pineapple mango slaw, homemade tartar sauce, sweet potato or French fries. The B.A.L.T seems to be a very popular choice for lunch here. It is Bacon, avocado, lettuce andátomato sandwich on a crusty Ciabatta bread. We also liked the fish quesadillas with sweet potato fries for lunch. 
You also get desserts like chocolate brownie which comes topped with vanilla ice cream, forest berries, fruit coulis and whipped cream, Baked banana with loquat ice cream, Banana split and Ice cream, sorbet and Frozen ice cream bars. During dinner the choices of desserts are more including pudding, custards, cakes, tarts etc. The coconut ice cream and buttercake is a great choice in desserts. It comes with lots of fresh berries around it. 
And to accompany all this, there are nice selections of cocktails as well as cognacs, aged rums, single malt whiskeys, liqueurs etc. You can also try the specialty drinks here. The bartenders are great and very knowledgeable. 
Service
We found a few loopholes in the service quality here and the wait-staff could be a tad bit distracted with not much to offer in the form of opinions/ recommendations in food etc. Service can be laid back (wading through the sand isn't an easy job after all) and average at times but friendly nevertheless. 
Trivia
As the name suggests, it can get quite breezy, so it would not be a bad idea to carry a light wrap for later in the evening once the sun has set. Dress code is casual. Availability of tables get scarce at sundown and get booked on a first-come-first-served basis irrespective of whether you have a reservation. So the best thing to do is arrive early and score your choice of table. 
Conclusion
Choose to dig your toes in the sand on the waterfront or sit at an elevated deck overlooking the waves breaking on the shore, Breezes offers an absolutely beautiful spot to dine in the whole of Bermuda. The ambience here more than makes up for the slight inadequacies you might find in food and service and is a must-visit-venue simply to dine on the beach and sunsets you will never forget. Overall a nice spot to have drinks and some food while lounging by the sea enjoying a breathtaking view of the setting sun on this westward facing beach. 
Indicative Prices
LUNCH 
Appetizers and salads: $12-$24, Soups: $10-$12 
Main Courses: $13 to $28, Sides: $7-$8 
Desserts: á$5-$15 
DINNER 
Appetizers and salads: $13-$22, Soups: $11-$12 
Main Courses: $30 to $80, Sides and sauces: $4-$8 
Desserts: $17.50 each for all desserts except ice cream : $5.50 per scoop 
Cocktails: $10-$18, Wines by the glass: $10-$18, Beers and Specialty Craft Beers: $8-$10 
Open Hours
Breezes is open during summer and serves lunch andádinner. However advanced reservation is required for dinner. The best part is while you can reach this beachside restaurant on land, you can also access the beach and the restaurant by boat from the western coast. So after boating around a bit, you can plan to take your dinner here. 
Open from 11am-10pm Sunday through Saturday 
Closed on Tuesdays for dinner 
Location and Contacts
30 Kings Point Road, Sandys Parish, Bermuda (west end). 
Hotel Phone: Call 1-800/468-7300 in the U.S or 441/234-0331 in Bermuda 
Road Map 
Related Articles
3) Check out
Restaurants in Sandys
know about all the great restaurants andábars in and around Southampton parish. 
Visitors' Reviews andáComments