Cambridge Beaches Bermuda
A Great Luxury Resort
Category: $$$$   Location: Sandys Parish 
This exclusive luxury resort is one of our top favorites and amongst the finest in Bermuda. Cambridge Beaches resort has 94 cottage style rooms and suites that are spread out over a 30-acre peninsula overlooking Mangrove Bay and Long Bay in Sandys parish at the western end of the island. To top it all, you get access to five private palm-fringed beaches from the resorts. 
Cambridge Beaches has been repeatedly rated as one of the world's best hotels in the Caribbean/Atlantic region by Travel & Leisure. We quickly realized that this hotel is ideal for rich honeymooners, moneyed families and couples who are looking for exclusivity and very special experience. Many rooms in Cambridge Beaches are exceptional - just to give you an idea, terraced with glass-fronted bedrooms looking over expanses of the bay or gardens. 
Cambridge Beaches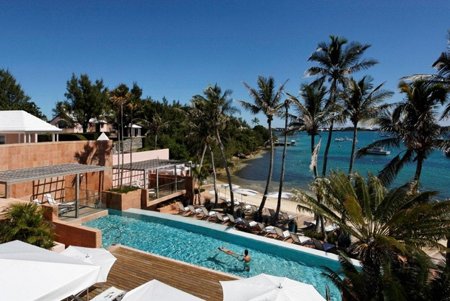 The bathrooms are exquisitely designed and furnished. They have dual basin sinks and whirlpool tubs along with showers. You get a feeling here of a country estate. Scattered throughout the gardens are nicely furnished cottages. These cottages are mostly built with Bermudian architectural designs and British touches. 
Some of these cottages were once private homes and later taken over by the resort. They all come with terraces, generally with unobstructed views of the bay and the gardens. A cottage can easily accommodate four persons. 
Cambridge Beaches has been the oldest Cottage Colony in Bermuda. One of the cottages here is supposed to be over 300 years old. The resort being thriving on return visitors, some of the cottages here have been actually named after the return visitors to the resort. 
There is a formal restaurant, the
Tamarisk Room
, in the clubhouse.
Food & Wine
rated this as one of the best places to dine in Bermuda. The restaurant has as a cocktail bar and a scenic outdoor terrace. Sometimes barbecues are held in this terrace. 
Cambridge Beaches can also arrange for an exclusive private candlelight beach dinner for you on Long Bay Beach and Turtle Cove, both within the property of the resort. 
There are couple of other great restaurants as well.
Breezes Beach Bar and Restaurant
is located by the beachside (Long Bay) and has sweeping view of the ocean. You can dine here al-fresco (with open seating on the beach or under covered roof). 
It's open for lunch and dinner, and serves Caribbean cuisine. The Shutters is a bistro style restaurant for casual dining and located right by the side of the multi-level infinity pool.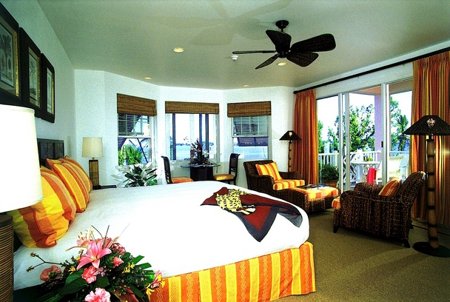 Facilities include
The resort has several private beaches. Long Bay Beach is the one which is fully serviced including watersport facilities and restaurant services (from Breeze restaurant). Sunset view from the beach is awesome. Turtle Cove is more intimate and great for a romantic candlelit dinner. 
3 restaurants; 3 bars 
2 heated outdoor pools. A new multi-level infinity pool has come up. 
Putting green and croquet, plus access to all local golf courses 
3 tennis courts (1 lit for night play) 
Sailing, motor boating, snorkeling, kayaks, scuba, deep-sea fishing glass bottom boat excursions available through concierge. 
Bicycle and moped rentals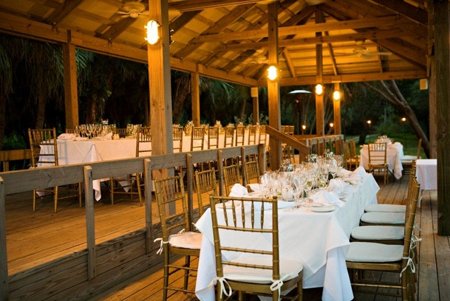 There is a private boat marina in the property run by H2O water sports. If you like to
explore the coastline and the islands
around the western water area of the island, you can take a boat rental from the resort. 
Just a short walk from Cambridge Beaches along a winding picturesque road is Somerset, a charming little town with shops, a ferry stop and a post office. The entire area is wonderful to explore and enjoy the surrounding waterways. 
The rates include full breakfast and afternoon tea. 
Update October 2012: Cambridge Beaches Resort has been rated the 8th top hotel in the Atlantic region by the Conde Naster Traveller Magazine readers. 
Update December 2014: The resort has been listed in the World's 500 Best Hotels by Travel + Leisure. 
Rates provided by booking.com 
Location
30 Kings Point Road, Sandys Parish, Bermuda (west end). 
Check out
Bermuda Hotel Map
to view the location of the hotel and other great hotels nearby. 
Contact Info
Call 1-800/468-7300 in the U.S or 441/234-0331 in Bermuda  
Road Map 
Related Articles
Visitors' Reviews and Comments
Arlene (March 2013) 
Just booked a vacation package for Mar. 11-16 for my husband and I at the Cambridge Beaches Resort, but am having second thoughts about its remote location given the time of year. Would we be better off within walking distance to Hamilton, at the Royal Palms, for example? Would we be spending a fortune in cab rides to get to sights and restaurants each day from Cambridge? 
Raj (bermuda-attractions.com, March 2013) 
Hi, Cambride Beaches Resort thrives mostly on returning guests. They come here to enjoy the seclusion and the exclusive resort property including private beaches, marine activities from the resort's own private marina, the in-house restaurants and of course the super luxurious cottage rooms. If you plan to instead move all around the island visiting sights etc, you will spend quite a lot in taxi fares. The closest ferry point for Hamilton and other places is in Watford. 
Most tourists who plan extensive visits to the public beaches and other attractions in the island, buy a transportation pass for a period (1 day, 2 day ... etc) which gives unlimited hop on and off access to the public ferries and buses. The public transport system in Bermuda is formidably good and virtually connects to all corners of the island. 
The nearest bus stop from the resort would be about 15 to 20 minutes walk. This resort is not in a great location if you are considering eating out.