Blackbeard's Hideout, Bermuda
$$, Caribbean, Seafood 
The Restaurant and Ambience
Located in St. George's at the eastern end of Bermuda and overlooking the lovely
Achilles Bay
, The Blackbeard's Hideout is a casual and friendly restaurant and bar. It belongs to the
St. George's Club
but open to public as well. It's located next to the
Fort St. Catherine
. If you are visiting the fort, plan it out in such a way that you can dine here while watching the
stunning sunset
on Achilles Bay. Not many visitors know about it. But it's quite popular to the locals. It serves both lunch and dinner. 
They have a nice outdoor deck and now even some swings placed overlooking the bay. Set off the beaten path on a hill looking down onto lovely sandy beaches on both sides, you can enjoy the gorgeous view with a nice drink from here. 
Blackbeard's Hideout and Achilles Bay Beach 

There is a story that the notorious English pirate Edward Teach, better known as the Blackbeard, used to hide in this area in the 18th century when the Governor of North Carolina was searching to nab him. He and his men came here and anchored their ship and had a great time in the blue waters of the Achilles Bay. While no one knows what happened to them and where they went from here, the restaurant that came up on the beach of Achilles Bay was named as Blackbeard's Hideout. 
Outdoor Deck at Blackbeards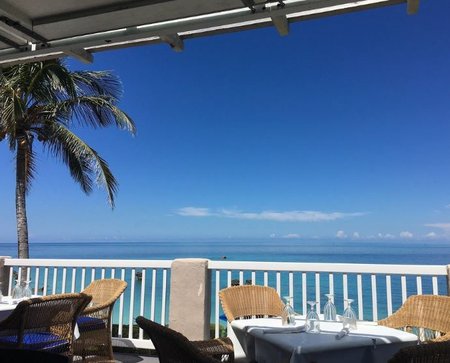 The restaurant was renovated in 2012 and the name was changed to The Beach House at Blackbeard's to give a feel of a beach house. However it has been again renamed back to its original name of Blackbeard's Hideout perhaps because that's how it was always fondly known to the islanders. It continues to offer the vibe of an island-style beach bar. Although located on the beach, the restaurant is at a higher elevation and there is a stairway down to the beach. You can get down to the tiny but beautiful beach on Achilles Bay and even carry your drinks. 
Food and Drinks
The menu is limited though simple and direct. In starters, Bermuda fish chowder which is a thick soup prepared with ground fish head and laced with Gosling's Black Seal rum and sherry peppers is a nice way to start. Other nice starters include Fresh Oyster on half shell or the jumbo scallops wrapped in crispy bacon (called the cannon balls). You can also go for the steak fries topped with cheese and curry sauce. There are some light bites as well like chicken wings, the paprika crusted cauliflower florets that is served with a nice sweet chili dipping sauce, vegetable samosas etc. The Bermuda onion tart too is a great choice in appetizers. 
If you looking for burgers or sandwiches, there are several of them as well (veggie, beef etc)... try out the Somer's Isle Burger served with lettuce, onions and tomato on a classic bun. The quesadilla and burger is delicious as well. The quesadilla comes with a nice amount of cheese and a little spice with a side of sour cream to tone it down if needed. The burger with fried mushroom and cheese is scrumptious too. 
If you like to go for a simple fare during the day, just go for the Wahoo nuggets and green salad or the Blackbeard's Fish sandwich on raisin bread with mango slaw. They are both refreshing and filling. The Homemade Calamari and Caesar salad are well prepared too. 
Shrimp Salad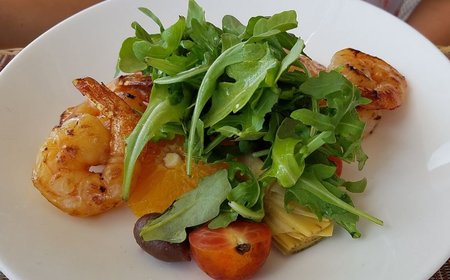 In proper main courses, the menu is not elaborate but good enough for most. If you love seafood, go for the catch of the day. The grilled lobster is a must-try when in season. Other nice options include seared rockfish, beef sirloin steaks, jerk chicken legs, ribs etc. The Tuna tartar is excellent with a nice touch of capers in it. Scallops wrapped in bacon and the battered shrimp are nice too. They come with lots of local flavors especially the Rockfish which comes covered with banana slices served on a mashed potato base. Top it off with a lava cake for dessert. 
However, sadly, the seafood pasta that we tried did not live up to our expectations. It came with clam shells and way too creamy for our liking and not enough flavor. 
Other than cocktails (including island cocktails such as Dark n' Stormy which is made with Black Seal rum and ginger beer) they also have nice selection of wine. The good thing is you get wine served both by the glass or bottle. A glass of chilled Sauvignon Blanc as we watched the sunset was unforgettable. 
Service
The staff is quite friendly and welcoming. Our server also indulged us in taking photographs and recommended some nice cocktail choices and craft beers to go with our meal. However the service could get a little slow at times. 
Trivia
Prices are fair when you compare them with other waterfront outlets in St. George's. Sitting in the outdoor area could be a tad pestering at times with little flies and insects around, but closer to the sunset, it gets better. Portions are generous and quite plentiful in some of the dishes. The restaurant can call you a taxi. Let them know twenty minutes in advance so the taxi is there when you are ready to go. Book ahead especially for a good table at sunset. Dress code is smart casual for dinner. 
Sunset view from Blackbeards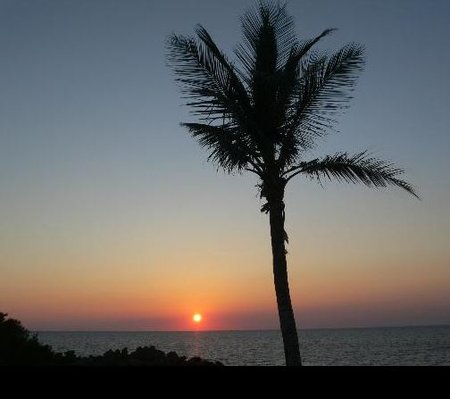 Conclusion
The Blackbeard's Hideout is an interesting venue, up on a cliff, next to a fort, exotic views and a sunset to die for. Apart from the breathtaking views of the fort and the crisp blue waters and beyond, visit here for the friendly atmosphere, the wonderful camaraderie of locals mingling beautifully with tourists. Bask in the cooling breeze and the setting sun from the deck on a warm summer evening for a sense of calm and serenity. 
There is no better place to watch sailing boats in the sunshine with fine wine and nice food. A footstep from the water, you can enjoy your meal and then go right back and lounge on the beach. 
Indicative Prices
Burgers/Sandwiches: $14-$23, Starters/Salads: $9-$15, Main courses: $19-$28 
Wines by the glass: $10-$12, Beer: $6-$9, Cocktails: $8-$14, Non Alcoholic: $5-$9 
Open Hours
The restaurant is open on Tuesday to Sunday (12 to 8pm). Serves lunch, dinner and drinks. 
Location and Contact
The St. George's Club, 6 Rose Hill 
5 Coot Pond Road, Located next to Fort St. Catherine's, St. George's Parish 
Toll Free Number: 1-877-734-3180 
The restaurant offers a complimentary shuttle up to Kings Square (Town of St. George's) so that you can get a taxi or public bus back to your hotel. 
Road Map 

By Raj Bhattacharya 
Raj, a seasoned travel writer and Bermuda destination expert, has extensive global travel experience. This website reflects his profound insights, garnered over nearly two decades of dedicated findings and research on the island. Raj has assisted countless Bermuda-bound visitors by providing direct, personalized responses to their queries and imparting his wealth of knowledge through this platform. This site serves as an indispensable guide for those seeking informed and reliable insights into Bermuda's treasures. 
Related Articles
Visitors' Reviews and Comments
Daniel Olson (May 2019) 
We are coming on a cruise. How would you get to the Beach House at Blackbeards from the dockyard. Thanks for any help. 
Raj (bermuda-attractions.com) May 2019 
You can take the Orange Route ferry from the dockyard to St. George's and then walk (about 20-25 minutes) or take a taxi. 
Virginia Mcgovern (July 2016) 
Thank you for your site. We are arriving on the 3rd of August via the Breakaway and I've booked a dinner reservation at 7:15 at The Beach House. I've been reading the ferry and bus schedules and there doesn't appear to be any that would be running around 9:00 or so to get us back to the ship. Can you tell me if the taxi's run at that our and if so what the fare might be for 4 from the restaurant back to the Royal Dock Yard. 
Thank you again for all the information you provide here. Oh two other questions. Can we use the beach area near the restaurant? Or should we go to Tobacco Bay beach or Achilles Bay. And what is the dress code for the Beach House. Thanks again... 
Raj (bermuda-attractions.com) July 2016 
Yes you can get taxis. Ask the restaurant staff and they can call one for you. Small taxi fare from Beach House at Blackbeard's to Dockyard would be around $90 and will take about 1hr 15mins. You can use the beach here (Achille's bay), but note public beaches in Bermuda close after sunset. Dress code is smart casual.