Fort St. Catherine, Bermuda
Located at the northern tip of St George and overlooking the ocean, St Catherine fort stands between the
St Catherine Beach
on one side and
Achilles Bay
on the other side. 
One of the most impressive forts in the island, St. Catherine fort has many historic exhibits, artifacts, and a well preserved interior.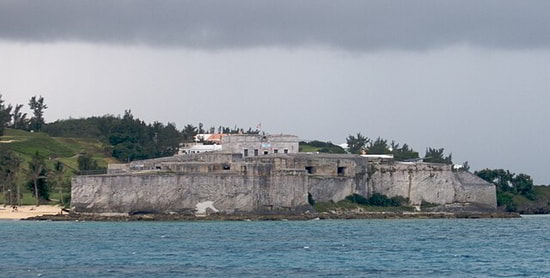 Photo: reivax / flickr, cc by-sa 2.0  
Surrounded by a dry moat and accessed by a drawbridge, the fort has a large number of tunnels, towers, redoubts and ramparts. In 1609, the ship Sea Venture of Sir George Somers was wrecked on a reef nearby. 
The entire crew came ashore where the St. Catherine fort now stands. They actually started the first settlement in Bermuda. 
In 1612, Bermuda's first governor Richard Moore arrived in Bermuda from England. Moore built a wooden fort here to defend Bermuda mainly from Spanish attacks. The original fort was built around 1614, but it was renovated at least five times. 
In fact, work continued until late in the 19th century. Today this stone built fort houses a museum and is one of Bermuda's most impressive structures. 
(Haxo casemates on the left. Ahead is the open gun area. 
The roof of living quarters on the right)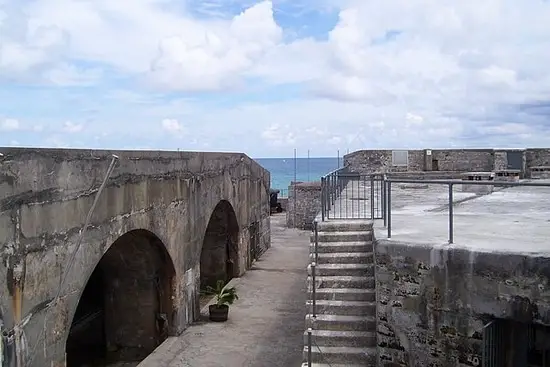 Photo: reivax / flickr, cc by-sa 2.0 
You can see a collection of antique weapons. In the old artillery store there is a gallery of dioramas depicting Bermuda's history. 
The fort was defended by 5 canons, each weighing 18 tons. The shells they fired weighed 400 pounds and were capable of penetrating even thick iron plates. 
RML 10 inch Mk II gun at Fort St. Catherine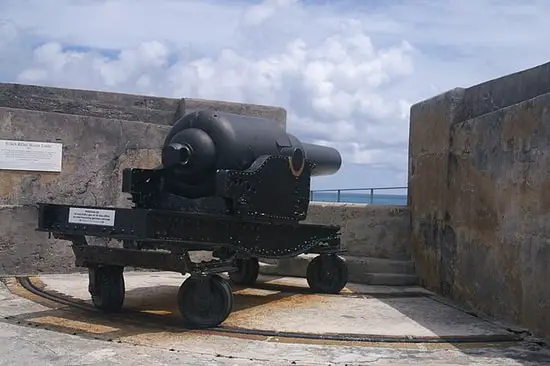 Photo: reivax / flickr, cc by-sa 2.0 
As you stroll through the magazine, you can see numerous pistols, swords, muskets and even 10" Rifle Muzzle Loaders on the gun floor. 
Replicas of the British Crown Jewels are also on display. There is an audio-visual presentation done here featuring various other forts of St George. 
The Children can have a thrilling experience in one of the lower chambers. They can listen to the spooky chanting of 'George the Ghost' during Halloween light show in the chamber, believed to be haunted. 
Fort St. Catherine Imagery 
Rotate the image for 360° view  
An exorcism was held at the fort in the 1970s. Incidentally, St Catherine fort's main terrace overlooking the reefs below has been the setting for several theatrical displays. The most notable was by Hollywood's Charlton Heston in a 1950s production of Macbeth. 
Admission Fee
$7 for adults, $3 for children under 15. Children under 5 are free. 
Lantern tour is held on Mondays and Thursdays from 6pm to 7pm ($25 per person). You are given a lantern to explore the mysterious hallways of the fort, its many treasures, structures and artillery... an awesome experience. Advance booking is not required. 
Open Hours
The fort is open 10am - 4pm, Monday through Friday 
Closed on December 25, 26 and January 1).  
75% of the fort area is wheelchair accessible. 
Contacts and How to reach
15 Coot Pond Road, St. Catherine's Point, St. George, Bermuda. 
Phone: Call 441/297-1920 for further information. 
The fort is under the administration of Department of Parks, Bermuda. 
St Catherine Fort is located north of St George's town and is not on a major bus route. If you like you can walk from Kings Square. 
While the walk towards the fort is uphill and may be a little challenging, the walk back to the town is downhill and easy. It takes about 20-25 minutes by walk. 
You can also take a Minibus service. The mini buses depart from King's Square. They depart all times of the day. 
While coming from the dockyard (Kings Wharf), you can take the direct Orange Route Ferry to St George (takes 35 minutes, this is the shortest route). 
However, the ferry has only limited runs and does not operate on Saturdays and Sundays. This ferry does not usually operate in winter either. 
Alternatively, take the Blue Route Ferry to Hamilton City. From Hamilton, Bus Routes #1, 3, 10, 11 will take you to St George's Town (about 1 hour). 
Ferry fare is $4.50 by token and $5.00 by cash for both Orange and Blue Routes, and same for bus. You can also use a 14-zone ticket in both bus and ferry from a pack of 15 (the pack costs $37.50). 
Road Map 
Nearby Attractions & Eateries
From Fort St. Catherine you can easily walk down to the popular Tobacco Bay Beach (650 meters). The beach has a beach bar and restaurant, restrooms, water sports and is great for snorkeling and swimming. 
Another beach within a short walk (on one side of the fort) is Achille's Bay which is known for is spectacular sunset view. 
On the other side of the fort is another beautiful small beach known as St. Catherine's Beach. You can see the walls of the fort from this beach to its north west. 
Overlooking Achilles bay and on Coot Pond Road is Blackbeard's Hideout... a nice beach restaurant. You can plan to take your lunch here (it's run by St. George's Club, but it's open to all including tourists). 
If you like to visit another fort nearby that was built during the British era, take the Barry road and walk for little over a mile and you will reach Gates Fort on Cut Road. 

By Raj Bhattacharya 
Raj, a seasoned travel writer and Bermuda destination expert, has extensive global travel experience. This website reflects his profound insights, garnered over nearly two decades of dedicated findings and research on the island. Raj has assisted countless Bermuda-bound visitors by providing direct, personalized responses to their queries and imparting his wealth of knowledge through this platform. This site serves as an indispensable guide for those seeking informed and reliable insights into Bermuda's treasures. 
Related Articles
1) Check out
Bermuda Forts
to know about the historic forts in Bermuda. 
Visitors' Reviews and Comments
Beverly Blahut (February 2018) 
When does the mini van run from St Georges to St Catherine's Fort. Will be there in April. Will it be running then? Cost? Is a taxi better? 
Raj (bermuda-attractions.com) February 2018 
Hi, the minibus runs almost every 30 minutes from St. George passing Unfinished Church, St. Catherine fort, Gates Fort etc during the day time in summer. 
Whether the service will be available in April will depend on the tourist flow. You can find out the minibus service timings at the Visitors Information Center at Kings Square (St. George). Ticket cost is $6 per person for round trip (you can hop on and off). 
Taxis are of course available at Kings Square. You can also walk to the St. Catherine fort (about 25-30 minutes).