Bermuda Tourist Map
The map below shows all the important tourists places in Bermuda. If you are looking for the location of a specific place or attraction, see the table below the map listing all important places and tourist attractions in the island, note the number next to it and locate that number on the map. You can then see its location on the map including the parish.  
In order to get detailed information of a specific tourist attraction including its description, address, contacts, transports to reach etc., click a link on the table below the map. 
Tourist Map of Bermuda showing important landmarks and attractions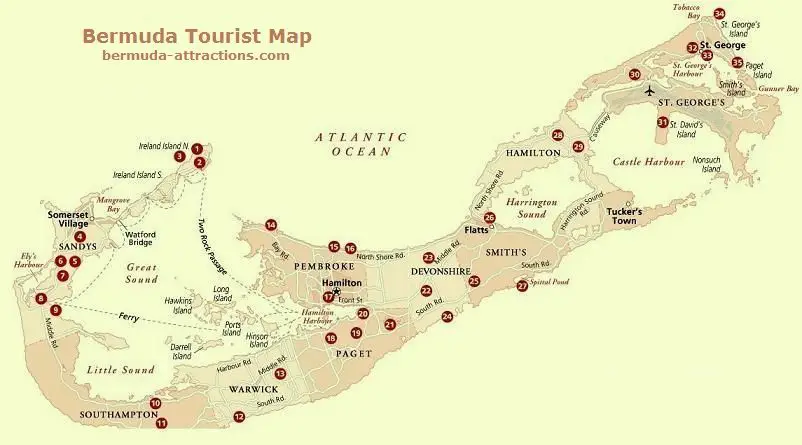 Cartography courtesy of Frommer's Travel Guides 
Recommended Resource
If you are visiting Bermuda, take a look into the
Bermuda eBooks
to make a great vacation plan in Bermuda and know about the best attractions, guided and self-guided tours, water sport and other activities, great dining and shopping options, vacation tips and lot more. 

By Raj Bhattacharya 
Raj, a seasoned travel writer and Bermuda destination expert, has extensive global travel experience. This website reflects his profound insights, garnered over nearly two decades of dedicated findings and research on the island. Raj has assisted countless Bermuda-bound visitors by providing direct, personalized responses to their queries and imparting his wealth of knowledge through this platform. This site serves as an indispensable guide for those seeking informed and reliable insights into Bermuda's treasures. 
Related Articles
1) Check out
Bermuda Map
for all the maps that you will ever need in Bermuda.