Bermuda Historical Society Museum
Located in Hamilton City, Bermuda Historical Society Museum stores prime collections, important historical documents and artifacts of the island. 
Bermuda Historical Society Museum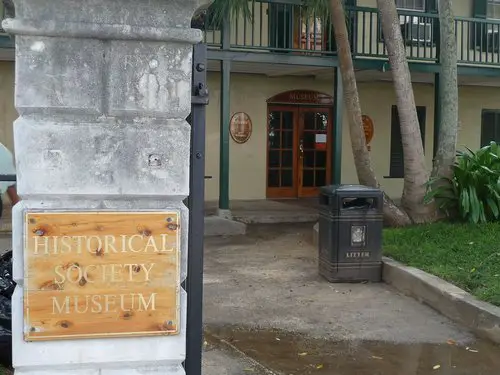 Photo: Clyde Adams III, flickr, cc by 2.0 
The public rooms are small but full of Bermudian treasures. There are great collections of coins, silver and furniture including rare and valuable "Hog" money. 
There is also a model of the ship
Sea Venture
. Sir George Somers and his men were sailing on this ship in 1609 when it got wrecked near St. George's. They came ashore and started the first human settlement in the island. 
The Museum has some unusual Bermuda history books and you can buy them. There is 1830 make Waterford crystal chandelier. There is also a Wedgwood vase and a great silver collection. 
These silver items were made by local silversmiths of those days. They created the items from the coins taken by privateers from enemy ships as there was no other source of silver available in Bermuda. 
You will find a clock which is made by a Silversmith Jeweler in 1790. It's a superb piece showing great craftsmanship. Over 1-foot tall, this clock has a pagoda style top and a silver-brass face. Number melody tunes are played by the clock. 
You will also see a type written copy of the letter that George Washington wrote in 1775 asking Bermuda to steal gunpowder from the British to deliver to America's revolutionary forces in return for Bermuda's exemption from a trade embargo for all colonies which supported Britain in the conflict. 
There are exhibits of Boer War artefacts from the time when thousands of South Africans were kept as prisoners of war in Bermuda's various small islands between 1901 - 1902. 
In fact the War Museum of the Boer Republics in Bloemfontein receive regular inquiries from researchers regarding the South African War of 1899-1902 and the prisoners who were interned in Bermuda during that period.  
They are now trying to obtain an inventory or list of the documents regarding the SA War that are stored with the Bermuda Historical Society Museum as well as photos to render a better service to all researchers. 
The house which is an old Georgian property is set in gardens called
Queen Elizabeth Park
which is open to the public. Here you will find businessmen taking lunch and lots of chattering school children. 
The house used to be the home of William B Perrot, who was Hamilton Postmaster for 43 years. Perot planned the gardens during his time at the post office, and the place has changed very little since. The
Perot Post Office
is right next to the Bermuda Historical Society Museum. 
In the early days, the Historical Society Museum was located in a private residence in East Broadway street (Hamilton) before it was relocated to its current location in 1957. 
Open Hours
There is no admission fee and the museum is open between 10:30a.m - 1:00p.m from Monday to Friday and select Saturdays. It's closed on Sundays and public holidays. 
How to reach
It's located in Hamilton city on Queen Street next to Perot Post Office.  
Address: Queen Elizabeth Park, 13 Queen Street, Hamilton. Phone: 441/295-2487 
Road Map 
Related Articles
1) Check out
Bermuda Museums
for great museums and historical buildings in Bermuda. 
Visitors' Reviews and Comments
Share your experience.