Perot Post Office Bermuda
Perot's Post Office is named after the man who was appointed Bermuda's first Postmaster General in 1821 - William B. Perot. He was actually acting as an unofficial post man for several years, meeting the ships and tucking the letters under his hat before touring the town to deliver them. Perot went one step further in 1848 when he began to produce his own postage stamps. 
Perot Post Office Bermuda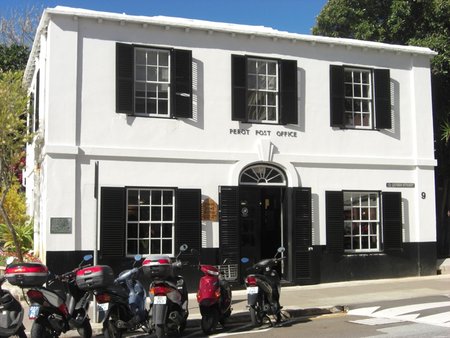 Photo: Robyn Fleming, flickr, cc by 2.0 
Only 11 are known to exist today, making each one extremely valuable. One of his postage stamps was auctioned for $92,000 in 1985. Because of Perot, Bermuda became only the second British colony after Mauritius to have its own postage stamps. Perot was a postmaster by trade and a gardener by choice. 
Perot used to stamp every outgoing mail himself by hand. Seeing this tedious job, his friend J.B. Heyl came out with a solution. He suggested that instead of stamping every mail, Perot would stamp a whole sheet of postmark paper, sign the stamps and sell the sheet of stamps for a shilling. People could then tear off a stamp from the sheet and use it for postage. Perot now got more free time for gardening. 
The little post office, is still very much the same as Perot kept it, neat and simply furnished. The building has been repaired and restored by Bermuda Government. There is still an active branch post office operating out of this building. 
Inside Perot Post Office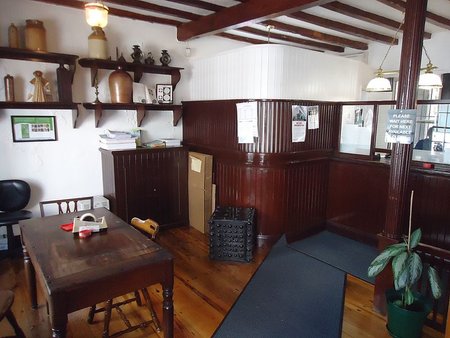 Source: Wikimedia Commons 
Perot retired in 1862. You will find Perot's and his wife's portraits in Bermuda Historical Society which is located next to the post office. 
Update January 2019: Following a major refurbishment, the Perot Post Office re-opened on January 21, 2019. The Bermuda Philatelic Bureau which was earlier housed in the General Post Office on Church Street (Hamilton), has now been relocated to Perot Post Office. So collectors of stamps can now get special edition stamps and first day covers at Perot Post Office. 
Update August 2020: As per the directive of the Health Ministry of Bermuda, the Perot Post Office is being used as an interim Covid-19 Testing Center. The postal products and services are presently stalled here. However, the normal service is expected to resume once its temporary use as Covid-19 testing center concludes. 
Open Hours
There is no admission fee and the post office is open between 9a.m - 5p.m from Monday - Friday. It's closed on public holidays. 
How to reach
It's located in Hamilton city on Queen Street at the junction of Reid Street.  
Address is 11 Queen Street, Hamilton. Phone: 441/292 9052 
Road Map 
Related Articles
1) Check out
Bermuda Museums
for great museums and historical buildings in Bermuda. 
Visitors' Reviews and Comments
Share your experience.