Sea Venture
Sunk in July 1609
This ship Sea Venture had actually started the history of Bermuda and brought in the first settlers in the island. They were all originally headed for another English colony, but were forced to land in Bermuda due to a severe storm. Here is the story of Sea Venture: 
In July 1609, Sir George Somers had started with a fleet of 9 ships from Plymouth (England) towards the new English colony Jamestown in Virginia. He was carrying settlers and food supplies for the new English colony. As a chief commander, he was aboard the lead ship (or the flagship) called the Sea Venture. There were 150 sailors and settlers aboard the vessels, and a dog. 
The fleet was caught in a severe storm. The sailors were somehow able to spot the east-end reefs of Bermuda (near St. George) and were able to steer the ship towards the rocks. The ship got wrecked on the reefs. But luckily all the men on board were saved including the dog :-) 
The survivors later built two new ships -
The Deliverance
and
The Patience
. The Deliverance was constructed primarily out the materials stripped from the Sea Venture itself. After having constructed the two new vessels, all of them set sail again for Jamestown. Nearly 350 years after the Sea Venture got wrecked, Edmund Downing set out to find the
Sea Ventures
remains in 1958. He found a wreck in 30 feet of water. 
An artist's depiction of Sea Venture caught in a storm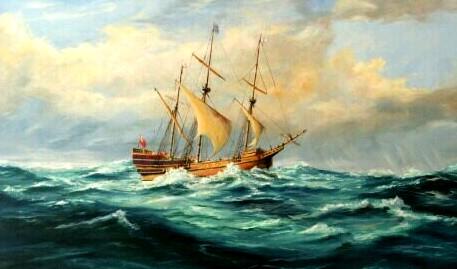 Painting by Christopher Grimes, Bermuda 
The Smithsonian's, Mendel Peterson and the legendary Bermuda diver Teddy Tucker were called to verify the site. They unearthed a stone jug, a clay pipe, and a vase and confirmed that they belonged to the period when the ship was sunk. They also took timber measurements and concluded that this was indeed the vessel that had brought Bermuda's first colonists. 
And with these colonists, the
history of Bermuda
started that traces back to the year 1609. 
UPDATES: There is a new monument built in St. George Bermuda in memory of the survivors of the Sea Venture. Read
Monument for Sea Venture
to know the details. 
Related Articles