St. Catherine Beach Bermuda
A.K.A Gates Bay Beach
Placid waters and soft white sand are what this beach is known for. Out of the city crowd, this lovely small beach is quiet and peaceful. Unlike
Tobacco Bay Beach
which is located at a short walking distance away, this beach is not crowded.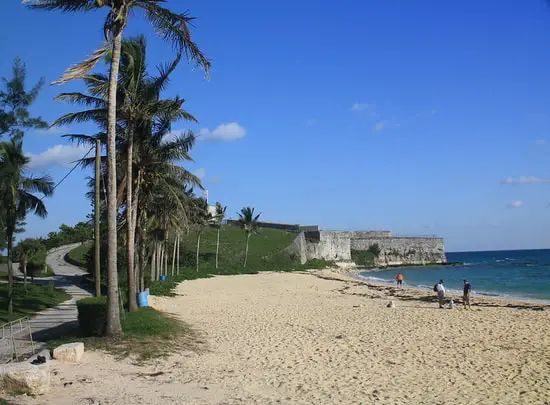 Bri, flickr, cc by-sa 2.0 
St. Catherine's beach is located at the North Eastern end of St. George's and not on a direct bus route. You can however walk to the beach from Kings Square (the town center of St. George) or walk. The bay here is known as the Gates Bay. 
If you are visiting Bermuda by air, look through the window when your are landing. You can see this wonderful beach from the aircraft. 
This is the historic beach where the Sir George Somers and his men came ashore after being shipwrecked at a nearby reef in 1609. And that was the beginning of the human settlement in Bermuda. 
At one end of the beach you can see the
Fort St. Catherine
towards north. So, if you want to combine a little history as you visit the beach, walk over to Bermuda's lasrgest Fort St. Catherine which was built in early 1600s. It showcases Bermuda's military history. 
St. Catherine's Beach is quite popular with locals. You can often find some locals fishing from a jetty at the beach. The water is calm and the beach is great for swimming. 
St. Catherine Beach Imagery 
You can also snorkel and see some small fish, but
Tobacco bay beach
located nearby is far better when it comes to snorkeling. 
There is a make shift toilet on St. Catherine's  beach, but no changing or shower facilities. 
There used to be a snack bar at St. Catherine beach and also water sport facilities (like banana boating etc). You could also get beach rentals. The snack bar and facilities have been removed in 2011 because a new hotel came up in the nearby area. 
How to reach
St. Catherine's beach is located north east of the town of St George and is not on a major bus route. If you don't have a scooter, you can catch a bus (#1, 3, 10 or 11) from Hamilton to St George and then take a minibus service to the beach. 
The mini buses depart from King's Square. They operate all time of the day during summer. You can buy minibus tickets from the Visitors Information Center at Kings Square, St. George. 
From Kings Square, you can also walk up to the beach (about 25 minutes). It's an uphill walk and can be a bit tiring for some. From Kings Square take Duke of York Street, take a left at Somers Super Market towards Duke of Kent Street. Keep going and you will reach Tobacco Bay. St. Catherine's beach is further 5 minutes walk from there. 
Road Map 
Related Articles
Visitors' Reviews and Comments
Tim McWilliams (February 2015) 
Can I get an update on the status of St. Catherine Beach. 
Raj (bermuda-attractions.com) February 2015 
The beach is still quiet and without any facilities other than a make-shift toilet. The new hotel development work is scheduled to begin in mid 2015. So the beach is likely to be spared until then or even beyond if the hotel project gets further delayed. 
Tim McWilliams (February 2015) 
Raj, Thanks for the info.  When the cruise ships docked in St. George, we enjoyed St. Catherine beach on many occasions (tiki bar, banana boat etc). Thanks Again 
Peter and Christine (April 2011) 
Hello, My wife and I have been visiting your beautiful country from our honeymoon (1972) to this June. We have always loved spending time in St. George's and St. Catherine's beach. However during the past two years we see that the old
Holiday Inn
has been demolished and the beach snack bar and facilities have been discontinued by Government. When we arrive in early June will the beach have any facilities and snacks bar open and is it regularly cared for. Thank you for any update on this situation. Best Regards 
Raj (bermuda-attractions.com) April 2011 
Hi Peter and Christine, Unfortunately the state of St. Catherine's beach remains the same. It was bizarre that the 'Beach It' snack bar and facilities on the beach were removed long before the construction of the new Park Hyatt hotel had even started. In fact the St. George's Golf Course, the Club House along with its golf shop and Mulligan's restaurant were all closed down in anticipation that new hotel construction would start soon. Park Hyatt Bermuda was originally scheduled to be completed in 2012. But looking at the progress (none so far), don't think that will be possible. Until then, St. Catherine Beach is likely to remain in the same state :-( 
However having said that, you fortunately have many other great beaches in Bermuda to choose from :-)
Tobacco Bay
which is also quite close remains untouched and has all the facilities. Regards