Teddy Tucker & His Book
Teddy Tucker has been a legendary man of Bermuda who has spent all his life in underwater exploration, wreck diving and underwater treasure hunting. We met him and his wife Edna during a conference in Bermuda in the year 2005. This was when I got some real insights into his life as a diver and a treasure collector. We heard some of his life stories directly from him and his wife. 
Teddy Tucker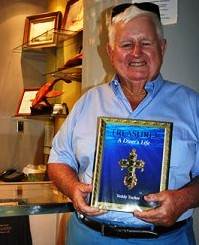 Since then I have been a big fan of Teddy and all his life's work. I knew someday Teddy Tucker would come out with his own book. And that would not only serve as his autobiography but also capture the invaluable and amazing stories around his underwater discoveries. 
Finally the treasured book has been launched in November 2011. It has been titled "Treasure! A Diver's Life". As the title suggests, the book is about the precious treasures that Teddy has collected from the numerous shipwrecks he discovered over the years, plus the wrecks themselves and also how he grew up in Bermuda. 
Teddy Tucker has been diving in Bermuda waters for over 60 years. He had discovered more than 250 shipwrecks worldwide and over 100 in the North Atlantic around Bermuda itself. He mentioned that he has been keeping a log and note about all these wrecks since 1947 and had also been making a sketch of each one of them. 
So at the beginning of every chapter of the book where he describes a new wreck or a new part of his life, you will see his painting or a sketch of a shipwreck. His wreck diving talent and senses have been so powerful that he would know about the wreck's make, origin, destination and many other details just from a look of it or from few scattered timbers lying under the water. 
While Teddy has found countless treasures in the wrecks, one that stands out from the rest is the Pectoral Cross or the Tucker's Cross. This exquisite gold and emerald relic is considered to be the finest single item or a treasure discovered under the water in modern history. 
Pectoral Cross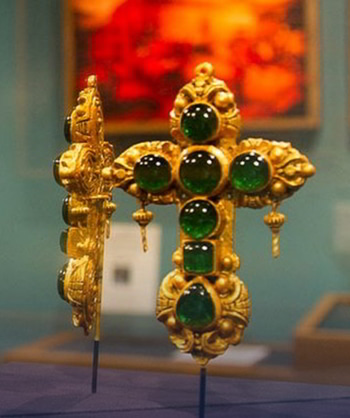 He found this treasure in 1955 from a wreck called San Antonio that sunk north of Bermuda. This Spanish ship was wrecked in 1621 when it hit a violent storm. Just before the Queen Elizabeth-II visited Bermuda in 1975, the original cross was mysteriously stolen. As of date there is no trace of the cross. The original cross has been replaced by a fake one. 
In his book, Teddy has given first hand account of this masterpiece and how he discovered the treasure. The book also gives detailed accounts of how he found many
shipwrecks
and the process followed to study the wreck. 
Teddy Tucker has not only been a great diver and underwater explorer, he has many other achievements is his life. He is a key contributor in designing a grid or a method of surveying wreck sites that is now followed at the Maryland University.  
He is known to be an established Marine Biologist and has proved that the waters around Bermuda actually has six gilled sharks. Teddy is also a founder member of the worldwide Beebe Project which engages into studying deep sea creatures using underwater equipment. 
The movie The Deep of Peter Benchley had drawn inspiration from the life of Teddy Tucker. No wonder Teddy himself is considered a National Treasure of Bermuda. 
How to buy his book
Price of the book: $59.95. 
Phone No. of BUEI: 441/292-7219 
Update June 2014: Legendary diver Teddy Tucker passed away on June 9, 2014. He was 89. He was the person who found the shipwreck San Pedro where he collected the famous gold and emerald treasure of all time - The Pectoral Cross (picture above). 
Related Articles
Visitors' Reviews and Comments
Share your experience.