Bermuda House of Assembly
Session House
Sessions House, located in Hamilton City is the House of Assembly where the Bermuda Parliamentary sessions are held. This prominent structure was established in 1817 after the Capital of Bermuda was moved from St George to Hamilton in 1815. The red terra-cotta designed Clock Tower was added to the building later in 1887 to commemorate the Golden Jubilee of Queen Victoria. The neoclassical architecture of the building looks awesome. 
Note that the first session of the House of Assembly in Bermuda took place in 1620 at St. Peters Church when the Capital was in St George. While the Parliament sessions are held in the upper floor, Supreme Court of Bermuda occupies the ground floor of the Session House. So today the building is home to two of the most important administrative units of Bermuda. 
Bermuda's House of Assembly or Sessions House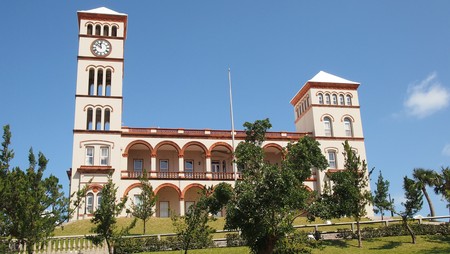 Inside the Session House, the structure is that of the British counterpart - the House of Commons. The two major political parties sit opposite to each other in a big hall and the speaker, wearing a black robe and a wig, conducts the sessions. There are 35 elected members of the house and 38000 registered voters in Bermuda. 
Bermuda Assembly House (The Session House) is open to public from Monday through Friday between 9am to 12:30pm and between 2p.m to 5p.m. But the real fun is to catch the actions from the public gallery on Fridays (November to June from 10am onwards) when the live sessions take place. 
There have been famous debates held in the Session House in the past. In 1940s, a strong debate on whether to allow motor vehicles in the island was finally voted "yes" in 1946. A move to get McDonald's and other fast-food franchises in the island was voted "no" in 1995. 
There is no admission fee. But note that even visitors are required to follow some dress code. You can call up to know when the sessions are scheduled and what is the required dress code. 
Location and Contacts
21 Parliament Street, Hamilton, HM 12, Bermuda 
Phone: 441/292-7408 (House of Assembly); 441/292-1350 (Supreme Court)  
Road Map 
Related Articles
1) Check out
Bermuda Museums
for great museums and historical buildings in Bermuda. 
Visitors' Reviews and Comments
Review and share your experience.