Spittal Pond Nature Reserve
Spittal Pond, located in Smiths Parish Bermuda, is the largest and the most premium nature reserve and national park of the island. It spreads over some 64-acres of land area. This Nature Reserve is co-owned by Bermuda National Trust and Bermuda Government. 
The reserve stretches along the south shore coastal line and at its center is the 8-acre Spittal Pond. It's a sprawling sanctuary with a valley having a large brackish pond, several other freshwater ponds with surrounding marsh and woodland areas. 
There is a winding trail through all these climbing to a spectacular views over the south shore. This area originally was comprised of 10 strips of privately held land. However due to large parts being salt marshes, it was unsuitable for development. 
In 1946, historian and conservationist Dr. Henry Wilkinson purchased a segment of the land at the eastern end and donated the 4.2 acres land area to the Bermuda National Trust in 1973. 
Spittal Pond Bermuda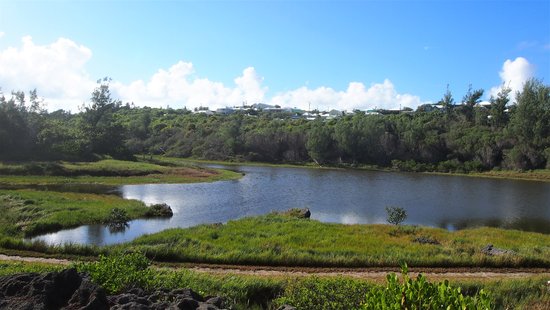 Source: Wikimedia Commons 
Bermuda Government bought the remaining parts as and when they became available. Some areas in the western side has been leased out to dairy farmers. In 1966 the first nature trail was created around the park. It was only in 1986 when Spittal Pond actually became a protected nature reserve under the National Park act. 
The Reserve has two entrances along South Road. Both have parking lots and lead to the winding trail. We entered through the western entrance. From the parking lot we followed the trail through the woods. Here we saw
Bermuda Cedar
and prickly pear cactus. 
As you go through the woodland area, you can see trees like olivewoods, casuarinas as well as palmettos and pittosporum. There are also many spice trees and Mexican pepper trees along the trail. 
You will see lots of wildflowers as well like the Jamaican wireweed with its tiny beautiful pale apricot flowers. As we came out of the wooded area, Spittal Pond was on the left. 
Spittal Pond Imagery. 
Rotate the image for 360° view. 
Use the arrows to move along the trail. 
The pond itself is a wildlife sanctuary and protected by a fence. Just before the gate to the sanctuary and to the right is the strange Checkerboard, an unusual geological formation on the coastline. It is a large flat floor of limestone with grooves that divide it into squares. 
We heard that even experts are unable to say whether human hands or the sea had crafted such work. While the area is of great interest to the geologists, we heard that in 18th century, whalers used this place to strip the whales after they were hauled to the shore. 
As we watched the continuously pounding waves on the coastline along this area, I wondered how the whalers managed to do such jobs. If you look over the coastline, with some luck you can even get a sight of the migrating whales from here during the migration season (March - April). 
Some parts of the coastline is a favorite fishing area for many locals. The Spittal Pond is also a large bird sanctuary and one of the best
bird watching locations
in Bermuda. Most of the bird-life can be seen from the trail itself. From October to May, the reserve becomes home to a wide variety of migratory shorebirds and waterfowl. 
Resident birds in the forest area include Kiskadee, Grey Catbird, White-eyed Vireo, Northern Cardinal and European Goldfinch. During the winter time, you can spot black and white Warblers, American Redstart, Ovenbird and Northern Waterthrush.  
Cliffs & Shoreline at Spittal Pond Nature Reserve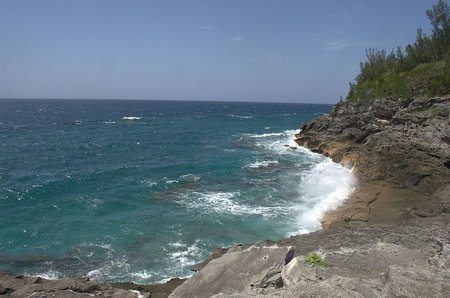 Source: Wikimedia Commons 
We have spotted birds like woodland cardinals, finches, mallards, turnstones, sandpipers, white long tails, blue herons, white egrets, occasionally visiting hawks, and the yellow crowned night herons. Next was the
Jeffrey's Hole
, a cave with an overhead hole. This was used as a temporary shelter by a slave who escaped his master. 
Further up the trail is the Spanish Rock, a historic carving on an exposed rocky cliff face. It's believed to be the work of Portuguese sailors of a wrecked ship. The inscription, now cast in bronze, includes letters that look like "RP" possibly for Rex Portugaliae, referring to Portugal's king and dated 1543. The original rock no longer exists and a bronze cast of the original stands in its place today. 
If you like to enjoy a lovely beach after the tour of the Spittal Pond and don't mind walking a little further, take the South Road for
John Smith's Beach
. While there is barely any sidewalk and the traffic might be heavy at times, if you are watchful it's worth this one mile walk. You will be rewarded with a wonderful tranquil beach. 
Guided Tour of Spittal Pond
The Bermuda National Trust offers a 90-minute guided walking tour of Spittal Pond Nature Reserve on demand. Reservations are required before 3pm on Monday. The tour begins at
Waterville
, where you learn about the unusual plants and features of their traditional garden. This is followed by a trip to Spittal Pond, Bermuda's largest pond and bird sanctuary. The tour includes important historical and geographical sites as well as information on Bermuda's native and endemic flora and fauna along the trail that winds around the pond. The tour is offered on Tuesdays 1:30–3:00pm. Tour cost is $50 per person. Advance booking is required. Call (441)236-6483 for reservations. 
Expert naturalist Lynn Thorne also offers a guided tour of Spittal Pond daily 10am to 1pm. Price: $25 per person, per hour (Includes round trip transportation, healthy snack and drink). To book, call 441-799-8888 or email
[email protected]
Admission
Admission to the reserve is Free. 
Open Hours
The Reserve is open Daily from dawn to dusk.  
Location & Contacts
South Road, Smith's Parish.  
Call 441/236-6483 for further information.  
Buses #1 and #3 (operating between Hamilton City and St George) serve Spittal pond nature reserve. 
Road Map 
Transport fare to reach Spittal Pond
If you have a transport pass then you won't need to pay any separate public bus or ferry fares. Otherwise, from dockyard up to Hamilton City, fare by token is $4.50 and by cash $5.00 per adult in both bus and ferry. From Hamilton, the bus fare up to the reserve is $4.50 by token and $5.00 by cash. However having come by bus up to Hamilton, if you take an onward bus transfer for the reserve, then no additional fare is required for the connection. You can also use tickets in both ferry and bus for both legs of the journey (from a pack of 15, pack costing $37.50). 
Nearby Attractions
You can walk west along the south road from here to
St. Mark's Church
(only about 300 meters)... with its Gothic look and design and stained glass windows, perched on a hillock, it's a picturesque church around here. If you walk from Spittal Pond entrance to the east for 1 mile, you will reach the scenic
Watch Hill Park
... the view of the south shore from here is excellent. Town hill, the highest point on the island, is also at a short distance from here, but it requires an uphill hike. 
Raj Bhattacharya
Raj is an avid traveler and a full-time travel blogger. He has traveled to numerous countries across the world and loves to keep travelling. His mission here is to help viewers like you visiting Bermuda or seeking insights into related matters with the most comprehensive content. Since years now he has been helping countless viewers by posting quality articles on this website, answering questions and sharing experiences. Launched in 2008, this website is Bermuda's leading source of online information since many years. 
Related Articles
1) Check out
Bermuda Nature Reserves
to know about all the wonderful parks, gardens and nature reserves in Bermuda. 
4) Check out
Smiths Bermuda
to know all about the parish, its attractions, activities etc. 
Visitors' Reviews & Comments
Val. Thatcher (July 2017) 
Visited Spittal pond June 19 saw a blue grey white heron with a large bill could it have been a juvenile yellow crowned heron. Enjoyed visit and saw the tropic birds and cardinal birds and the white eyed viero.