St. Mark's Church Bermuda
Located on South Road, St. Mark's church is an Anglican church and one of the finest by its design in Smiths Parish Bermuda. The cornerstone of the church was laid in 1847 and it was named after St. Mark who wrote the second gospel. Until 1846, there used to be another church here - Harris' Bay Church that was located at the adjacent grave yard. 
When St. Mark's Church was first constructed, it was a simple square structure with arched windows. 
Subsequently, a tall beautiful tower was added along with an octagonal spire on which the cross was mounted. The church was revitalized in a grand gothic style. The font of the church was created from Bermuda limestone. The pews were made from mahogany wood. The altar and the pulpit are made of cedar and are great examples of Bermudian craftsmanship. 
St. Mark's Church Bermuda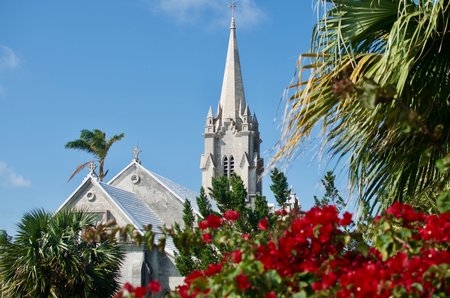 Photo: St. Mark's Church 
The Gothic tower is some 100-foot tall. The mahogany logs used to build the pew were washed ashore in Turks Island. They were later shipped to Bermuda by boat. The small country church was transformed from a simple square structure to such an architectural wonder under the leadership of the Reverend George Tucker, and also by tireless lifework of the parishioner Jeremiah Scott Pearman. 
At the adjoining graveyard, the graves are elevated above the ground but the bodies are laid some 6 feet under the ground. You will see the graves of former US Consul General, Charles Maxwell Allan (1888) and his wife (1909) here. 
Mark Twain used to be a frequent guest of Allan and stayed with them in Pembroke at his waterside house. Mr. Allan did not return to US and stayed back in Bermuda till he died. 
Services
Regular Sunday services are held at 8:00am and 10:30am. A family service is held on every second Sunday at 10:30am. 
Location of the church
51 South Road. Smiths parish, Bermuda. Bus #1 stops nearby. 
Road Map 
Related Articles
1) Check out
Bermuda Churches
to know about the other great churches in Bermuda. 
2) Check out
Smith's Parish
to find out other great attractions in the parish. 
Visitors' Reviews and Comments
Share your experience.