John Smiths Bay: A Great Snorkeling Beach in Bermuda
John Smiths Bay beach is located on the south shore in Smith's Parish, between the hotel
The Loren at Pink Beach
and Watch Hill Park. 
This is a wide stretch of pale pink sand with crystal clear water. The beach is named after Captain John Smith, an explorer who first produced a map of Bermuda in 1631.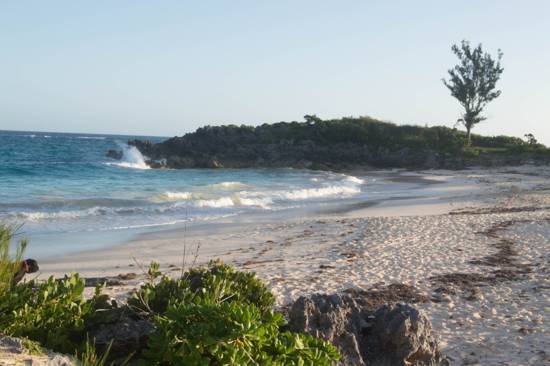 Since it's a bit far from the typical tourist places, it remains quiet and secluded although it's quite popular with the locals. It's a great beach for families and children. 
This is an excellent snorkeling beach as well. You can see lots of colorful fish at the nearby reefs. Although the closest reef is about 200 yards from the shore, you don't need to worry about a long swim, as the snorkeling is excellent only a few yards off the shore. 
You can enter the water from anywhere you like. You can find excellent colorful fish in the rocky stretch to the west-end as well. Here you will see the reefs coming within a few feet of the surface and going down to the depths of about 25-foot. 
The surrounding reef line which is about 200 yards away, prevents boat traffic from entering the bay, and also keeps the water calm.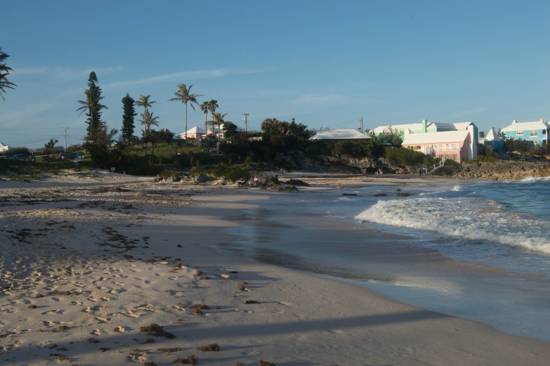 The beach has ample parking facilities as well as toilets. There is a lunch wagon selling cold drinks, burgers, fish cakes, fries and ice creams on most of the days. 
Due to the occasional rip currents, lifeguards are always on duty during summer time. 
John Smiths is a public beach and open from sunrise to sunset. There is no admission fee. The beach offers little shade, so if you are looking at relaxing on the beach for a while, bring your umbrellas. 
John Smith's Bay Imagery 
Rotate the image for 360° view  
Location of John Smith's Bay
Visit the
Beach Map
to view the location of John Smith's Bay and other great beaches. 
The beach is located in Smith's Parish. Take bus #1 or #3 that operate between Hamilton City and St George and get off at the nearest bus stop (about 25 minutes by bus from Hamilton City). It's a short walk from there. 
If you are coming from the dockyard, first get to Hamilton City by the Blue Route ferry and take a bus (#1 or 3) from the Central Bus Terminal. 
Road Map 
Nearby Attractions
Once done with the beach, if you like to explore one of the best nature reserves of Bermuda, then walk westward along the South Road from here for about a mile and get to
Spittal Pond Nature Reserve
. This is also a great bird watching location. 
Alternatively, you can take a bus (#1 or 3) and reach another famous attraction... The
Crystal and Fantasy Caves
in 10 minutes. There are cafes at both these two places in case you like to have lunch or snacks. 
Related Articles
4)
Smiths Parish
: Know all about the parish and all its attractions. 
Visitors' Reviews
Melissa (February 2011) 
John Smith's Bay is a beautiful family beach. I was born and raised in Bermuda, though I live abroad now.  I do get to visit often and to this day one of my favorite beaches is John Smith's. Both as a child and an adult this beach in most months has everything you need. The lunch wagon was always my favorite right on sight. 
In response to the review about left off broken glass found, sometimes in the off months of winter the beaches do not get groomed to perfection, but I assure you this was an isolated case. 
If you are looking for a beach that is not huge but a nice family beach for you to keep your eye on your kids, a snack if they need it, then this beach is for you. If you ever get to be on it when the moon is high above, it is absolutely heavenly!  
Steve Ross (June 2010) 
I recently visited John Smiths Bay as it comes recommended as one of the best swimming beaches on the island. We had a small child with us and we were looking forward to our day out. The beach was covered with literally hundreds of pieces of broken glass. Both on the sand and on the edge of the surf. 
I took two handful of glasses to show the lifeguards who were aware of it but could not seem to do anything about it. The glass was everywhere and people were dodging it on their way across the beach. 
I have been to many beaches around the world but I have never seen such a thing before. I am not sure who is responsible for cleaning the public beaches in Bermuda but what we saw at John Smiths bay was nothing short of an absolute disgrace. 
If Bermuda wants to attract tourists who pay inflated fees to be there, it really needs to sort this out.
Shelly Bay beach
was not as bad as John Smiths but there were many pieces of broken glass there too.