Shelly Bay Beach Bermuda
Shelly Bay Beach is located in Hamilton Parish. The beach has been named after Henry Shelly, one of the crew members of the wrecked ship
Sea Venture
. It was in this ship that Sir George Somers and his men landed up in Bermuda in 1609 which led to the first settlement in the island. The ship got wrecked at a reef near St. George's. There are plenty of fringing trees that shade Shelly bay beach. The beach has lovely soft white sand. 
Shelly Bay Beach is often rated as the number one beach for kids and families in Bermuda because of its extensive stretch of shallow waters. The beach is ideal for novice swimmers and children. Once you get through the beach entrance, you need to walk up a few steps to see the sandy beach and the sea. 
Shelly Bay Beach, Bermuda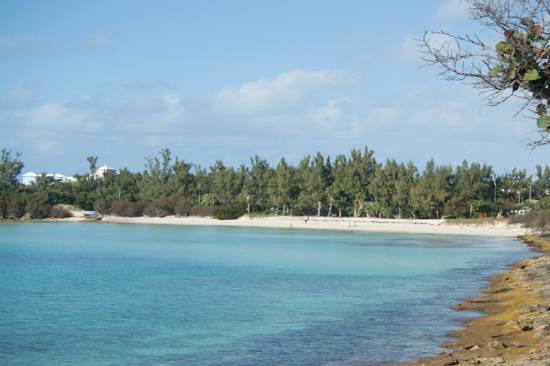 This beach is also great for snorkeling. There is a shallow reef nearby which is a good snorkel site. Shelly bay is also popular for the island's wind surfing community and ideally suited for the sport during northern wind conditions. Along the beach there is a mangrove tidal pool. You can find many colorful and different species of birds here. 
Shelly Bay Beach, Bermuda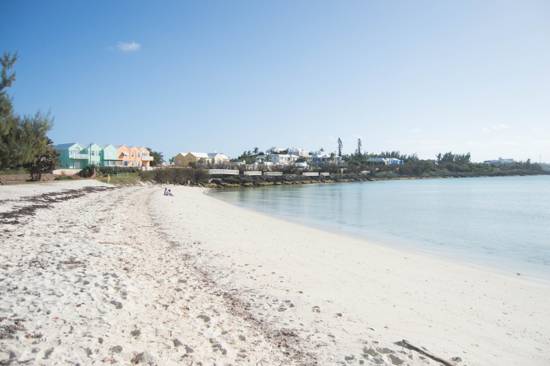 The adjacent Shelly Bay Beach Park has picnic facilities and extensive parking area. The park is about 100 yards walk from the entrance. This free public park has a children's play area with climbing frames, swings etc and many local families come here with their kids. Some times even the local soccer and cricket teams play matches at this park during weekends. 
There is an wooden boardwalk along the western edge of the beach that takes you through a scenic reserve. As you walk over the footbridge, you can see the rock formations along the coast line and the crystal clear water. 
You can clearly see through the water and right up to the bottom. After you have walked for a while, turn back and you can get a full end-to-end view of the tree lined Shelly bay beach afar. The long boardwalk finally links up with a section of the scenic
Railway Trail
. The entry to the railway trail is about half a mile away and near the erstwhile
Railway Museum
.  
If there is one negative point about the beach... it is its proximity to the street. Depending on where you are on the beach, you are likely to hear the noise of cars passing by. 
Shelly Bay Children's Playground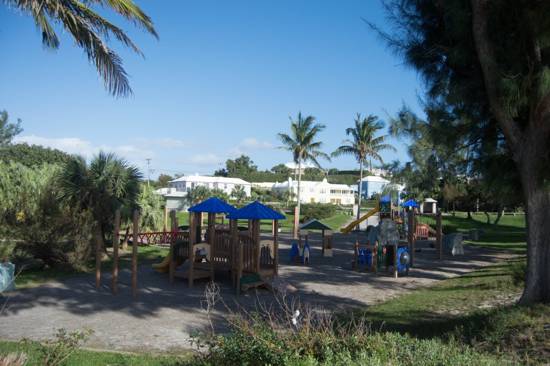 Apart from the adjacent Children's Playground and the beach park, there are not much facilities at Shelly bay. There are toilets but no rentals like snorkel gears, beach chairs or umbrellas. Yardie Kitchen once located near the beach served nice Caribbean and local cuisine including wraps, burgers, curries, fries etc. It opened in 2007. The cafe offered breakfast, lunch and dinner with both sit-in and take-out options. However it closed down due to lack of demand. 
The large grocery / departmental store
Shelly Bay Market Place
is located 1.3 miles east of the beach. This is a branch of the island-wide chain of MarketPlace grocery stores. This is the main grocery store on North Shore Road and gives you an opportunity to pickup essentials and food on your way back. 
How to reach Shelly bay beach
Visit the
Beach Map
to view the location of Shelly Bay beach and several other great beaches. 
The beach is located off North Shore road at Crawl Hill in Hamilton parish and between Hamilton City and St. George's. You can take bus #10 or 11 that operate between Hamilton City and St. George's to reach Shelly Bay. If you are coming from the Royal Naval Dockyard, then first take a ferry to Hamilton city (20 minutes) and then a bus for the beach (another 25 minutes or so). Approach way to the beach from North Shore road (i.e. the bus route) is easy and quite scenic. 
Road Map 
Related Articles
2)
Hamilton Parish
: All about the parish, its attractions, hotels, restaurants etc 
Visitors' Reviews/Comments
Stephen (July 2012) 
Unfortunately the cafe at Shelly bay beach is now closed and you can no longer use the restrooms. With a hungry little one, we were not able to stay very long. Too bad because would have a perfect spot to spend the whole day!