Bermuda Aquarium, Museum and Zoo (BAMZ)
A Top Attraction in Bermuda
Bermuda Aquarium, Museum & Zoo, also known as the BAMZ in short, is one of our favorite attractions in Bermuda. Located in the picturesque Flatts Village in Hamilton parish, BAMZ was founded in 1926. It offers 3 different attractions in Bermuda in the same complex, the Aquarium, the Museum and a Zoo. 
You need to budget 2 to 3 hours to enjoy the whole of BAMZ. We would usually visit the complex when the one-hour free guided tour begins. The free tour starts at 1:10pm daily during the high season (April - September). In the other months, the tour takes place only on Saturdays and Sundays.  
The Aquarium is really the primary attraction at the BAMZ. We would always begin our tour by first collecting a sound-stick at the entrance. It plays recorded commentaries as you explore the many tanks showing Bermuda's underwater ecosystem. 
BAMZ - Main Entrance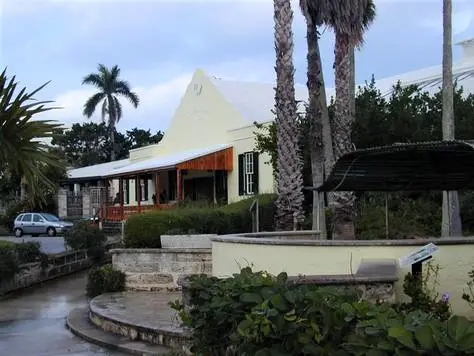 The main centerpiece here is the 140,000-gallon "North Rock" tank, a living replica of one of Bermuda's spectacular coral reefs. It's one of the largest live coral collections in the world. You can find a variety of marine life here including purple sea fans, barracuda, groupers shark, star & brain corals. You can even stick your head into a giant Plexiglas bubble and experience the sensation of diving into a coral cave.  
Bermuda Aquarium  (BAMZ) 
At the Aquarium, you'll see various kinds of marine creatures & fish from both shallow waters to deep ocean like parrotfish, tiger fish, moray eels, jacks, groupers, crabs, spiny lobsters, corals etc. 
There is an outdoor pool housing harbor seals. Feeding times for these seals are at 9am, 1:30pm and 4pm daily. A brief presentation is given about the marine mammals following the feedings. 
The Aquarium also has some green turtles housed in an outdoor pool near the main entrance. Green turtles are endangered species worldwide. 
The Museum in BAMZ is open daily from 9am to 5pm. It has recently undergone some major facelift. Earlier the museum in BAMZ used to be the least visited and was kind of a let down after the tour of the Aquarium. But now it has a lot more interesting exhibits around life in Bermuda, from the recent to very distant past. The museum in BAMZ has two sections: 
The first section shows the natural history of Bermuda before any human beings arrived. It explores the origins and various natural habitats like rocky shore, beach, fresh water pond and forests. There is a multimedia presentation showing creation of the island. There is also a 'peeping cave' where visitors can learn about the island's cave formations and the creatures that live within them. 
The second section in BAMZ museum shows the impact of humans and different species of wildlife on Bermuda's ecology; the way it has gone through changes and how it has been now conserved. 
Overall this Natural History Museum traces the geological formations and ecological development of Bermuda. It also showcases the migration of humpback whales, pelagic fishes, birds and turtles. 
The Zoo in BAMZ is quite small. However, the authorities here have done a very nice job of setting up a natural environment for the animals.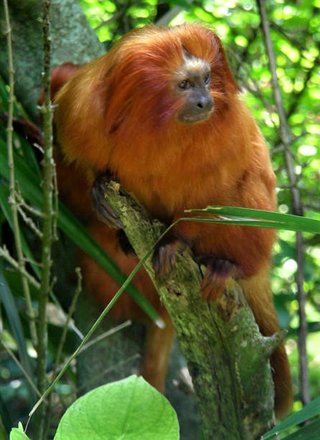 Some of the interesting animal exhibits in the BAMZ Zoo include the following: 
Islands of the Caribbean 
This exhibit in BAMZ Zoo opened in 2002. The objective of this exhibit is to show how the wildlife has migrated from the Caribbean and South America to Bermuda over the years. There is a wire-mesh cage covering a large area and a walkway through the cage. 
This allows the visitors to interact closely with the creatures inside. The creatures include Brazilian acouchi, golden lion tamarin, the scarlet ibis, rosette spoonbill, Cayman blue iguana etc.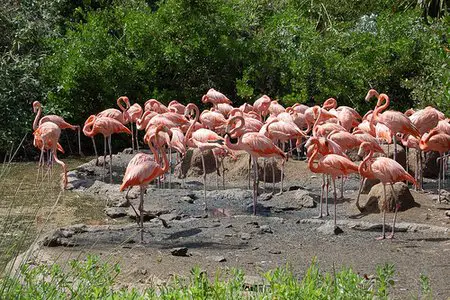 Islands of Australasia 
In this section of BAMZ Zoo, you can find a lot of creatures of Australasian and Asian species. These include wallabies, tree kangaroos, bats and tree shrews. 
Islands of Madagascar 
You can see ring tailed lemurs here imported from Madagascar. 
Local Tails 
This is a great place in the BAMZ Zoo for kids and adults alike. One can really interact with the nature. There's a touch pool with mollusks, sponges, small lobsters, sea urchins, sea stars, sea cucumbers, conch etc and the kids can gently touch them, and know about bermuda's unique marine creatures. There is also a table-top tank in the Long Tails section full of corals and juvenile fish, a glass-enclosed beehive plus plenty of other interesting features.  
Discovery Room 
For kids of age between 2 to 4, on every Friday, there are some special activities that take place in the Discovery Room at 11:30am (except in July and August). These include stories, songs and guest appearances by animals. Kids can dress up like animals and birds. 
Other exhibits at Zoo 
There is also a reptile exhibit in BAMZ Zoo. One of the highlights here is the Oscar the alligator. There are also several Galapagose tortoises in a large open area near the Caribbean Exhibits. The first Galapagose tortoises were gifted to BAMZ by an American businessman and a frequent visitor
Vincent Astor
in 1930s. Since then they have been breeding here. 
You can also see birds from South America such as macaws and parrots. You can also see large flock of Caribbean flamingos in BAMZ Zoo that are breeding here since 1950s. 
Bamz Imagery, Rotate the image for 360° view. 
You can also move with the arrow keys.  
Other facilities at BAMZ 
There is a gift and souvenir shop inside the complex (BZS Gift Shop) selling various items like kids toys (stuffed and plastic make), musical CDs and Bermuda books. 
There is also a cafe Azu Beastro at BAMZ (opened in March 2013). It has wonderful view of Harrington Sound water area and Trunk Island. There are alfresco seating on veranda with roof cover and even outside under umbrellas. If you're lucky, you might be able to see a peacock nearby. 
The cafe is open daily from 9am to 4pm. They serve paninis, sandwiches, burgers (beef, tuna, black beans etc), fish tacos, pizzas etc. They also have children's menu including chicken fingers, fish nuggets, cheese sandwiches, fries etc. 
If you want proper lunch, you can try another charming Italian restaurant in the Flatts Village called
Rustico
(North Shore Road, Tel: 441-295-5212). This is the closest restaurant to Bermuda Aquarium Museum and Zoo (BAMZ) complex. 
Update June 2016: After months of renovation, the Aquarium hall and the Gift Shop near the front entrance have re-opened. The new exhibit hall now ensures a complete experience of underwater marine life around Bermuda. The new enlarged gift shop has added to shopping experience and stocks many items including children's books, stationery, local artwork and lot many souvenirs. 
Admission Fees 
You can enjoy all the three attractions at the Bermuda Aquarium, Museum and Zoo (BAMZ) for a ticket price of $10. For children between 5-12 years and Senior Citizens of Bermuda the ticket charge is $5. Children below 5 are free. Advance booking not required. 
BAMZ facility is wheelchair accessible. 
BAMZ Open Hours 
It's open daily from 9am-5pm. Last admission is at 4pm. 
The gift shop is open from 11am to 4pm (Tuesday through Sunday). 
BAMZ is closed on Christmas Day. 
Seal Feeding Timings: 9:00am, 1:30pm and 4:00pm daily. 
Location, Contacts, How to Reach 
40 North Shore Road,
Flatts Village
, Hamilton Parish. Phone: 441/293-2727 
You can get to BAMZ by bus #10 or #11 (operating between Hamilton City and St George). From Hamilton it takes about 20 minutes by bus and from St. Georges about 35 minutes. If you are coming from Kings Wharf (Royal Naval Dockyard), take a direct ferry to Hamilton (20 minutes), walk down to Central Bus Terminal on Washington Street (6-7 minutes) and then take the bus. The bus stops right in front of BAMZ. There is also a parking available opposite to the BAMZ complex. 
Road Map 
Transport fare to reach BAMZ 
From dockyard up to Hamilton City, fare is $4.50 by token and $5.00 by cash in both bus and ferry. From Hamilton, the bus fare up to BAMZ is $4.50 by token and $5.00 by cash. However having come by bus up to Hamilton, if you take an onward bus transfer for BAMZ, then no additional fare is required for the second part of the travel. You can also use tickets in both ferry and bus for both legs of the journey (from pack of 15, pack costs $37.50). 
Related Articles 
3) Check out
Hamilton Parish
to know about other great attractions in the parish. 
Visitors' Reviews & Comments 
Angela Calabrese (October 2018) 
We are cruising to Bermuda and interested in the shore excursion to the aquariun and zoo. How will we be getting from the Disney cruise ship to the zoo? Is it by ferry? The cruise people didn't know. Thank you for your help. 
Raj (bermuda-attractions.com) October 2018 
Hi, it depends on how the cruise ship arranges the transport. By public transports the easiest way is to take a ferry from the dockyard to Hamilton (20 minutes) and then a bus (#10 or 11) to Aquarium (another 20 minutes). Cruise ship may organize a van or a minibus depending on the group size and go all the way by road. 
Linda Lichtman (April 2013) 
I would like to figure out how to get back from Bamz by taxi to Hamilton to catch Ferry back to dockyard in June. 
Raj (bermuda-attractions.com, April 2013) 
Hi, There is no taxi stand at the Bamz. So unless you book one by the hour and keep it waiting, or see one dropping off another visitor, you won't get a taxi back from Bamz. The best is to take a bus (#10 or 11). It takes only 20 minutes to reach Hamilton (compared to 15 minutes by taxi). From there walk down to the Ferry Terminal at Front Street and take the direct Blue Route ferry back to the Dockyard (another 20 minutes).