The Village Pantry Bermuda
$$, Contemporary, Pizza, Vegetarian friendly 
The Restaurant and Ambience
This is a particularly family focussed and children friendly, quaint and cozy little restaurant located in Flatts Village which is away from town and in a charming quiet corner of Bermuda.  It is not difficult to locate being right across the
Bermuda Aquarium, Museum and Zoo
alongside the main road. 
From the outside, the restaurant is quite an eye catcher with patio seating under the shadow and from the inside also, the layout is pleasing to the eye.  It is clean, bright and airy with a lot of wood work but nor dark or dank within. You get beautiful views from here of lovely pastel colored buildings as well as the Flatts inlet and a lagoon full of boaters as well as other water craft. 
The Village Pantry: Main Dining Room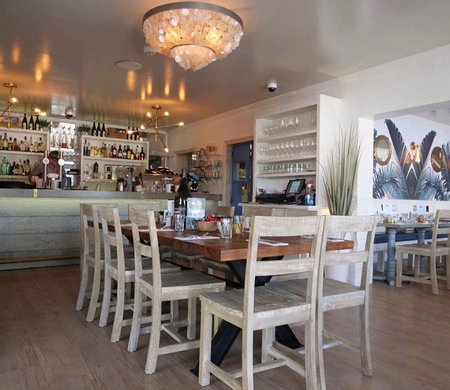 Source: The Village Pantry 
The building had formerly housed another popular restaurant on the island, Rustico, which later moved down to the south shore letting the new owners to take over the place and revamp it to what it looks like today. They have both indoor and outdoor seating. The outside areas were reconfigured which now allows the restaurant to cater for up to a hundred guests. 
The seating on the patio with its tented awning is especially pleasant though could get a bit loud at times with the passing traffic. The ambience is great with basket lights and floral decorations. Besides these, the outdoor seating area is heated during the winter and can also be covered and enclosed during inclement weather. 
In addition to the al fresco patio and the eye-catching dining room, the Village Pantry has a separate little "pavilion" especially meant for families with small children. The pavilion is a tent with clear sides and is completely surrounded by a children's play area. This entails that the parents can enjoy a relaxed dining experience  while the children play in a visible and separate area that is contained and filled with toys, trucks, art supplies and other amusements. 
It is actually a delight to be able to sit back, relax and have a nice cocktail or a leisurely meal knowing your children are happy and entertaining themselves (that too without those irate looks from neighbors if they happen to get a bit too loud). 
They have a central table at The Village Pantry that can host a family or a large group. Interestingly, it is the exact same size as the popular central table at
The Devil's Isle
. The Village Pantry is owned by the same owners as the Devil's Isle in Hamilton City. They are open for breakfast, lunch and dinner. Guests are also welcome to have coffee, cake and snacks... coffee being one of their strong focuses. 
Food and Drinks
The menu is accurately designed comprising of a lot of healthy options along with 'food for the soul'. They offer a variety of dishes, many of which are difficult to come by anywhere else on the island. They have a nice breakfast menu with delicious homemade jams and their own coffee. Each dish is well prepared and presented. The Banana bread French toast is tasty and filling at the same time though could be a bit sweet for certain palates. 
Seafood Platter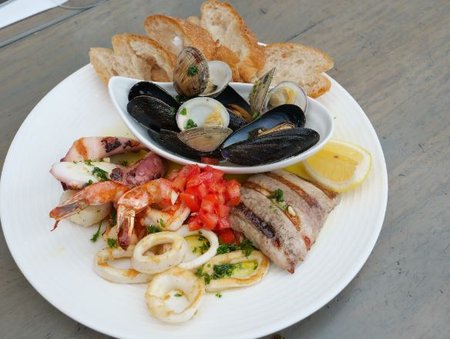 Source: The Village Pantry 
The warm Croque Monsieur, breakfast sandwich on a fresh ciabatta roll and the solid cold brew coffee are all impressive. Do not miss out on their range of juices and smoothies which you can even take to go. We loved the tea here and on inquiring we found out that the tea brand they use here is Tea forte, which is an American tea company. 
The Fish Chowder here is great. You can also start with the Spicy poke bowl which is a very well liked item on their menu and come in really large portions for an appetizer. We had the raw tuna poke bowl that came with lots of greens, cashews, mango and a soy based sauce. The calamari, the fabulous potato soup and the very flavorful pork belly tacos absolutely stole our hearts . The salmon couscous does not pack as much flavor though is a healthier option. 
Some of our favorites in salads are the Octopus salad, the chicken salad tartine and the spinach and kale salad with some chicken. They are fresh and scrumptious. They have an extensive vegetarian selection, French style flatbreads as well as decent size kid's meals. The vegetarian tacos and corn bread are delicious too.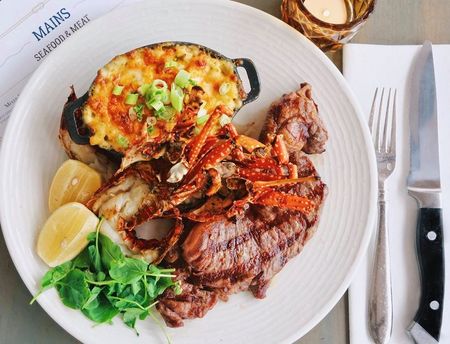 Source: The Village Pantry 
The fish they serve is absolutely fresh and beautifully cooked. You can try the Buddha Bowl with the Catch of the Day and a pumpkin seed oil dressing. It is one of the most popular options on the menu. The seafood platter is another great option that comes with a surprising amount of seafood on it. It was actually a weekly dinner special earlier, but was so popular that they had to add it to the regular menu. Other great fish dishes include the Pan Roasted rockfish, queen scallops, wahoo curry etc. 
The Classic fried chicken with mac n cheese or even the mussels with mac n cheese is a nice option for mains. The Fried Chicken platter also is good and comes in very generous portions and enough for two to share. If you happen to drop by on a Sunday, try the Sunday roast which is very nicely prepared here. They serve pizzas too, some of which come with absolutely unique toppings rather than the typical ones, which you can certainly try if you feel a bit adventurous. In burgers, we would go for the Quinoa lentil burger. 
Great Pizza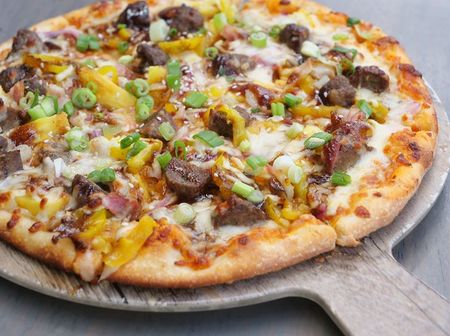 Source: The Village Pantry 
The drinks menu is also impressive with some very unique and subtle beverage options. The cocktails are generous and well balanced. The Blooming Fizz cocktail is light and refreshing and an absolute must-try. We even tried the dry Rose wine and it was exceptional. 
The Star light Brownie in desserts really caught us by surprise with its distinct style of presentation. It had an espresso, a brownie stick with a scoop of vanilla ice cream- all magnificently brought together. It simply goes on to show how a great team  can come up with novel ideas to create a memorable experience for its customers. Other great desserts include the brown affogato, chocolate fig tart with local ice cream and even the blueberry crumble with some cappucino. 
Service
Service is very amiable and the serving staff is immaculate and polite who greet you perfectly as you walk in. They can make some very nice suggestions for you from the menu. They even accommodate requests if you have food restrictions or are diet conscious and tend to all your needs including modifications to your selections and in a timely manner. In fact there are helpful icons on the menu indicating all items that are gluten and dairy free or contains nuts, eggs, shellfish etc making it easier to for you to choose. Service however could be a tad slow at times. 
Trivia
The restaurant is pricey but that is in accordance to any other similar restaurant on the island. They have Weekly Dinner Specials on Wednesdays. The appetizer portions are usually quite big and very pocket friendly. Apart from this, they have a Seafood BBQ on Fridays where the chefs barbecue seafood items are served in the gazebo amidst all the guests. It also includes a special seafood platter for two. They have a brunch menu on weekends. 
Parking is right in front of the restaurant and quite convenient, although they could do with a few more spots. They also have a car valet service here, if you do not want to go hunting for a spot. The place is popular among locals and visitors alike, so make a reservation especially for brunch which is one of their busiest times. They have free WiFi but guest WiFi is valid for only one hour. They have four restrooms, one being wheelchair accessible. Dress code is smart casual. 
Conclusion
Walk into this splendid place where the food is innovative and service is top notch and where the staff not only take care of your meal but also your experience. It has a hip, charming ambience which you will be taken by instantly. A great place to spend with family, go solo, have a date night or even to have a night out with friends. 
Indicative prices
Appetizers: $9-$18, Poke Bowl: $15 (appetizer), $27 (Main) 
Main course:  
Seafood and meat: $22-$44, Vegetarian: $17-$22, Pastas and Pizza: $17-$34 
Desserts: $10-$12 
Open Hours
Monday to Thursday: 10am-12am, Friday: 9am-12am 
Brunch: 
Saturdays, Sundays and Public Holidays: 9am-5pm 
Location and Contacts
Road Map 
8 North Shore Road, Flatts Village, FL 03, Bermuda 
Related Articles
Visitors' Reviews and Comments