Devil's Isle Cafe Bermuda
$$, Fusion / Seafood / Coffee 
The Restaurant and Ambience
This is a restaurant and deli located right at the center of the buzzing City of Hamilton, about ten minutes off Front Street. The restaurant is not very fancy but is quaint and beautiful, a bit quirky, you might call it. They have an indoor air conditioned dining room as well as an outdoor seating area in a little terrace facing a busy street. 
The outdoor deck has a cover and keeps you safe from getting wet if there happens to be a sudden shower, so you can enjoy both your food and the streets of Hamilton from here. However, the traffic and noise outside can sometimes be a bit overwhelming. Indoors it is cooler and quieter though the atmosphere is quite engaging in keeping with its location in the middle of the busy Hamilton city. You can even sit by a window and enjoy watching life on the colorful island outside while you eat. 
Inside Dining at Devil's Isle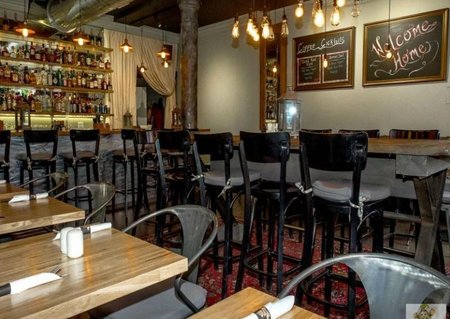 You will see a lot of locals dining here and seems like a popular outlet. Many of them even come for a takeout. There are actually two different doors- one for entry into the restaurant and the other for the takeout service.
The Village Pantry
is another restaurant on the island, run by the same owners. 
Food and Drinks
The extensive menu offers a good selection of food, with some ingenious combination of flavors, all nicely prepared and presented. There is something here  for everyone and you can order them in small or large portions. You can even come down for a cup of your morning coffee or a quick brunch (they have a good selection of that too). They have introduced new 'Weekly Dinner Specials' wherein each week, the restaurant features three to four exceptional special dishes in addition to its regular menu. 
Outside Terrace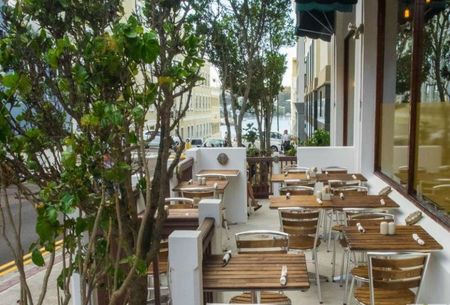 They have many nice Bermudian coffee to offer. In fact, the coffee 'experience' at Devil's Isle is something special. The beans are sourced from all across the world. They have an expert and a very talented coffee maker who roasts the coffee locally on the island to ensure that it always tastes up to the highest standard. Moreover, in keeping with the exceptional flavors of the coffee, they also enhance the experience by serving the coffee with a special flair. It comes on a silver tray with a variety of sugars, a homemade biscuit and a small glass of soda water, to cleanse your palate if you so please. However, if you wish to have a simple cup served to you without the elaborate tray and accompaniments, you can simply request for one. 
This is a nice spot for a hot and delicious breakfast away from your hotel, if you'd like to give that a miss once in a while. The Breakfast crepes are quite popular. We even had the Eggs Benedict. The portions are just right and the food fresh and scrumptious. There are a lot of other delicious options on the menu like freshly baked bread (the raisins bread is especially delicious), homemade banana bread, chilaquiles, huevos rancheros which is a great flavor combination of salsa, egg, refried beans and avocado, French Toast etc. Jams and condiments are homemade and eggs organic. 
Their salads make for perfect appetizers on a sultry summer day. In salads there are some really great choices that are served fresh and dressed beautifully. You can try the Asian or the Kale salad and the fish, spicy shrimp or steak tacos to go with it. The shrimp grilled salad is another favorite. Portions are good and quite filling. For appetizers you can take the bread basket and the calamari. It is served fresh and nicely prepared with sauces. They serve good soup and pasta dishes as well. 
If you want to go with the flow of the island and wish to try some seafood, one of the best choices would be the Grilled Wahoo. It is wonderfully cooked and tastes just out of the ocean ! You can even try the crispy artichokes, and the Thai style fish of the day is great too. Also delicious is the octopus served on potatoes and the ceviche. In meats, the beef short ribs they serve is great with the meat nice and tender. They offer a nice variety of sandwiches with fresh ingredients and prepared to perfection. Get a fish or a steak sandwich, they are both delicious. It also goes wonderfully well with a side of kale Caesar salad. The beef sandwich and parmesan  fries need special mention and so does the  egg salad sandwich which they prepare to perfection. 
This is one of the few places on the island that offers a lot of choices for
vegetarians and vegans
. The restaurant seems to be making an effort in sourcing their  ingredients/foods from local farms. Their local potatoes are really good. They have a wonderful selection of drinks as well. The Wine spritzer is a popular favorite and is quite refreshing with elderflower and mint in it. We greatly enjoyed their selection of Austrian white wines from boutique Austrian wineries.  Apart from wines and cocktails, there are some healthy and nice smoothies on the menu that you can try. 
Give yourself a sweet treat and a perfect finish to your wonderful meal with an excellent dessert of cheesecake and apple tarts. The chocolate dessert with mandarin ice cream comes with an explosion of flavor and one of the best we've ever had. The carrot zucchini cake is another great finisher. The menu also has a wide variety of options and is very adaptable for different food allergies. 
Service
Service is warm and friendly and staff is in general smiling and happy. You can feel the warmth of the place right from when you are greeted at the door till the time you have settled the bill and everything in between, all smoothly executed. Very accommodating and they are happy to make a meal of your choice that is out of the menu and with ingredients that you would enjoy. 
Trivia
The restaurant is small and gets pretty busy so it's best to make a reservation. Fridays are especially busy at the restaurant with locals pouring in after work. The restaurant is a little pricey but the food is worth every bite of it. Getting a parking space near the restaurant could be a challenge here especially during peak hours. 
Conclusion
Situated in the heart of an eclectic town, the restaurant maintains the buzz and keeps the atmosphere charged. Rather simple and unassuming on a side street when seen from the outside, Devil's Isle packs a good surprise in terms of the dishes they serve. Drop in for breakfast, lunch, dinner or simply a cup of hot coffee and experience some warm hospitality that is so much in keeping with the culture of this beautiful island. The restaurant is a favorite of Bermudians and discerning visitors alike, and food that you will talk about long after leaving. 
Open Hours
Restaurant 
Monday - Thursday: 8am-10pm, Friday- 8am-11pm 
Saturday- 9am-11pm, Sunday- 9am-10pm 
Bar 
Monday-Thursday: 8am-12am, Friday: 8am-12am 
Saturday: 9am-12am, Sunday: 9am-12am 
Brunch 
Saturday and Sunday : 11am-4pm 
Indicative Prices
Breakfast 
Egg Dishes: $14-$25, Sweet dishes: $13-$17, Omelets: $15-$18 
Lunch 
Soups and salads: $9-$25, Sandwiches: $19-$27, Ramen Bowls: $19-$22 
Dinner 
Main course Large plates: $25-$35. Small plates: $13-$18 
Beverages 
Coffee: $3-$6, Teas: around $4,  
Location and Contact
Address: 19 Burnaby Street, City of Hamilton HM 11, Bermuda 
Road Map 

By Raj Bhattacharya 
Raj, a seasoned travel writer and Bermuda destination expert, has extensive global travel experience. This website reflects his profound insights, garnered over nearly two decades of dedicated findings and research on the island. Raj has assisted countless Bermuda-bound visitors by providing direct, personalized responses to their queries and imparting his wealth of knowledge through this platform. This site serves as an indispensable guide for those seeking informed and reliable insights into Bermuda's treasures. 
Related Articles
Visitors' Reviews and Comments