Best coffee shops & cafes
Bermuda is virtually full with the liquid coffee dispensing machines. Being an avid coffee drinker, that's the form I hate the most. Unfortunately, most eateries and coffee houses will serve you only those. Sometimes I wondered there must had been a great salesman who managed to dump so many dispensing machines in the island. However fortunately, there are few coffee shops who stayed away from the machines and offer great hand-made coffee from fresh roasted beans. 
Below are my findings and I chose them based on the quality of the brew, the service, atmosphere and the overall experience. Visit the links for details. 
This is a great cafe with a bar and located in Hamilton City offering a range of comfort and Bermudian food serving breakfast, lunch and dinner. However the coffee here is super special. 100% Arabica beans are used, hand roasted and blended to perfection and offering a wide range of authentic flavors. The Master roaster and blender Kite is originally from Guatemala city and joined Devil's Isle cafe in September 2014. He took part in the 2014 Guatemala National Cupping Championship. 
Coffee at Devil's Isle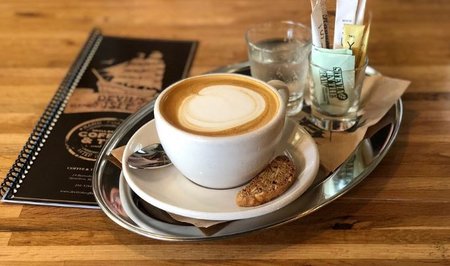 The range of flavors includes brewed coffee (house blend), expresso, cafe latte, machiato, Americano, cappuccino, flat white, cafe mocha, mint mocha, golden latte (with turmeric) etc. 
19 Burnaby Street, Hamilton City, Bermuda. Phone: (441) 292-3284 
Open daily for breakfast, lunch and dinner. 
This is a small restaurant in Hamilton City, essentially a coffee shop that makes coffee from hand roasted beans. I personally think this is one of the best places in Bermuda for having fresh coffee. They import the beans from different parts of the world and roast almost daily. The roaster is placed downstairs.  
There is a seating upstairs in a cozy room having paintings and artwork from local artists. You can have coffee here in a relaxing ambience and accompany it with many homemade baked food. There is also a small garden downstairs with open-air seating. Check out the above link to know more about Rock Island Coffee. 
Run by the Beans family, this cafe is located right on Front Street of Hamilton City. With couches and counter seating with high chairs, lots of magazines and newspapers to read from, Juice and Beans is a very cozy place to have your coffee. You will get variations like Espresso, Cappuccino, Mocha, Americano, and Macchiato. There is also the popular Sumatra Blue Batak drip. The cafe also serves vegetarian dishes and baked food. 
Rustico is an Italian eatery and a pizzeria located in Flatts Village. This is another place that serves nice coffee including espresso and cappuccino. They have both inside and outside seating. The thin crusted pizzas and the fish dishes are quite popular here. 
A 10 minutes walk from Front Street Hamilton, Ten has a nice vibe and atmosphere for having a cup of coffee or a latte along with some light bites. They also have a private room tucked behind incase you like to enjoy your coffee in private. 
Buzz is a cafe franchise which is spreading quickly across the island. They have branches in multiple locations including dockyard and several places in Hamilton City. They started with Frappuccinos and later expanded their coffee menu to include almost all variations, as well as milk shakes and smoothies. 
X Closed 
Located on Queen Street in Hamilton and in a tranquil park setting, Lemon Tree is a great place to have a cup of coffee. They have a full service Tiki bar. You can have iced beverages or coffees made from Illy coffee. 
Cafe Godiva
Cafe Godiva is located a little off the center of Hamilton and inside the
Miles Market
which is one of the oldest food stores in Bermuda (established in 1862). You get cappuccino, latte and the other variations. But if you like to try something exotic and unique, try out
Trufflecino
. It's a coffee mixed with chocolate, and a flavor like caramel, vanilla, hazelnut or toffee. 96 Pitts Bay Road, Hamilton. Phone: 441/295-1234 
La Bella Cafe
Located in Hamilton City in Thistle House, La Bella cafe specializes in frappuccinos. They also serve specialty coffees using Illy coffee. You will also get light bites like the fresh croissants, bagels, subs, pastries and paninis. 
Thistle House, Burnaby Street, Hamilton. Phone: 441/295 9857 
Open: Mon - Fri (7:30am - 5:30pm), Sat (9am - 2pm) 
X Closed 
Located in Hamilton City on Chancery lane, Common Ground in Bermuda is a nice place to have your morning coffee and breakfast. They serve other beverages and snack items as well. 
De Island Cafe
Husband and wife Tuckers own and operate this small cafe in Somerset at the western end (close to dockyard). This is more like an art-cafe which combines nice fresh coffee and sale of artwork, tickets, souvenir and gift items of different types. They wanted to combine the two passions they always had - coffee and art. Menu includes tea, coffee, expresso, cappuccino, hot cocoa (ranging from $2.5 to $4 for a mid size), freshly baked items including pastries of various kinds, scones, lemon cakes, apple crumb, banana breads etc. Try out the freshly roasted Blue Mountain Coffee. 
56 Main Road, Somerset, Sandys. Monday - Saturday   7am - 8pm, Sunday 12pm - 5pm. 
Related Articles
Visitors' Reviews and Comments
Share your experience.