Rock Island Coffee Bermuda
$, Coffee/Tea 
Located in Hamilton City, they are probably the best in the island when it comes to making coffee from fresh hand roasted beans. The roaster is on-site and they roast almost every day. So the coffee here is fresh. This tiny coffee shop cum restaurant has a homely living-room like indoor seating upstairs where you can enjoy the coffee while watching various artwork from local artists that hang on the walls. There is also a small garden area downstairs that has tables & chairs laid out for open seating. 
The atmosphere is casual and friendly. Owners Lisabet bought the tiny one room Rock Island in 1998 and expanded it by acquiring the adjacent spaces that used to house a clothing shop, law office and a CD store. They have several organic and fair trade beans, and also decaffeinated varieties. 
The Espresso blend is a specialty and served in a tiny cup. You also get other varieties like Macchiato, Latte, Cappuccino, Caramel Latte and Mocha. They also prepare nice iced coffee. 
Rock Island makes its own baked food like brownies, scones, muffins, breads, macaroons and biscotti that you can have as nice accompaniments. 
During summer time, you will get salad or sandwich for lunch. In colder months, they make vegetarian soups for lunch, like tomato soup with garlic and herbs, black bean, or mushroom & wild rice. While Rock Island is essentially a coffee shop, they also offer tea, hot cocoa and cold drinks. You can have tea by the cup. 
Rock Island Bermuda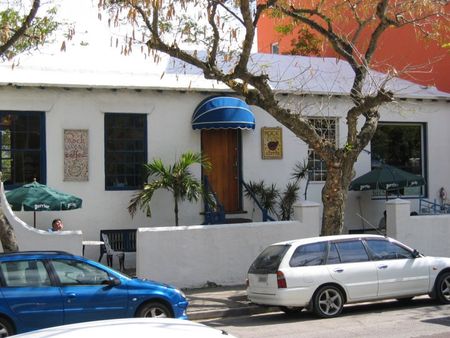 The different tea flavors include China Green Sencha, Organic Tanzanian Green, White Tea, China Oolong, Organic China Keemun, Earl Grey, Darjeeling, Ceylon, Lapsang Souchong, Mango Indica, and Raspberry (black tea with raspberry leaves). 
Open Hours
Open daily (7am - 5:30pm) 
Location and Contact
48 Reid Street, Hamilton City, Bermuda 
It is a block away from the water front and next to iStore. 
Phone: 441/292-9437 or 296-5241 
Road Map 
Raj Bhattacharya
Raj is an avid traveler and a full-time travel blogger. He has traveled to numerous countries across the world and loves to keep travelling. His mission here is to help viewers like you visiting Bermuda or seeking insights into related matters with the most comprehensive content compared to any other online resources. Since years now he has been helping countless viewers by posting quality articles on this website, answering questions and sharing experiences. Launched in 2008, this website is Bermuda's leading source of online information since many years. 
Related Articles
Visitors' Reviews & Comments
Share your experience.