Rock Island Coffee Bermuda
$, Coffee/Tea 
The Cafe and Ambience
Conveniently located in Hamilton City, they are probably the best in the island when it comes to making coffee from fresh hand roasted beans. The roaster is on-site and they roast almost every day. So the coffee here is fresh. This tiny coffee shop/restaurant has a homely living-room like indoor seating where you can enjoy the coffee while watching various artwork from local artists that hang on the walls. There is also a small garden area downstairs that has tables and chairs laid out for open seating from where you can watch the Harbor and the sky. 
The atmosphere is casual, friendly and comfortable with laid back seating and excellent lighting. If you are looking for a cozy spot to plan your day while grabbing a quick coffee or need a cute corner to sit, read, relax or work on your laptop, this is a nice little stop off. 
Rock Island Coffee Bermuda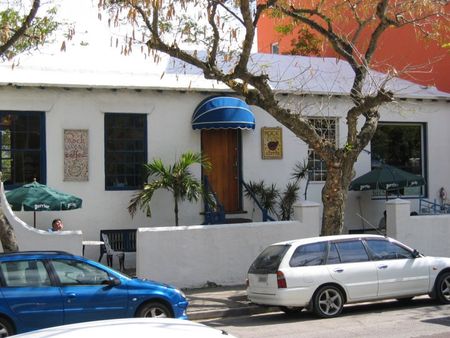 Source: Rock Island Coffee 
Owners Lisabet bought the tiny one room Rock Island in 1998 and expanded it by acquiring the adjacent spaces that used to house a clothing shop, law office and a CD store. It is a quirky and delightful place to sip posh coffee and read the newspaper or meet a friend. It is popular with all groups of people from children and shoppers to office workers and can sometimes get crowded. Patrons here are both visitors and locals. You will in fact find a steady flow of locals who frequent the place especially in the mornings (a queue of locals is always a good sign!). 
Rock Island Inside Seating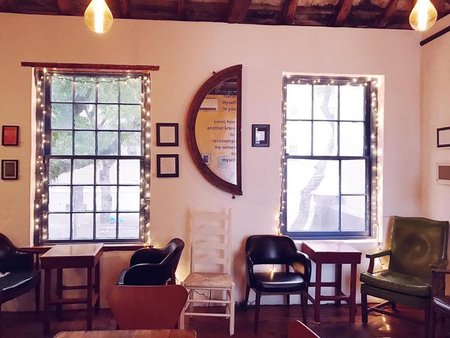 Source: Rock Island Coffee 
Food and Beverage
They have several organic and fair trade beans, and also decaffeinated varieties. The Espresso blend is a specialty and served in a tiny cup. You also get other varieties like Macchiato, Latte, Cappuccino, Caramel Latte and Mocha. They also prepare nice iced coffee. The owner roasts all her own beans downstairs so the coffee is not only always fresh, but full bodied and rich as well. 
They do not have a food menu as such, just small bites. Rock Island makes its own baked food on-site which are served fresh and delicious. Bryce is their in-house baker who bakes all the delectable fares here. They serve as nice accompaniments like the rather unassuming but really good quality brownies, scones, muffins, breads, macaroons, croissants, cakes and biscotti. Try the zucchini bread or a piece of the coconut cake to experience the uniqueness and freshness. 
Harbor View From Rock Island 
Source: Rock Island Coffee 
The cookies were delectable and we could not help gushing over them. The texture with its perfect crisp bite every time is richly flavorful especially the ones with premium chocolate that's almost melted, gooey and delicious. The home-made gingerbread cookies too are wonderful with just the right amount of zing to it. They also bake a range of dairy free breads.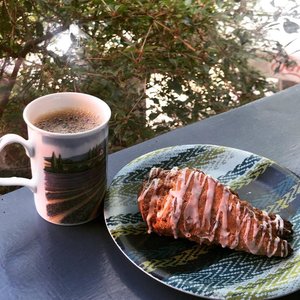 Source: Rock Island Coffee 
During summer time, you will get salad or sandwich for lunch. In colder months, they make vegetarian soups for lunch, like tomato soup with garlic and herbs, black bean, or mushroom and wild rice. While Rock Island is essentially a coffee shop, they also offer tea, hot cocoa and cold drinks. You can have tea by the cup. 
The different tea flavors include China Green Sencha, Organic Tanzanian Green, White Tea, China Oolong, Organic China Keemun, Earl Grey, Darjeeling, Ceylon, Lapsang Souchong, Mango Indica, and Raspberry (black tea with raspberry leaves). 
The Service
Service is warm and friendly and the staff have a knack of remembering your brew when you visit again. The servers are quite helpful and cheerful and make you feel very welcome. They even give you tips on what to see and do around the island. 
Trivia
Dress code is Casual. This is a cash only restaurant and does not accept credit cards. The prices for regular coffee here is almost in line with the US. Cappuccino and latte are priced slightly higher than Starbucks. Baked goods are priced a little higher. There is free Wi-Fi here and you can also buy coffee beans. They open early and is good for a quiet breakfast. 
Conclusion
If you are looking for a break on an overcast day or are out shopping or sightseeing around Hamilton and need a cozy and convenient spot for an afternoon of relaxing then look no further and venture up the stairs to Rock Island. Add to that a quick bite of snacks and a caffeine fix or simply tend to your sweet tooth with their baked delights, at a reasonable rate and yet with the island's feel intact. 
Conveniently located downtown one street back from Front Street, the wonderful aroma of freshly brewed coffee is bound to draw you in. So cruise by, cool off or unwind, this charming cafe is just the place to be. 
Open Hours
Monday - Friday : 7am - 6pm 
Saturday : 8am - 1pm 
Indicative Rates
Hot drinks come in 10, 12 and 16 Oz sizes and costs range from around $2-$3-$4 respectively 
Iced Drinks in 12 Oz and 16 Oz cups costs around $3-$6 respectively 
Others like the Espresso, Cappucino, Latte, Americano etc come in Single and Double sizes and are around $2- $5 respectively. 
You can have special add ins like caramel, chocolate, syrup, syrup, honey etc for around $0.25-$1.70 
Location and Contact
48 Reid Street, Hamilton City, Bermuda 
It is a block away from the water front and next to iStore. 
Phone: 441/292-9437 or 296-5241 
Road Map 
Related Articles
Visitors' Reviews and Comments
Share your experience.