The Loren at Pink Beach
Formerly Pink Beach Club & Cottages
Category: $$$$   Location: Smith's Parish 
This property was one of the largest luxury cottage colonies of Bermuda and was fondly known as "Pink Beach Club & Cottages". The traces of the old name still prominently exist in the present property which was redeveloped into a modern 5 Star hotel between 2013 and 2017. Located in Smiths Parish and quite close to the airport, The Loren At Pink Beach is an ocean front property with a beach. In fact this is one of the very few hotels in Bermuda which is right on ocean front where the beach is easy to get to although the property is perched on a cliff. 
The British architect Stephen King was instrumental in redesigning the property. The look and style is distinctly modern with angular sleek structures in the exterior although the Bermudian spirit too has been nicely blended. Light blue, grey and shades of brown at the interior have been used generously that nicely complements the natural surroundings around. 
The Loren At Pink Beach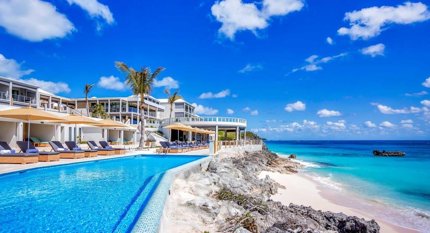 You can see King's art collections on the wall in all public areas. A special emphasis is given on the views... the blue waters of the Atlantic is visible almost from all corners of the hotel, albeit from all rooms, swimming pool and the beach club. Roofs of the hotel buildings and villas reflect the traditional style of Bermuda built with white limestone.  
Rooms and Suites
The Loren has spacious rooms, suites and even villas. The Ocean King rooms are 600 square feet and have huge private terrace or balcony with chairs, king bed and a seating area overlooking the ocean. The 2-bedroom suites are 1600 square feet, with a king bed in the master room and 2 queen beds in the other, two bathrooms and an extended terrace or a balcony overlooking the ocean. And there are 3-bedroom suites with even larger space of 2,200 square feet. 
Room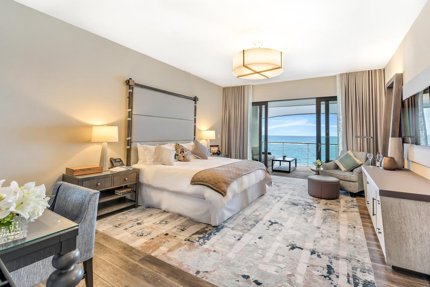 All rooms have marbled floors, air-conditioning, free wi-fi, Nespresso machines, stocked minibar (not free), flat screen TV, writing desk and chair, safe, iron and ironing board, hair dryer, marbled bathrooms with walk-in showers and Malin + Goetz products, SFERRA towels and linens etc. 
And there are three standalone plush villas in the property which can be booked as a single unit or the upper floor (Penthouse, 2000 sq ft with 300 sq ft private terrace) and ground floor (600 ft suites) as separate units. They too have all the above in-room amenities. 
Amenities and Service
The front desk staff especially Cole at concierge are very friendly and helpful. As you check in you will be greeted with a cocktail and they would offer you a tour of the premises. The staff take extra care to note and know you by your name. 
There are two heated pools (one for adults and the other for families)... both overlooking the ocean. There are enough loungers and four cabanas around the pools where you can spend time in privacy Bar and food service is available on the poolside as well. 
Right below the pool is the wonderful south shore beach which is great for swimming and even snorkeling (you can often spot parrotfish here). The beach actually belongs to Hidden Cove Limited, a 19-unit Private Condominium Complex, right beside The Loren. Because of Bermuda law, anybody has access rights to all beaches in Bermuda, up to the high-water line, which means that guests of The Loren have the right to use the beach at any time. 
There is also a small yet a nice in-house spa at Loren which offers excellent massages, facials and even hair dressing services. They use Himalayan salt stones in the massages and Yon-ka brand of products in facials. The spa has 4 treatment rooms (includes a couple's room), a relaxation room with ocean view, locker rooms, steam room etc. 
Fitness Center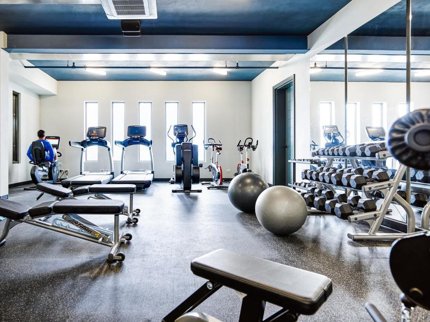 The fitness center at the Loren is open 24 hours. Although small it has several equipment including two treadmills, a recumbent stationary bike, an elliptical machine, two spinning cycles etc. There is also a free weight area with a multi-use cable machine. 
They have a tie-up with
Mid Oean Golf Club
which is only 5-minute away. The entire hotel is wi-fi enabled. Room service is available. 
Rates provided by booking.com 
Food and Drinks
The main dining room of the hotel is Maree with large floor to ceiling windows overlooking the ocean and offering wonderful views from the tables. All ingredients used are fresh and mostly locally sourced (Wadsons farm in Southampton parish is one of their major suppliers). They also bring ingredients from New York as well as New England states. The restaurant serves three or four course set meals. 
Restaurant Maree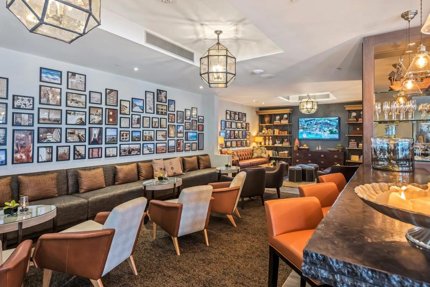 In starters you have a choice of fish chowder (a traditional Bermudian soup made with grounded fish head), watermelon salad, crab, beef tar-tar etc. In main course you can choose from duck breasy (sourced from Hudson Valley), lobster poached with butter, rack of lamb, beef, seared scallops etc. An in desserts they have chocolate Hazelnut torte, selection of ice creams etc. Maree also has a bar. The dinner is priced at $98 per person + 17% gratuity. There is also an extended menu ($125) that you can request for. The breakfast spread is good as well. They also serve a nice Sunday brunch. 
Pink Beach Club 
The Pink Beach Club is right on the seaside. You can enjoy drinks in open air and munch on fares such as crab cakes, burgers etc here (mainly pool menu). Some of the great dishes here includes the tuna (sourced from local fishermen) on poke bowl and mushrooms (supplied by local farms) in ravioli, etc. 
Rates provided by booking.com 
Location and Contacts
Road Map 
Many attractions are only minutes away, including the
Aquarium
,
Crystal Caves
and
Spittal Pond Nature Reserve
. There is a bus stop just outside the gate where buses leave for Hamilton every 30 minutes and St. George every hour. For golf lovers, it's five minutes from the Mid Ocean Club and Tucker's Point Club courses. 
The Old Pink Beach Club and Cottages: A Look Back
Conde Nast readers have voted Pink Beach Club Bermuda, a cottage colony, as one of the top ten resorts in the Caribbean/ Atlantic region. The resort spreads across some 14 acres of landscaped gardens and two private pink sandy beaches. This is by far the largest cottage colony in Bermuda. 
Luxuriously built suites and villas of this Bermuda Cottage colony offer spectacular ocean views. Pink Beach Club is a collection of 24 cottages with 62 junior suites and 32 suites. Most of them are on the hill tops with great view of the ocean. 
The pink color of the buildings with white washed terraced roofs perfectly match with the beautiful settings. The clubhouse is at the center of the resort along with a reception, restaurants, two meeting rooms (Hibiscus Lounge and the Atlantic Room), lounges, fitness center and a library. 
Behind the clubhouse and overlooking the grounds are the large swimming pool and bars. The two private coral beaches have Chaise lounges and umbrellas that will keep tempting you to come over to the beaches.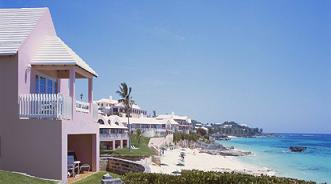 Ocean View Suites include a bedroom, living room with sofa bed and large private terrace. The bathrooms have Italian marble floors and complete with dressing room and closets. The most luxurious rooms are the oceanfront suites. These are ideal for honeymooners or couples, or even families wanting spacious accommodations. 
Here are all the different types of rooms offered by Pink Beaches Club: 
Garden View Suite: Separate bedroom, living room and a patio. King size bed. Located on a garden setting and few minutes walk to the beach. 
Ocean View Junior Suite: It has a large bedroom-living room combination. You get a choice of one King size bed or two double beds. The living room area has couch, coffee table and chairs. French doors open out to a private patio or a balcony from where you can view the ocean. Rooms have European tiled floors and marbled bathrooms. 
Ocean Front Junior Suite: The rooms are located on the ocean front, but otherwise similar to the Ocean View Junior Suites. 
Ocean View Suites: Separate bedroom and living room, but otherwise similar to the Ocean View Junior Suites. 
Ocean Front Suites: Located on the ocean front. Otherwise similar to Ocean View Suites. 
Executive Junior Suites: Located right in front of the ocean. They are similar to the Ocean front Junior suites but have a separate dressing room. 
Governor Suite: Has direct ocean access. Separate bedroom and living room with a king size bed. Similar to Ocean front suites. 
The dining room in the clubhouse has wood paneling. Every table has a great view of the ocean. Most meals are included at Pink Beach Club Bermuda, including an extensive English breakfast, afternoon tea, and a great five-course dinner. However, you can opt for stay without food as well. The restaurant
Breakers Ocean Terrace
offers an extensive lunch menu with emphasis on fresh seafood. It's a great place for al fresco dining with great view of the ocean.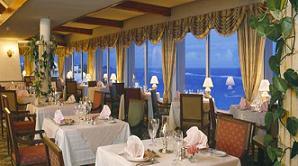 The
Bermudiana Dining Room
is more formal and for inside dining. The menu changes daily. You can enjoy live music and dancing in the evenings at both the restaurants during season. 
If you want, you can also take your breakfast privately. On request, a maid will serve the breakfast at your private terrace. 
Pink Beach Club also provides a beach service between 12 noon and 5pm for light refreshments in the summer months. You can enjoy refreshing cocktails throughout the day at the Cedar Bar or on the terrace with great views of the ocean. The Hotel serves a complimentary afternoon tea in the Hibiscus lounge.  
Facilities at Pink Beach Club Bermuda include: 
Restaurant and bar 
Large heated freshwater outdoor pool  
Sun terrace  
Access to 2 nearby championship golf courses 
2 tennis courts 
Health club and Spa  
Snorkeling and other water-sports with equipment/rentals 
Moped rentals 
UPDATE October 2012: Pink Beach Club has been rated the 3rd top hotel in the Atlantic region by the Conde Naster Traveller Magazine readers. 
UPDATE September 2013: Pink Beach Club has closed down. It is in receivership and waiting to be sold to a new owner. 
UDTATE March 2014: Sardis Developments Ltd. has acquired Pink Beach Club. They plan to build a new boutique hotel here and several residential units. 
UDTATE May 2015: The redevelopment is in progress. The walls of the first building with 12 guest units are already in place and the roof is about to be placed. 
UDTATE January 2017: The hotel redevelopment is complete. The resort has started taking bookings. It is now a compact hotel instead of a large expansive resort. There are 60 rooms all with ocean view. The hotel now has only one beach instead of earlier two private beaches. The restaurant of the Beach Club is common with that of the main hotel. 
Related Articles