Mid Ocean Golf Course Bermuda
About the course
Mid Ocean Golf Club is an 18-hole, 6530 yards, par 71 golf course and located at the eastern part of Bermuda in Tucker's Town (in St. George's parish). This was established as a private club for members in 1951. While members and their guests get priority, visitors too are welcome to play subject to certain restrictions such as playing during mid-week etc. 
18th Green with sweeping ocean view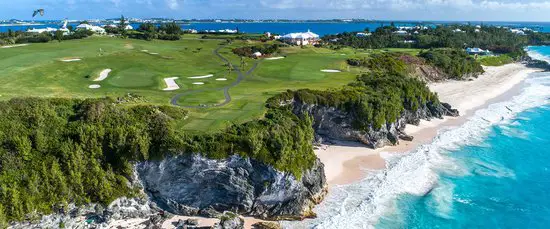 Source: Mid Ocean Golf Club, Bermuda 
Ranked as Bermuda's no. #1 Golf Course, it's widely known as one of the best golf courses in the world. The course was originally designed by the 'Father of golf architecture' Charles Blair MacDonald and his associate Seth Raynor and was opened in December 1921. It was later slightly re-architected by the famous designer Robert Trent Jones who added several sand traps and tees in 1950s. The greens are laid with TifEagle hybrid grass, the roughs, fairways and approaches use
Bermuda grass
. 
Mid Ocean was chosen as the venue for 2007 and 2008 PGA Grand Slams. Subsequently the venue for this international golf tournament moved to Southampton in
Port Royal Golf Course
. 
The Highlights
As you climb the 4th fairway, and up onto the 5th tee, the ground and course drop beneath you to reveal a stunning dogleg to left par 4 that requires you to hit over a large lake. The 5th (the 'Cape') hole is the most dramatic and challenging hole with its elevated tee - a long 433 yard par 4 overlooking the Mangrove Lake. As you walk up to the 5th hole (perched on a hill), you not only see the lovely sight of the dogleg, but also the wonderful view of the ocean to your left. 
Mangrove Lake (5th Hole)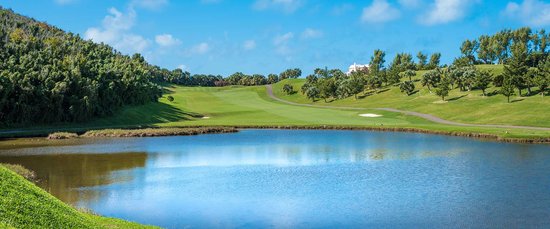 Source: Mid Ocean Golf Club, Bermuda 
When Babe Ruth (the American baseball player who was also a golfer) once played at this course, he was finally able to clear the Mangrove lake from the 5th hole after some 11 attempts to drive the ball over the lake and into the challenging green. 
Mid Ocean focuses mainly on long games with six par 4s over 400 yards. Accuracy and concentration are the key to play a reasonable round here. The course offers great diversities particularly with the 1st, 3rd, 17th and 18th hole that border the sea and are often affected by winds. In fact, the 18th hole is one of the best finishing hole a golfer can experience with the ocean on your right all the way. 
Bunker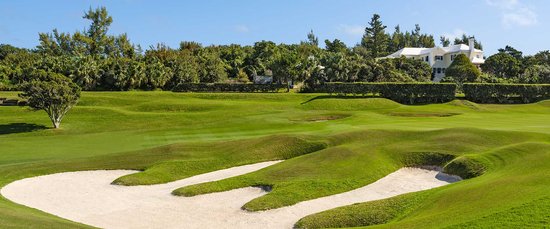 Source: Mid Ocean Golf Club, Bermuda 
The course was primarily designed to offer a good game of golf by effectively using its terrain and contours. The Atlantic ocean provides an excellent backdrop to several holes but mostly does not interfere with the game, as many holes are inland and protected by rows of pines and lush valley. The course is like a true parkland with rolling valleys, terrific greenery and shelters from coastal breezes. 
Tees
Hole#1 - 418 Yard, Par 4 
A dogleg left, this is one of the most challenging yet a breathtaking start in Bermuda. The drive is guarded by a string of bunkers on the right as well as some on the left. The climb along the fairway is steep and leads to the elevated green. The second shot is played to a large green while the ocean forms a stunning backdrop. 
Hole#2 - 471 Yard, Par 5 
Another dogleg left, the tee shot is downhill and then it climbs steeply to an elevated green. The tee shot requires a 276-yard carry to clear a bunker. The second shot too is guarded by bunkers on both sides.  
Hole#3 - 172 Yard, Par 3 
Relatively easier with picturesque views. However the wind is a definite consideration here and the green is surrounded by bunkers. 
Hole#4 - 330 Yard, Par 4 
An uphill stretch and a difficult walk. A short par 4. There is a large bunker below the green. 
Hole#5 - 433 Yard, Par 4 
Regarded as one of the best 'Cape' holes in the world, it's perched on a hill and requires clearing the Mangrove Lake to make a carry to the fairway. Watch out for the steep slopes on the right of the green, if the ball is stuck there, you are in for a great difficulty. There are bunkers guarding the green. 
Hole#6 - 360 Yard, Par 4 
A short par 4. A tee drive along an uphill slope and then a downhill shot. The grains used in the soil could easily make it difficult for the ball to stop. 
Hole#7 - 164 Yard, Par 3 
A short par 3 with ponds on both sides. A downhill drive, but the swirling wind here is the main consideration. The back-to-front sloping green has a bunker in the rear to trap the ball. 
Hole#8 - 349 Yard, Par 4 
A short par 4. A good drive will get you to the green. The green slopes steeply back to front and it is better to try putting up the slope. 
Hole#9 - 406 Yard, Par 4 
The tee shot to be played over a water area. The second shot is uphill into the green which is split into two parts by a ridge running through it. And there are bunkers guarding the green. 
Hole#10 - 404 Yard, Par 4 
Requires a semi-blind tee shot towards left which will open up the green. However, if you choose the right leaning slope to drive on to, it could be a much shorter run to the hole although you need to delicately hit over a bunker. And of course there are other bunkers protecting the green. 
Hole#11 - 487 Yard, Par 5 
The fairway turns 90 degrees along the way and most golfers can get to the green in 2 shots. However the crowned green has falloffs on all sides and requires minimum two putting shots even from a skilled golfer. 
Hole#12 - 437 Yard, Par 4 
This is one of the most challenging par 4 holes in this course. The tee drive needs to clear a bunker on the right. The second shot is uphill to an elevated green which slopes from left to right. A short shot would make the ball roll down substantially because there is a steep slope in front of the putting area. 
Hole#13 - 238 Yard, Par 3 
This is the longest par 3 hole in Bermuda. The green is guarded by bunkers both on left and right. There is a sunken green (swale) just short of the putting surface. 
Hole#14 - 357 Yard, Par 4 
This is a short par 4. The drive needs to be on the left and then a short iron to find the green which is guarded by bunkers in front, short and long. There are undulations on the putting surface. 
Hole#15 - 504 Yard, Par 5 
The green is perched uphill and atop a ridge and the second uphill shot is a blind one. 
Hole#16 - 376 Yard, Par 4 
You again start getting views of the ocean. A blind tee shot from left to right will find the fairway but there is gorge on the right to be careful about, and there are trees on both sides. There are bunkers around the green which slopes back to front. 
Hole#17 - 203 Yard, Par 3 
Great sight from here. The green is protected by bunkers on both sides. 
Hole#18 - 421 Yard, Par 4 
A magnificent fairway and a challenging one along the coast line. There are bunkers on both sides of the bowl shaped green. 
Facilities
Practice Facility 
The club has driving range with 20+ bays 
Putting Green 
Pitching and chipping green 
A large practice bunker 
Private Golf Lessons 
1 Hour - $120.00 
30 Min - $70.00 
Lockers 
Locker facilities are available for men and women. 
There are showers in locker rooms. 
Show cleaning service is provided. 
Wining and Dining 
The Clubhouse overlooks the 18th Fairway with an ocean view. 
Eden Room (dining room) and Churchill Bar & Grill located in the clubhouse. 
Visitors too are welcome to join for drinks and dinner. 
Beach Pavilion: Located next to the south shore with direct access to the beach. It has a swimming pool, outdoor terrace and dining venue (indoor and outdoor). The Beach Pavilion is available to both members and guests. 
Private south shore beach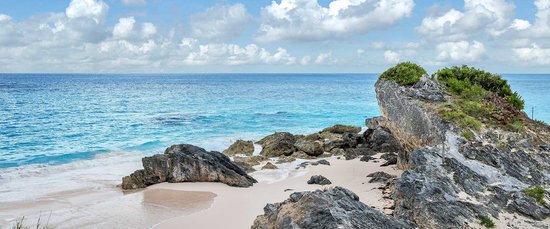 Source: Mid Ocean Golf Club, Bermuda 
Others 
There are also two private function rooms in the clubhouse. 
Halfway House: Located at the farthest point from the clubhouse, it stocks golf accessories including golf balls, as well as alcoholic and other beverages, sun lotion, cigars etc. 
Resident Golf Pro. 
There are two tennis courts in the club premises. 
The Club offers Cottage Style Accommodations to its members and guests. There are 21 beautiful cottages next to the clubhouse with marvelous views, private balconies and fully furnished with all luxury amenities. 
Fees
A round of golf at Mid Ocean is quite expensive compared to the other courses. However, depending on the time of the year, rates vary. Check out the late afternoon (sun set) Tee time rates if available. That should be lower compared to the morning times. 
Green Fees (18 Holes): $275 per round. Credit Cards are accepted. 
Caddies: To be paid directly by cash. 
Single: $65 Per bag plus gratuities 
Double: $50 Per bag plus gratuities 
Fore Caddy: $20 Per person 
Rental Fees 
Golf Clubs: $75 (Taylor Made/Callaway) 
Shoes: $12 (Adidas men's only) 
Pull Carts: $15 
Powakaddy Rental $25 
Electric Golf Cart with GPS: $32 per person 
Open Hours and Booking Tee Time
Mid Ocean is open 7 days a week round the year. 
Visitors or unaccompanied guests can also play the course mid-week (Monday through Friday), subject to availability. One can book tee time up to three months in advance. 
Booking can be made by calling the Golf Shop (441) 293-1215. 
Clubhouse no.: (441) 293-0330 
The Golf Shop can also provide any other necessary information. 
Dress Code
Men: Slacks or Bermuda shorts and collard shirts with shirt tucked in. 
Ladies: Skirts, Bermuda shorts or slacks and golf shirts. 
Location
1 Mid Ocean Drive, St. George's, Bermuda 
Golf Shop: (441) 293-1215 
Clubhouse no.: (441) 293-0330 
Mid Ocean Golf Club is located at Tucker's Town, St. George's parish (at the eastern part of Bermuda). From St. George's Town, the club is about 7 miles away. You can come close to the golf course by bus #1. But you can't carry clubs and other kits in a public bus. Take a taxi if you plan to carry your own clubs, otherwise rent them at the club. 
Road Map 
Related Articles
1)
Bermuda Golf
: Know about all other golf courses and clubs in Bermuda. 
Visitors' Reviews
Leslie Dreamer 
We are coming in to King's Wharf and three men in our group plan to play golf at the Mid-Ocean Club. Is a taxi the best mode of transport or is a ferry/bus combination possible at a lower cost (in a reasonable amount of time)? 
Raj/Bermuda-Attractions.Com 
You can take a ferry to St. George (Orange Route) from the dockyard (takes 35 minutes) and then take bus #1 for Mid Ocean Golf Club. The bus comes close to the club and takes about 25 minutes. However, the Orange route ferry service is not very frequent and not available on Saturdays and Sundays. If you are carrying clubs and other gears, then bus is not an option (they don't generally allow such stuff in the public buses). In that case taxi is the best option.