Mid Ocean Golf Club Bermuda
Mid Ocean Golf Club has an 18-hole, 6548 yards, par 71 golf course. Ranked as Bermuda's no. #1 Golf Course, it is widely known as one of the best golf courses in the world. The course was originally designed by Charles Blair MacDonald with Seth Raynor way back in 1920s and later re-architected by Robert Trent Jones. 
It was chosen as the venue for 2007 and 2008 PGA Grand Slams. Guess who could be some of the visiting guests having played at the Mid Ocean Golf Club. Here are some names that should make you say wow and trigger you to plan a round of golf here: George Bush, John Kennedy, Richard Nixon, Jimmy Carter, Winston Churchill have all played at the Mid Ocean golf course. 
As you climb the 4th fairway, and up onto the 5th tee, the ground and course drop beneath you to reveal a stunning dog leg left par 4 that requires you to hit over a large lake. The main hole is the 5th one - a long 433 yard par 4. I came to learn that when Babe Ruth once played at this course, he could finally clear the Mangrove lake at this 5th hole after some 11 attempts. 
Mid Ocean focuses mainly on long games with six par-4s over 400 yards. Accuracy and concentration are the must to play a reasonable round here. The course offers great variety particularly with the 1st, 3rd, 17th and 18th holes that border the sea and are often effected by the winds. 
The other holes around the turn also give you a feel like a true parkland course with rolling valleys, terrific greenery and shelter from any coastal breezes. 
Facilities include
Visitors are welcome on certain days of the week. Golf Season: Year round. 
Guests welcomed with members. 
Rental clubs available, Rental carts available, Shoes with only soft spikes allowed. 
There is no driving range. 
Resident Golf Pro. There are two tennis courts in the club premises. 
The Clubhouse overlooks the 18th Fairway and has a dining room, bar, lockers, pro shop etc. There are also two private function rooms in the clubhouse. 
A Beach Pavilion has been set up on the shore with direct access to the beach. It has a nice restaurant, swimming pool and outdoor terrace to relax and enjoy the views around. The Beach Pavilion is available to both members and guests. 
The Club offers Cottage Style Accommodations to its members and guests. There are 21 beautiful cottages next to the clubhouse with marvelous views, private balconies and fully furnished with all luxury amenities.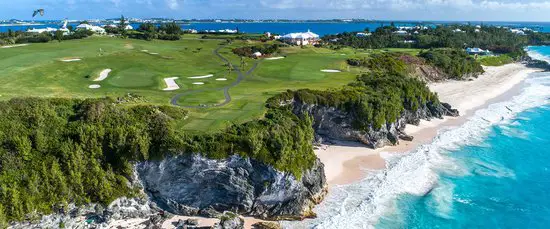 Location
Address: P.O. Box HS 178, Harrington Sound HS BX, Bermuda 
Mid Ocean Golf Club is located at Tucker's Town, St. George's parish (at the eastern side of the island). From St. George's, the club is about 5 miles away. You can come close to the golf course by bus #1. But you can't carry clubs and other kits in a public bus. Take a taxi if you plan to carry your own clubs. 
Tee Time Booking and Rates
This is a private club run on membership, however visitors are allowed to play on Mondays, Wednesdays and Fridays unless it's a public holiday or some tournament is held. The last tee time is 12:00 noon on Fridays. 
Green Fees (Indicative): 18 Holes $250 per round. Credit cards accepted. 
Golf Cart Rental - $32 per person 
Golf Clubs Rentals - $50; Shoes - $12 
Caddy (per bag): $65 + Tips. 
Phone (Golf Pro Shop for reservation and inquiry): (441) 293 1215 
A round of golf at Mid Ocean is quite expensive compared to the other courses. However, depending on the time of the year, rates vary. Check out the late afternoon (sun set) Tee time rates. That should be quite lower compared to the morning times. Only formal golfing attire allowed - collard shirts, Bermuda type shorts and soft spiked golf shoes. 
Road Map 
Raj Bhattacharya
Raj is an avid traveler and a full-time travel blogger. He has traveled to numerous countries across the world and loves to keep travelling. His mission here is to help viewers like you visiting Bermuda or seeking insights into related matters with the most comprehensive content. Since years now he has been helping countless viewers by posting quality articles on this website, answering questions and sharing experiences. Launched in 2008, this website is Bermuda's leading source of online information since many years. 
Related Articles
1)
Bermuda Golf
: Know about all other golf courses and clubs in Bermuda. 
Visitors' Reviews
Leslie Dreamer 
We are coming in to King's Wharf and three men in our group plan to play golf at the Mid-Ocean Club. Is a taxi the best mode of transport or is a ferry/bus combination possible at a lower cost (in a reasonable amount of time)? 
Raj/Bermuda-Attractions.Com 
You can take a ferry to St. George (Orange Route) from the dockyard (takes 35 minutes) and then take bus #1 for Mid Ocean Golf Club. The bus comes close to the club and takes about 25 minutes. However, the Orange route ferry service is not very frequent and not available on Saturdays & Sundays. If you are carrying clubs and other gears, then bus is not an option (they don't generally allow such stuff in the public buses). In that case taxi is the best option.