Port Royal Golf Course
Port Royal golf course, located in Southampton is one of most spectacular golf courses run by Bermuda Government. This 18 holes, 6842 yards, par 71 golf course has been designed by the world renown architect Robert Trent Jones. Robert has gone on to say that this is the best course he has ever designed in his life outside the mainland of USA. 
Port Royal Golf Course lives up to it's reputation of being one of the most breathtakingly beautiful courses with oceanic settings. This is by far one of the highest rated public Bermuda golf courses and is the most popular one. Port Royal has been host to many championship tournaments including PGA Grand Slam and Bermuda open.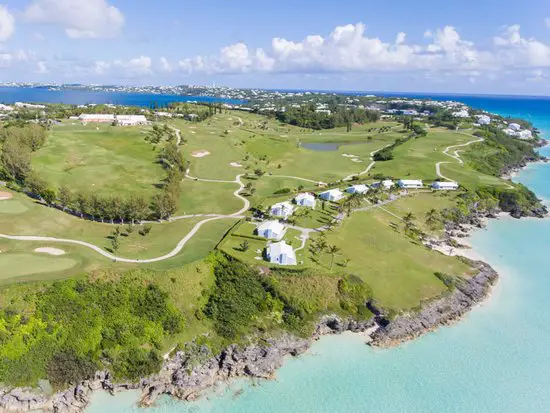 The most famous and the challenging hole at the Port Royal is the 16th hole. The Tee and the green of this par 3 hole is right next to a coastal cliff overlooking the ocean. Unless you are dead right with your drive, you are likely to get back a wet ball, or get nothing back at all. By the way, this hole is the most favorite of Jack Nicklaus. 
Port Royal Golf Course has recently undergone a major renovation. The renovation costs were to the tune of some $ 14 million. So you can imagine the extent of rework done on this 37 years old golf course. It now has Tiff-Eagle green to make the golf course much faster and better. Tees, bunkers, fairways have all bee improved. Even the stretch of the course has been expanded from original 6561 yards to 6842 yards. Bet there is no design changes done. 
There is a pro-shop, a Bar & Restaurant called Bella Vista Bar & Grill which open in 2013 (the earlier 64 Degrees closed down in March 2012) and also few tennis courts within the complex. 
The view from the clubhouse is awesome - from hillside grassy land all the way to the ocean. 
Facilities at Port Royal Golf Club include
Guests are welcome 
Golf Season: Year round 
Clubhouse with Bar & Restaurant. 
Rental clubs available 
Rental shoes available (only soft spikes allowed) 
Rental carts available 
Driving Range 
Resident Golf Pro. Golf lessons are offer all week. 
Bar & Restaurant 
Pro Shop 
Credit cards accepted 
Indicative Green Fees and Rates
Regular rate for a round of golf for 18 hole at port Royal costs $180 including a cart. The rates vary depending on the time of the year. Late afternoon (sunset) Tee time rate is $110. They come out with special offers as well. 
Club rentals (per set): $50; Shoe rentals: $15; Cart only for riding: $25. 
Proper golf attire must be worn at all times. Jeans, beach wear, track suits and T-shirts without collars are not allowed. Footwear: Soft spiked golf shoes only. Metal spikes or sneakers/ trainers are not allowed. 
Open hours
The course is open seven days a week (except Christmas Day) from 7am to 6pm. 
Tee Time Booking & Inquiry
Visitors are welcome to play golf at Port Royal. 
Location
Port Royal Golf Course 
5 Middle Road, Southampton, Bermuda 
From Royal Naval Dockyard, Port Royal golf course is about 8 miles away. Buses come within a range of about 600 yards. But you can't carry your own clubs if you plan to come by a public bus. Take a taxi if you carry clubs. 
Bus Routes: #7 and 8 (both operate between Hamilton and Dockyard). 
Road Map 
Raj Bhattacharya
Raj is an avid traveler and a full-time travel blogger. He has traveled to numerous countries across the world and loves to keep travelling. His mission here is to help viewers like you visiting Bermuda or seeking insights into related matters with the most comprehensive content. Since years now he has been helping countless viewers by posting quality articles on this website, answering questions and sharing experiences. Launched in 2008, this website is Bermuda's leading source of online information since many years. 
Related Articles
1)
Bermuda Golf
: Know about all other golf courses and clubs in Bermuda. 
Visitors' Reviews & Comments
Dwight Lewington (March 2012) 
Hi I will be in Bermuda in late MAY on a cruise and I want to find out about getting a late afternoon tee time for port royal golf course I was told the fees drop at a certain time in the afternoon. What I want to know is do I have to make a time for late afternoon and how do I do this. My phone service does not have international calling so I cannot call the golf course direct can you help me with this problem. Thank you. 
Raj (bermuda-attractions.com) March 2012 
Hi, I understand that Port Royal Golf Course reservation can be done only over phone. They are not yet open to online reservations. They will let you know about the late afternoon rates. The phone no. is 441-234-0974