Port Royal Golf Course
About The Course
Port Royal golf course, located in
Southampton
is a spectacular public golf course in Bermuda with lovely TifEagle greens and sweeping views of the ocean. The golf course is owned by Bermuda Government, overseen by a Board of Trustees and run by an appointed management and staff. Although it was founded in 1965, the course was finally opened in 1970. It was then known as Southampton Golf Club. Port Royal is a 18-hole, 6842 yards, par 71 course. 
It was designed by the world renown architect Robert Trent Jones Sr. Robert had gone on to say that this was the best course he had ever designed in his life outside the mainland of the USA. 
Bird's Eye View of Port Royal Golf Course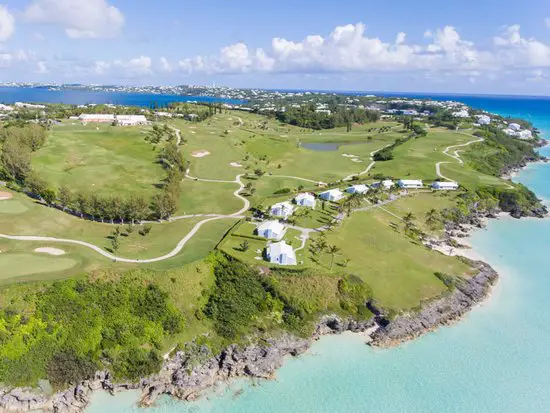 Photo: Port Royal Golf Course, Bermuda 
It went through an extensive makeover prior to the 2009/2010
PGA Grand Slam Championship
which was held on this course (first of the 5 consecutive ones). The $14 million makeover work was led by the original design team member Robert Rulewich. Tiff-Eagle greens, professional pro-angle sand and computerized irrigation systems were introduced. Tees, bunkers, fairways were all improved. 
Even the stretch of the course was extended from original 6,561 yards to 6,842 yards. The extension was caused mainly due to making the 13th and 16th holes longer, and for extending the 5th with a back tee on a land which already existed (this tee however can not be used other than during tournaments because the drive has to go over a public road). There was however no gross design changes made to the golf course during this renovation. 
Port Royal is also a founding partner of Bermuda Championship, a professional golf tournament on the PGA Tour that started in October/November 2019. The tournament is played at Port Royal Course. 
Highlight
The most famous and the challenging hole at Port Royal is the 16th hole. The Tee and the green of this par 3 hole are both right next to a coastal cliff, the green on its own peninsula overlooking the ocean. Unless you are dead right with your drive, you are likely to get back a wet ball, or get nothing back at all. This hole has been the most favorite of Jack Nicklaus, the legendary American golfer. 
Hole-16, Port Royal 
Photo: Port Royal Golf Course, Bermuda 
Tees
Hole#1 - 438 Yard, Par 4 
This is a downhill dogleg and the hole #2 which is close to the bush edge has two nearby ponds. So unless your long shot is right, the ball is likely to land into a pond. 
Hole#2 - 567 Yard, Par 5 
Another dog leg. Once you drive past the ponds, there are trees and several bunkers (sand traps) on both sides to negotiate. The final approach is a raised green. 
Hole#3 - 148 Yard, Par 3 
There is a large pond that covers most of the area to the next hole. 
Hole#4 - 458 Yard, Par 4 
This is the hardest hole in the course (Stroke Index=1) and a dogleg, but a stunning hole with scenic vistas. There are sand traps along the way on both sides, so the first drive must be perfect. 
Hole#5 - 380 Yard, Par 4 
A right to left dogleg with bunkers on both sides. Requires a good straight hit to get to the right position on the green. 
Hole#6 - 370 Yard, Par 4 
A long raised green, but beware of the several sand traps on both sides that are designed to trap any off line shot. 
Note that while holes 2 to 6 are relatively flat, most other parts of the course terrain is hilly and you will require a cart beyond the 6th hole unless you want to sweat profusely in Bermuda's summer heat. 
Hole#7 - 517 Yard, Par 5 
Breathtaking views of the ocean and green around. This is a long dogleg and the initial raised green stretches a long way. Watch the many bunkers on both sides along the way. 
Hole#8 - 213 Yard, Par 3 
Long elevated green alongside the ocean, a long ball can easily land into the waters. There are several sand traps too. A par 3 here is hard earned. 
Hole#9 - 383 Yard, Par 4 
Requires a long uphill shot across the practice/clubhouse area. Unless you get this right, you can find the ball trapped in a bunker or amidst trees. 
View from 9th Green (Port Royal)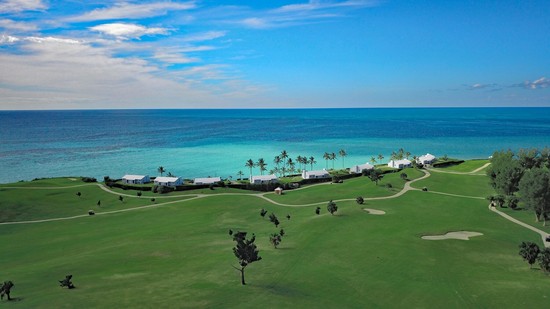 Photo: Port Royal Golf Course, Bermuda 
The holes 7 to 9 offer stunning views of the ocean. However if you want to get an overall perspective of the course, then the 10th green is ideal. 
Hole#10 - 350 Yard, Par 4 
A right to left dogleg over a long elevated green with trees on both sides. The second leg requires to clear a series of difficult bunkers. 
Hole#11 - 443 Yard, Par 4 
A long downhill drive to the green. Clear the initial elevated green for the second shot, but be careful about the several sand traps (particularly ones near the 12th hole). 
Hole#12 - 383 Yard, Par 4 
An uphill tee shot required, watch out for the bunkers as well as the runoffs. 
Hole#13 - 235 Yard, Par 3 
Requires a good straight hit to the kidney shaped green. There are difficult runoffs and well placed bunkers. 
Hole#14 - 393 Yard, Par 4 
A goof drive from the elevated tee here leads down to the fairway where there is a dogleg to the left. There are tree lines to the left and sand trap on the right. 
View of 15th and 17th Fairways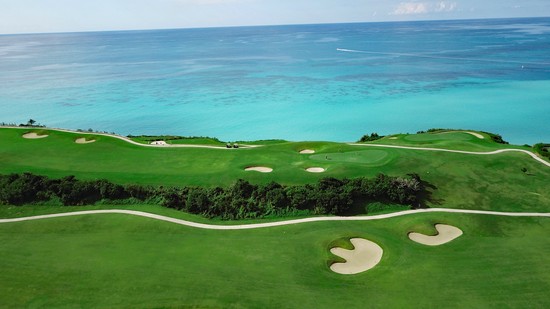 Photo: Port Royal Golf Course, Bermuda 
Hole#15 - 412 Yard, Par 4 
A dogleg to the right and wonderful view of the ocean to the left. The two bunkers on the left where the first leg ends are critical to avoid. You should play for the position here. Achieving a par is a challenge. 
Hole#16 - 235 Yard, Par 3 
This is the best hole in the course, and perhaps one of the best in the world. You need to make a solid drive to clear a part of the ocean and get the ball land on a green which is perched on its own peninsula. The wind from the ocean can easily make your shot go off target. More often than not, there is a wind at a speed of 15 knot flowing in from the ocean. 
Hole#17 - 507 Yard, Par 5 
Clear the raised green with a long drive into the fairway. But the wind from the ocean will keep you wondering if a long shot would lead the ball into a pond to the left of the fairway. There are traps to the right. So play carefully, the second shot should be for positioning, and the third shot is to a raised green. Watch out for the runoffs. 
Hole#18 - 410 Yard, Par 4 
Long straight tee drive along tiered fairway, there are bunkers on both left and right. 
Layout of the holes in Port Royal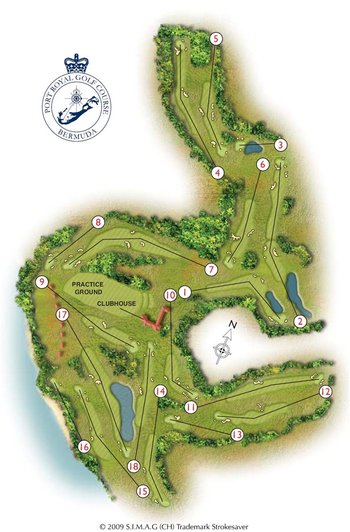 Photo: Port Royal Golf Course, Bermuda 
Practice Area
This is an all-weather facility. There is a Driving Range with beautiful views of the ocean. Out of a total 300 yards, there are green targets at 75, 10, 150 and 200 yards. There is also a Chipping Area as well as Practice Bunker. Range balls are available daily. 
Regular Golf Lessons are offered by PGA certified professionals. You can avail one-hour, half-hour or on-course tuition. Both beginners and those looking to fine tune their skills can avail these lessons. There are also golf schools and clinics offered. 
Rates for Lessons 
1 hour álesson: $160.00 
45 minute lesson: $120.00 
Ż hour lesson: $90.00 
Playing lesson: $240 plus 9-hole fee 
Golf schools includes hotel accommodation: Contact for price 
Clinics: Contact for price 
Golfing Fees
Regular Rate: $180 
Resident: $133 
Local Senior: $90 
Member's Guest: $125 
Sunset Rate: $110 
Non Golfing (Riders Only): $25 
Club Rentals (Per Set): $50 
Shoe Rentals (Per Pair): $15 
Port Royal also offers Summer Golf Specials for Cruise Passengers (you must show your cruise ship ID). Rate: $150 and includes everything including green fee, golf cart, 6 golf balls, golf clubs, golf shoes etc. 
Tea Times andáReservations
Open 7am to 6m daily (closed on Christmas day). 
Visitors are welcome to play golf at Port Royal. 
You should ideally reserve your tee time in advance. You can call the clubhouse (441)-234-0974 for tee time reservation or
book online
through Port Royal's official website. 
Proper golf attire must be worn at all times. Jeans, beach wear, track suits and T-shirts without collars are not allowed. Soft spiked golf shoes only. Metal spikes or sneakers/ trainers are not allowed. 
Facilities
Clubhouse: The view from the clubhouse is awesome - from hillside grassy land all the way to the ocean. 
Bella Vista Bar &áGrill: A Bar andáRestaurant that has been operating at the clubhouse since 2013. They serve breakfast, lunch and dinner.  
Rental clubs available 
Rental shoes available (only soft spikes allowed) 
Rental carts available 
Pro Shop: Features products from brands such as Ashworth, Antiqua, Cutter andáBuck, Titleist, Adidas, Taylor Made etc and has good collection of accessories as well as PGA Grand Slam crested apparels. 
Credit cards and cash (in US and Bermuda Dollars) accepted. 
Location andáContacts
Port Royal Golf Course 
5 Port Royal Golf Course Road, Southampton, Bermuda 
From Royal Naval Dockyard, Port Royal golf course is about 8 miles away. Buses come within a range of about 600 yards. But you can't carry your own golf clubs in a public bus (you can rent it from the club). Take a taxi if you carry clubs. 
Bus Routes: #7 and 8 (both operate between Hamilton and Dockyard). 
Phone: 1 441 234-0974; Fax: 1 441 234-3562 
Road Map 
Related Articles
Visitors' Reviews andáComments
Dwight Lewington (March 2012) 
Hi I will be in Bermuda in late MAY on a cruise and I want to find out about getting a late afternoon tee time for port royal golf course I was told the fees drop at a certain time in the afternoon. What I want to know is do I have to make a time for late afternoon and how do I do this. My phone service does not have international calling so I cannot call the golf course direct can you help me with this problem. Thank you. 
Raj (bermuda-attractions.com) March 2012 
Hi, I understand that Port Royal Golf Course reservation can be done only over phone. They are not yet open to online reservations. They will let you know about the late afternoon rates. The phone no. is 441-234-0974