City Hall Bermuda
The Architecture
Located in central Hamilton on Church street, City Hall is a prominent white building. The building has been designed by Wilfred Onions, a well known Bermudian architect.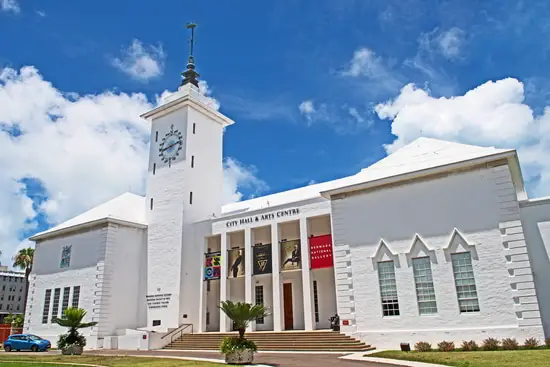 Photo: Charles Lewis / Shutterstock 
In many of his building designs, he used a Bermuda's traditional cottage like theme and City Hall is no exception. Bermuda limestone was used in the construction. 
This is the last large public building in Bermuda where
Bermuda Cedar
was extensively used as it was getting rare and expensive in 1950s when the construction began. 
The 90-foot front tower has a bronze wind direction indicator on top that resembles the wrecked ship
Sea Venture
of Sir George Somers who is acknowledged as the founder of Bermuda. 
In September 1957 a small model of City Hall was first unveiled to the public by Corporation of Hamilton to let islanders know about the architecture and design to be followed in the real building. 
However the architect Wilfred Onions came under enormous public criticism. But when the grand new building was finally opened on February 11, 1960, only praises were pouring in from one and all. Unfortunately Wilfred Onions by then had already passed away.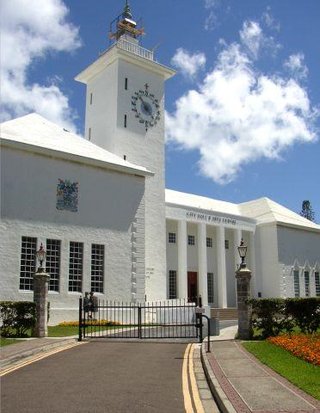 Photo: Hiong Leng Stanley / CC by SA 3.0 
The first portrait of Queen of England that was hung on the wall was donated by Bill Harrington, the artist who created it. Many other articles were later donated by the subsequent mayors of Hamilton City. 
There are bronze sculptures of children in a setting of lily pond created by the well known Bermudian artist Desmond Fountain. 
What to See & Do
The City Hall serves many functions from the same building premises. 
As you enter through the massive cedar doors, you will see beautiful huge chandeliers hanging from the high ceiling, portraits of Queen Elizabeth II and the Mayors of past and present. The queen had visited the City Hall in 1975. 
Here you can also see a great collection of postage stamps donated by Colin Benbow, a local historian. On the right side (i.e. the east wing) is the office of The Corporation of Hamilton. 
On the left is City Hall Theatre. It hosts many types of performing arts. It is always busy with amateur or professional performances including dance recitals, plays, orchestral performances and such. There is a grand cedar-made stairs that leads to the upper floor. 
Imagery inside City Hall. 
Rotate the image for 360° view. 
As you go up the stairs, you will find
Bermuda National Gallery
on the first landing to your right. This is where Bermuda's national collections of art are displayed, and the permanent exhibits include paintings, sculptures, masks, photographs etc. 
Further up on your left is the
Bermuda Society of Arts
. It displays and sells creative artwork like paintings, sculptures and photographs of local artists. 
And there are more to explore in City Hall... 
An exquisite grand room has sofas, tables and chairs where the members of the Royal family and other dignitaries have occasional meetings. When not in use, you can enter the room and take a look around and soak in the royal ambience. 
Update: In November 2012, The City Hall Theatre was renamed as The Earl Cameron Theater in honor of the then 95-year old famous Bermudian actor Mr. Earl Cameron. This renaming was done through a formal ceremony that was attended by the Premier, Governor, Mayor of Hamilton and many other dignitaries along with the actor himself. 
Admission and Open Hours
City Hall Admission is free. Open from 9 a.m.–5 p.m. (Monday - Friday). 
Location and Contacts
17 Church Street, Hamilton City, Bermuda. Phone: 441/292-1234 
Road Map 

By Raj Bhattacharya 
Raj, a seasoned travel writer and Bermuda destination expert, has extensive global travel experience. This website reflects his profound insights, garnered over nearly two decades of dedicated findings and research on the island. Raj has assisted countless Bermuda-bound visitors by providing direct, personalized responses to their queries and imparting his wealth of knowledge through this platform. This site serves as an indispensable guide for those seeking informed and reliable insights into Bermuda's treasures. 
Related Articles
1) Check out
Bermuda Museums
for great museums and historical buildings in Bermuda. 
Visitors' Reviews and Comments
Review and share your experience.