St. Peters Church Bermuda
Their Majesties Chappell in St George's
Located in the historic town of St. George, St. Peter's Church is believed to be the oldest continually used Anglican church in the Western hemisphere. The church was not however the first house of worship to stand on this site. It replaced a 1612 structure made of wooden posts and palmetto thatched roof that was destroyed in a storm. 
The present church was extended in 1713 with the tower and wings being added in the 19th century. The oldest part of the church is the area around the triple-tier pulpit. The present church has its walls made of limestone and has a limestone slate roof supported by a framework made of
Bermuda Cedars
. There is a wide flight of stairs at the front of the church on the northern side. 
St Peter's Church, Bermuda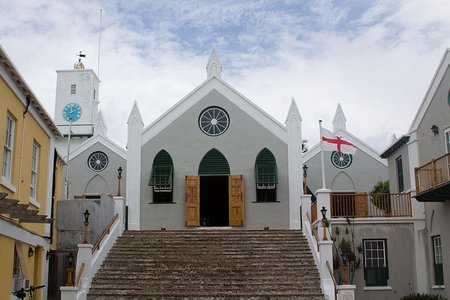 Photo: JoeyBagODonuts, cc by sa 3.0 
The first Bermuda Parliament met at the St. Peters Church in 1620, making it the 3rd oldest parliament in the world. The church inside has a wonderful and simplistic ambience with exposed cedar beams in the ceiling, rough wooden pillars and candlelit chandeliers. 
The church has many treasures. Inside you will see the altar from the original structure. It was built in 1615 under the supervision of Bermuda's first governor, Richard Moore. This is the oldest piece of woodwork in Bermuda. The font of St Peters church is over 500 years old and was brought to Bermuda by the first settlers. The late 18th-century bishop's throne is believed to have been salvaged from a shipwreck. There's also a fine collection of communion silver from the 1600s in the vestry. 
Inside St Peters Church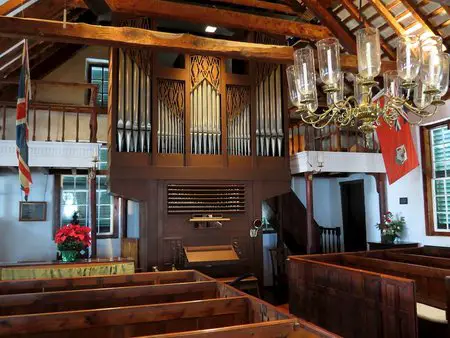 Photo: Malcom Manners, flickr 
As you walk outside to the churchyard, you can see two graveyards. A walled area to the west of the church was for black slaves. The one on the east was reserved for whites. St Peters Church is an important site on the
African Diaspora Heritage Trail
of Bermuda that traces the legacy of Bermuda's slavery. In 1698, St. George had a population of 1,124. One-third of that were blacks who were mostly brought in from Africa as slaves. 
As the blacks started becoming Christians, they too were entitled to Christian burials. So a separate graveyard was added by extending the existing one towards western side. It was done in the latter 1600s for burial of the blacks. 
You will see that like many other churches in Bermuda, St. Peter's Church also has a separate gallery at the western side so that the blacks could attend the services. This gallery was built in the early 1700s. The entrance to this gallery was through a separate door at the north west corner of the church. 
Graveyard at St. Peter's Church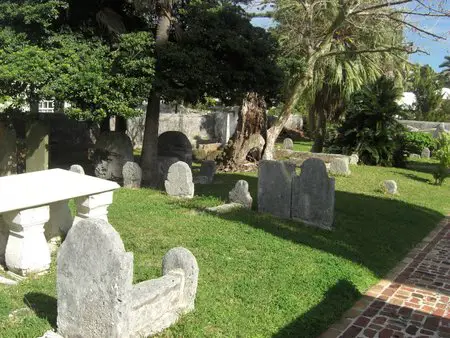 Photo: Robyn Fleming, flickr 
The church graveyard was closed for burials in mid-19th century as new cemeteries were built in St. George. As you walk around the graveyard, you can see graves of some prominent Bermudians, including Governor Sir Richard Sharplesas well his aide-de-camp Captain Hugh Sayers who were both assassinated in 1973. 
Some of the tombstones in the Graveyard of St. Peters are more than 3 centuries old. You'll find the grave of Midshipman Richard Sutherland Dale, an American who was the last victim of the War of 1812. He was a 20-year old young soldier who was brought injured at St. George's. The people of St. George took delicate care of Dale but he died in February 1815. 
His body was buried at St. Peter's Church graveyard. For a long time a ceremony was held here in his honor on the America's Memorial Day. Even now a memorial and a dinner is sponsored by the Friends of St. Peter's Church every year in his honor. It is believed that other than Dale, several other Americans including 14 American prisoners of the war were also buried at this churchyard. Other notable graves here are that of slave pilot Jemmy Darrell, Governor George James Bruere, Ann Bingham who was known as the 'Jackie Kennedy' of American Revolution, etc. 
St. Peter's Church Imagery 
Rotate the image for 360° view 
Close to the back entrance of the St Peters Church you can also find a 500-year old cedar tree; its branches once bore the church's bell. 
Update March 2012: In the 400th anniversary of St. Peter's Church, Queen Elizabeth-II has honored the church with the royal title "Their Majesties Chapell". Note the double 'L's in the word Chapell. Such term for a church was first used in the late 1600s. 
Visiting Hours
10am to 4pm, Monday to Saturday all throughout the year. 
Closed on Sundays (except for worship), Christmas day, Boxing day and New Year. 
Admission
Admission is free, however donations are encouraged (suggested $5). 
Guided group tour of the church can be arranged with advance notice. 
Visitors on wheelchair can access the church through the door behind. The main entry to the church has 26 steps to negotiate to reach up to the front Cedar door. 
Regular Services
Sunday service at 11am (Holy Eucharist - with organ and choir using Common Worship and Sunday School). 
Wednesday service at 9:30am (Holy Communion - a traditional common worship at the 1612 Communion table). 
Location, Contacts, How to reach, Fares
33 Duke of York Street, St. George's Town. 
While coming from the dockyard (Kings Wharf), you can take the direct Orange Route Ferry to St George (takes 35 minutes, this is the shortest route). However, the ferry operates only in summers, has only limited runs and does not operate on Saturdays and Sundays. 
Alternatively, take the Blue Route Ferry to Hamilton City. From Hamilton, Bus Routes #1, 3, 10, 11 will take you to St George's Town (about 1 hour). From the town center of St George (Kings Square), St Peter's Church is only 1-2 minute walk. 
Ferry fare is $4.50 by token and $5.00 by cash for both Orange and Blue Routes, and same for bus. You can also use a 14-zone ticket in both bus and ferry from a pack of 15 (the pack costs $37.50). 
Road Map 
Nearby Attractions and Eateries
There are quite a few places of historical interest nearby like the St. George's Historical Society Museum on Duke of Kent street, the Bermuda Heritage Museum on Water street, Bermuda National Trust Museum which was earlier the famous Globe Hotel at Kings Square, St. George Post Office, Bridge House, Pilot Darrell Square, Tuckers House Museum on Water Street, the Richard Allen African Methodist Church, The Unfinished Church, the Old Rectory, Fort George Hill etc. 
There are some nice places to shop around here like the
Somers Wharf
on Water Street (a shopping complex with variety of stores and eateries), Sweet Saak on York street (home style bakery products),
Lili  Bermuda perfumery
located at Stewart Hall on Queen street (great island perfumes). 
Wahoo's Bistro and Patio is a waterside venue on Water street that serves great seafood. You can also stop for a wide variety of frozen yogurts and ice creams at Yo Cherry Frozen Treats (38 York Street), or a simple meal of omelets with raisin bread and coffee or sandwiches and burgers at Mama Angies (48 York Street). There are several other great cafes, pubs and eateries nearby like the White Horse Pub and Restaurant at King's Square, Tempest Bistro on Water Street, Wong's Golden Dragon on York Street, The Wharf Restaurant and Bar on Water Street, Temptations Cafe on York Street (right next to the church at the base of the steps) etc. 
Related Articles
1) Check out
Bermuda Churches
to know about the other great churches in Bermuda. 
Visitors' Reviews and Comments
Tom Brasser (May 2013) 
I wish to thank you so much for placing an American Flag in front to the grave and marble covering for Midshipman who was wounded in 1812-14. You in Bermuda cared for him until he died. His parents sent the marble memorial cover to his grave and it is STILL there for viewing. 
Raj (bermuda-attractions.com) May 2013 
Hi, yes it's the grave of Richard Sutherland Dale who died in 1815. Even today, the Friends of St. Peter's Church sponsor an annual memorial service and dinner in honor of Dale. 
Tom Brasser (May 2013) 
GOD BLESS you all for your concern, and even going the extra time and money to place an American flag in front of his grave; or I would probably have walked on by.  I was also very much impressed with your museum when they had four photographs and summary on T/Sgt Edward Joseph Brennan USAF who had been KiA over Germany in February 1945. Although he was a Bermudan having moved to your island when he was 12. He joined the RAF in Aug 1940 at 18 and flew as a gunner until transferring to USAAF in 1943. Just thought you like to know. Old Tom