Bermuda Perfume and Cosmetics
Designer perfumes and cosmetics are available at several Bermuda's department stores. In many of these stores you will find brands that are available in New York City and London as well. There are a no. of such department stores on Front Street and at the Clocktower Mall at the Dockyard selling perfume and cosmetics. Bermuda's locally made favorite fragrances such as Lilies, Oleanders, Jasmine, Sweet Peas and Passionflowers can be perfect gifts for friends and family back home. 
Lili Bermuda Perfumery
Bermuda has its own perfume makers. Located in St. Georges, the Bermuda Perfumery has been creating fine ladies' and men's perfumes under the brand Lili Bermuda. If you come to Bermuda Perfumery, you will have the unique experience to discover how they create the fragrances. 
Bermuda Perfumery was established by William Blackburn Smith and his daughter Madeline Scott in 1928. They brought in well known French perfume makers to start the venture. The first perfume production was done in a small wooden building in Bailey's Bay. Subsequently the family also acquired 6 acres of land area around the property which now has become an excellent tropical garden. 
With growing tourism industry, Bermuda Perfumery and Garden has become a popular tourist attraction in the island. The garden has been developed to culture plants and flowers for the perfumery. There are nice walkways and it's a pleasing experience to go around the garden. 
Presently the main fragrances include Bermuda Easter Lily, Passion Flower, Frangipani, Oleander and Jasmine. In 2009, the perfumery introduced the brand Petals for women, Somers for men and South Water in its unisex Water Collection. Other popular men's fragrances include 32° North and 64° West. 
Bermuda Perfumery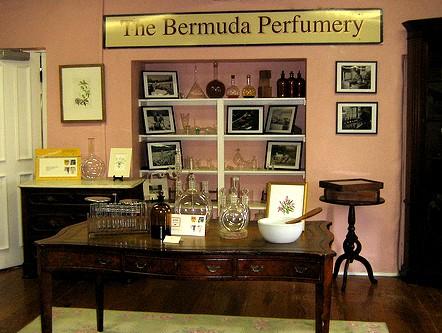 Update 2011: Bermuda Perfumery introduces a new modern and elegant fragrance for women known as "Algeria" under its brand the Lili Bermuda. It's a white perfume with a combination scent of frangipani, Bermuda Cedar, tuberose and magnolia. This perfume has been created to celebrate the rich cultural heritage of the island. 
Update June 2013: A tea Room Sweet P has come up in the same grounds (Stewart Hall) where Bermuda Perfumery is located. It serves high tea which includes freshly baked finger sandwiches, pastries, scones, mini cakes etc. So after some shopping at the Perfumery, you can now have tea and snacks in wonderful lush settings of the garden. 
Update June 2019: Lily Bermuda Perfumery has launched a summer fragrance for men known as 'Nautilus' which has been inspired by men's bond with nature and blends the colors, sounds and energy of summer storms in the perfume. 
Location and Contacts 
Stewart Hall, 5 Queen Street, St. George's. The shop is open Monday through Saturday 9am to 5pm Phone: 441/ 293-0627. Check out
Map of St. George's Town
to view the location. 
Bermuda Perfumery has opened a boutique store in Hamilton in June 2016: Butterfield Place, 67 Front Street, Hamilton. Phone: 441-296-2885. Summer Hours (April to October): Monday to Saturday 9am to 5pm, Winter Hours (November to March): Monday to Saturday 10am to 5pm, Closed on Sunday and Public Holidays. 
Bermuda Blue Perfume
This is a modern perfume that really captures the essence of the island. This is a hugely popular fragrance with both tourists and locals. Check out
Bermuda Blue Perfume
to know more about the perfume, its variations and where can you get it in Bermuda. 
Gibbons company
- The Perfume Shop 
(21 Reid St, Hamilton. Tel: 441/295-0022.) 
Gibbons is island's largest and one of most diversified department stores. Gibbons Company is well known for its wide range of exciting merchandise. Fragrances and cosmetics of its perfume department is legendary in the industry. 
The Perfume Shop of Gibbons is one of the Bermuda's oldest stores. The well known brands promoted by this shop include Aqua di Palma, Bond #9, Guerlain, Vera Wang, L'Occitane, Versace and Marc Jacobs.  
Other favorites include Hermès, Betsey Johnson, Burberry, Ralph Lauren, Lancôme, Elizabeth Arden, L'Occitane and Bermuda Blue.   
A.S. Cooper & Sons
(29 Front Street, East side entrance, Hamilton. Tel: 441/295-3961.) 
For over a hundred years, it has a chain of fine stores in Bermuda. It has expanded into retail market and opened cosmetics & fragrances department on Front Street in Hamilton. All the products are duty free. The shop is open in summer from 9:00am to 5:30pm. And winter from 9:15am to 5:00pm.  
Mary Celstia Perfume
(Update October 2014) 
This unusual perfume has been named after the shipwreck Mary Celestia which sunk in Bermuda's waters in September 1864. During an ocean storm in 2011, several hidden parts of the wreck were exposed including its bow, and several articles were recovered including a box that was being smuggled to South America. And inside the box was a sealed metallic perfume bottle with 'Piesse and Lubin London' marked on it. Piesse and Lubin used to be a well known perfume maker at that time (they no longer exist though). When opened, the grapefruit with citrus odor was fresh and inviting. 
After research, the formulae has been re-created and the same perfume re-launched in September 2014 by Bermuda Perfumery under its Lili brand after exactly 150 years from the time the ship wrecked. The launch was premiered in New York and attended by celebrities such as Cetherine Zeta Jones and many others. This is a limited edition perfume offering only 1864 nos. of bottles (it's the year in which the ship sunk). They are now available in the island for purchase till stocks last. You can now smell the scent which is 150 years old. It's packaged in genuine cedar box and retails at $225. Part of the sales earning goes towards preserving Bermuda's shipwreck heritage.  
Raj Bhattacharya
Raj is an avid traveler and a full-time travel blogger. He has traveled to numerous countries across the world and loves to keep travelling. His mission here is to help viewers like you visiting Bermuda or seeking insights into related matters with the most comprehensive content. Since years now he has been helping countless viewers by posting quality articles on this website, answering questions and sharing experiences. Launched in 2008, this website is Bermuda's leading source of online information since many years. 
Related Articles
Visitors' Reviews & Comments
William Cella (June 2014) 
I have used Royall Lyme for decades; however the last two bottles did not have the same distinctive fragrance. I have since learned it is being made in the States and that the formula was altered. Is the Royall Company still in business and, if so, how do I go about Purchasing directly from them. Thank you. 
Raj (bermuda-attractions.com) June 2014 
Here are the list of stores that retail Royall Lyme and other Royall products in Bermuda. You can also purchase the items online directly from their website. 
Gibbons Company & stores in Dockyard & St. George 
Carole Holding stores 
AS Coopers & hotel stores 
English Sports Shops 
Brown & Co. 
Bermuda Duty Free Shops at airport 
Marci Walker (June 2014) 
My husband and I are so excited to be on our way to Bermuda in celebration of our 41st wedding anniversary. I've always wanted to visit a perfumery and do so look forward to this wonderful experience. I own a hair salon and have three sisters so... I look forward to purchasing some fragrant treasures for my special folks. Thank you for this blog. Bermuda...Here we come. 
Judith Laundry (June 2013) 
I will be visiting Bermuda again in April and would like to know if you still have this perfume (Lily and Coral)? Thank You 
Raj (bermuda-attractions.com) June 2013 
Hi, Lily and Coral perfumes are very much on sale in Bermuda Perfumery (Stewart Hall, St George's). So you will get them when you return.