White Horse Pub & Restaurant Bermuda
$$, Bermudian Cuisine 
The White Horse Pub and Restaurant is one of Bermuda's oldest and well known pubs, located in St. George in the eastern end of the island and right on the water edge. It offers nice pub food and lively bar scene. They have recently made much improvements. They offer a fairly wide selection of food menu including a range of very nice seafood, quality AAA Angus beef items, great appetizers, larger average portion sizes, and healthier meal choices including a wide selection of salads to choose from. 
In Appetizers start with chicken tandoori skewers or crab paradise as starters or choose a soup or salad like tropical island salad (sliced chicken breast served with greens), In main courses some of our favorites here are pan seared rockfish, char broiled wahoo fillets, tandoori chicken (grilled in earthen oven) and grilled beef tenderloin. 
White Horse Pub and Restaurant, Bermuda 
Photo: White Horse, Bermuda 
White Horse also has a nightclub open Monday through Thursday called
LIGHT nightclub
that offers live entertainment till 3 am. There is also a store outlet for guests to take home souvenirs, shirts, hats and such. White Horse now has one of the largest drink menu's available on the island. 
It consists of mostly specialty cocktails and drinks. You can enjoy a nice selection of drinks, from frozen Daquiri's and Margaritas to flavored Mojitos, Cocktails, Martinis, Shooters and normal beers, wines, sodas and juices. 
During the summer time, the White Horse also has an outside bar. Here you can  watch the boats and yachts pass by. They also provide inside and outside waterfront dining in a relaxed atmosphere. The White Horse Pub and Restaurant now features live music every Tuesday night during the summer. One of Bermuda's leading  band Frontline performs outside from 10pm-3am at the Native Islander Bar. 
The White Horse also has a great Sports Bars in the East End, with wall to wall television and plasma screens. There are four satellites to choose the channels from. They show a selection of NBA, NHL, NFL, Baseball, Nascar, Soccer and Premiereship Soccer games. 
They accepts credit cards. You can make reservations for groups, otherwise not required. Dress code is smart casual. 
White Horse Pub and Restaurant Bermuda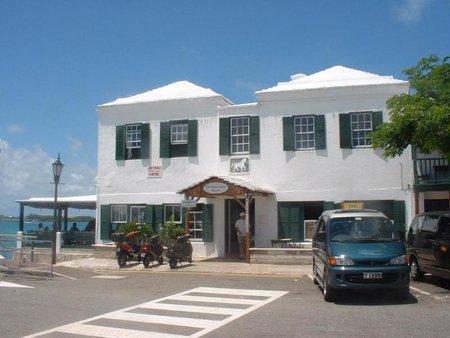 Photo: White Horse, Bermuda 
Indicative Prices
Soups and Salads: $6-$12, Appetizers/Starters: $10-$16, Main Courses: $25 to $30. 
Pub fares like chicken wings, nachos, burgers etc are priced in the range of $9 - $17 
Open Hours
Monday-Sunday: 11am-10pm for lunch and dinner and Bar open till 1am or later 
Happy Hours : Monday-Friday from 5-7pm (beer and regular drinks @ $5). 
Location and Contact
White Horse Pub and Restaurant, 8 Kings Square, St. George GE 05, Bermuda 
You can reach Kings Square from Hamilton by bus #1,3,10 or 11. From dockyard, there is a direct ferry to St George (limited runs only between April to November). From St George ferry stop, it's a short walk to the restaurant. 
Road Map 

By Raj Bhattacharya 
Raj, a seasoned travel writer and Bermuda destination expert, has extensive global travel experience. This website reflects his profound insights, garnered over nearly two decades of dedicated findings and research on the island. Raj has assisted countless Bermuda-bound visitors by providing direct, personalized responses to their queries and imparting his wealth of knowledge through this platform. This site serves as an indispensable guide for those seeking informed and reliable insights into Bermuda's treasures. 
Related Articles
2) Check out
Top Cheap Restaurants
to know about the inexpensive dining choices in Bermuda that serve great dishes and are quite popular in the island. 
6) Check out
St George's Town
to know about the historical Town of St. George, its attractions, activities and more. 
7) Check out
St. George's Parish
to know about the parish and all its attractions and activities. 
Reviews and Comments
Kathy and Tom Love (September 2017) 
Folks at the White Horse Tavern were very helpful and the food was exceptionally good... as it was when we first experienced it almost 50 years ago. 
Raj (bemuda-attractions.com) March 2015 
Unfortunately the service quality in this great restaurant is on the decline. Nonchalance on part of the staffs and unprofessional behavior is seriously affecting the rating of this restaurant. It used to be listed as part of my Top Restaurants in Bermuda, but no longer so. Hope the management looks into the issue urgently.