Somers Wharf Bermuda
St George Shopping & Dining
Somers Wharf is a nice shopping and dining complex in St. George Bermuda. It's located along the dockside of the Water Street and easily accessible from
Kings Square
, the main town center. The name of the complex comes from the founder of Bermuda, Admiral Sir George Somers, who and his men landed in Bermuda at St. George in 1609 after their ship was wrecked at a nearby reef. Their arrival finally led to the British settlement in the island.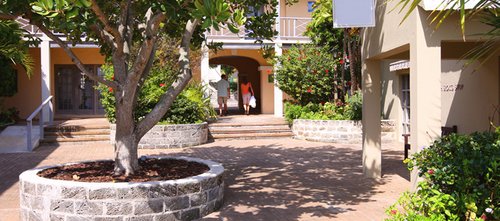 Photo: Somers Wharf Bermuda 
During those days and for more than a century, Somers Wharf was mostly used as a ship building facility. Bermuda made sailboats were of high demand those days all over the world. Until recently, a part of the Somers Wharf area was used as coal filling station for ships that passed by Bermuda. You can still find some of the old coal sheds in the complex, but now they have been converted to house local businesses and artists who make their own art and craft. 
During the World War-II, Allied forces had a base here after US built an air and military base in St. David's island across the harbor. During the American Civil War, Somers Wharf was used as the Head Quarters for the office of the US Consul General Charles Maxwell Allen. Today the complex offers a series of quaint shops and dining places in a village like setting.  
As you walk along the narrow cobblestone lanes, you will find shops selling all kinds of stuff that are great as souvenirs and even personal use. There are local art and crafts, crystals, sea glass jewelry, fine European china, classic Bermuda shorts, trendy beachwear and lot more. 
The waterfront of Somers Wharf has always been a center of cultural events. The is a venue of Bermuda's Gombey Dancing, artists showing their wonderful local artwork, and events like Fitted Dinghies Races taking place across the harbor. And there are great waterside restaurants offering local delights like freshly caught lobster, spicy Bermuda chowder (a thick soup made of ground fish head) and more. You get marvelous view of the
St. George's Harbor
from the open patios of many of these waterside restaurants. Some of the popular restaurants here includes the one at Old Carriage House (the recent one being Tempest opened in August 2014) and the
Tavern By the Sea
. 
Here is a complete list of shops and restaurants in the complex with brief descriptions of their offerings, opening hours and contact details: 
Woolfworks 
Decorative paint fishes for walls and furniture. 8:30am - 5pm. Phone: 441/296-2431 
Bermuda Beauty Crafts  
Retail shop selling gift and souvenirs, local art and craft, sun protections, Panama straw hats etc. 
Mon-Fri: 10am - 7pm; Sat/Sun: 1-4pm; Phone: 441/297-1605 
Chris Dawson Fine Art Studio 
This is a retail outlet of a local artist specializing in seascapes, oil portraits, figurative landscapes and pet portraits. Mon-Fri: 10am-4:30pm; Sat: 10:30am-3:30pm; Phone: 441/297-4437 
JWSeason.com 
Retail outlet for home furnishing.  
Mon-Fri: 6:30pm-8:00pm; Sat: 11am-5pm; Phone: 441/333-2484 
Amos Art Studio 
Retail outlet of local artists. Artwork includes watercolor, oil and acrylic paintings of landscapes, flowers, animals and undersea scenarios. Tue/Wed/Thu: 10am-4pm during season. Other days by appointment only. Phone: 441/297-2354 
Seaglass 
Gifts and jewelry using Bermuda Seaglass. Mon-Fri: 11am-5pm; Phone: 441/297-4819 
Footprints 
Shoes, handbags and accessories. Tue: 10am-7pm; Wed-Sat: 11am-4pm; Ph: 441/599-0488 
Restaurant and Pub that has an open deck with a lovely view of the harbor. Check out the link for its open hours, offerings and contacts. 
The Whistlin' Frog 
Retail shop selling souvenir items, jewelry and also clothing for kids. 
Mon-Sat: 10am-5pm during season. Phone: 441/297-1304 
Davison's of Bermuda 
Apparel and accessories for all. Mon-Sat: 10am-5pm; Phone: 441/297-8363 
Needles Etc. 
Great selection of knitting yarns, crochet yarns and cotton imported from the UK. 
Mon-Sat: 11am-5pm; Phone: 441/297-5308 
Belinda Tartaglia Gallery 
Retail outlet for fine art, crafts, notecards and ceramics. 
Mon-Sat: 12Noon-7pm; Phone: 441/ 297-0909 
Vera P. Card 
Fine jewelry and gifts from renowned brands. Mon-Sat: 9am-6pm during season. Open hours varies during other months. The shop is closed on February. Phone: 441/295-1729 
An excellent and spacious restaurant serving French home-style food. Very professional service. 
Exotic Creations 
Gifts and souvenirs. They also keep nice selections of dresses. 
Mon-Thu: 10am-5pm; Fri/Sat: 10am-6pm; Sun: noon-6pm; Phone: 441/734-2954 
The Island Shop 
Collections of original giftware from artist Barbara Finsness. They also keep tableware, hand towels, ceramics etc. Mon-Sat: 10am-5pm; Phone: 441/297-1514 
Tranquil Hair and Beauty 
Hair salon. And also offering massages, facials, pedicures and manicures etc. 
Mon/Wed/Fri: 9am-6pm; Thu: 91m-8pm; Sun: 9am-2pm; Phone: 441/297-0026 
Following are the establishments at the Upper Level of Somers Wharf 
PJP Consultants 
Provide consulting services in the areas of air and Space law, Admiralty and Maritime law, Satellite communications, urban and city planning, electoral reform etc.  
Mon-Fri: 10am-4pm by appointment; Phone: 441/531-7007 
Meyer Executive and Shipping 
Executive office for the Meyer group of companies and also a branch office of Mayer shipping. 
Mon-Fri: 8:30am-5:30pm; Phone: 441/297-2303 
Helping Hands Healthcare  
Agency specializing in home healthcare.  
Mon-Fri: 9am-6:30pm; Sun: 12-2pm; Closed on Sat. Phone: 441/296-1781 
Island Scrubs and Medical Supplies 
Medical supplies etc. and also uniforms for nurses etc.  
Mon-Fri: 9am-7:30pm; Sun: 12-5pm; Closed on Sat. Phone: 441/296-1781 
E. Spread Ltd 
Office for Product Development; Phone: 441/297-3344 
D. Taggart Ltd 
Intellectual Property Rights; Phone: 441/737-3440 
St. George's Foundation 
Office of the registered charity organization promoting heritage and history of St. George's. 
Mon-Sat: 10am-4pm; Phone: 441/297-8043 
Related Articles
2) Check out
St George's Town
to know about the historical Town of St. George, its attractions, activities, restaurants, hotels and more. 
3) Check out
St. George's Parish
to know about the parish where the town of St. George is located and all its attractions and activities. 
Visitors' Reviews and Comments
Review and share your experience.