Tempest Bistro
$$, French 
X PERMANENTLY CLOSED
---
The Restaurant and Ambience
Opened in August 2014, this restaurant is located at the Old Carriage House in St. George and run by the same owners who have earned good reputation for their restaurant
Mad Hatters
in Hamilton. Tempest Bistro has added on to their reputation and has become another example of serving great homemade style French food that are moderately spicy but rich in flavor and backed by a friendly welcoming service. 
It's a spacious restaurant and the ambience inside is elegant. This used to be the store house of horse drawn carriages that were once a popular form of transport in this old town. The same structure of the building and its aura have been retained. You can see the large arches on walls and cedar beams on the ceilings. Elegant and cozy interior finishing have been done like comfortable chairs with enough elbow rooms, chandeliers on the ceilings, wall lamps etc. Although the restaurant does not have outdoor seating it has a good waterfront view and has a peaceful environment. 
Tempest Bistro, Bermuda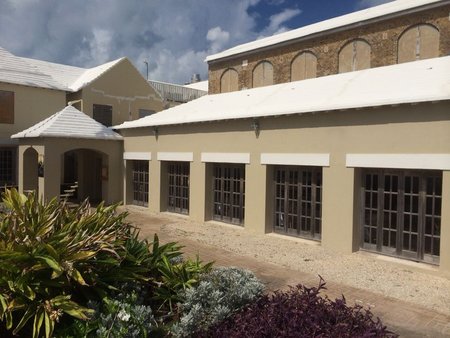 Source: Tempest Bistro 
Food and Drinks
They have an inventive menu with high quality ingredients and a flair for taking on classic Bermudian dishes and making them better. The portions are sensible so you can really enjoy it. 
During lunch the menu includes daily specials (the staff would be mostly talking about this), and we recommend picking out the specials (as they are truly special!). Other dishes like fish chowder, spinach salads, crab cakes, chicken wings, shrimp preparations, strip loin, etc in entrees are good choices.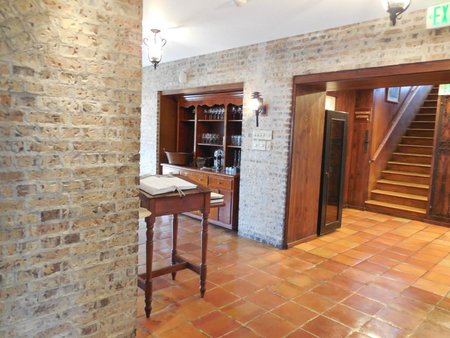 Source: Tempest Bistro 
There are some interesting salads on the menu like Nicoise with Mahi Mahi and the fish salad with banana and avocado (as strange as it might sound, is quite delicious). The duck prosciutto with arugula salad and the pumpkin and cauliflower soup go very well too. They have nice vegetarian options as well and can do gluten free dishes too on request. Food is consistently good. 
You can start off with the perfectly crusty bread that they serve followed by one of their delicious appetizers. The Escargot appetizer is a particular standout. The Smoked Duck salad with arugula and shaved fennel too is great. The asparagus risotto is very appetizing and satisfying without being too heavy. There is also the grilled shrimp and scallops with white wine and herb sauce and seared duck breast with a local berry compote. 
For entree the rock fish preparations are one of the best here especially the pan seared rockfish and the rockfish with citrus and beurre blanc. In fact the sauces here are really incredible. The filets, mussels, crab cakes, soft shells, roasted chicken and gnocchi are all quite tasty. 
The rib of beef with barbecue sauce is extremely tender and juicy and the sous-vide poached egg offers unique sensory pleasure with its smooth velvety yolk quite delicate and the trout and red snapper are very tender and cooked to perfection. The roasted potatoes, green beans and carrots that are served with the mail course are simply perfect. 
Inside Dining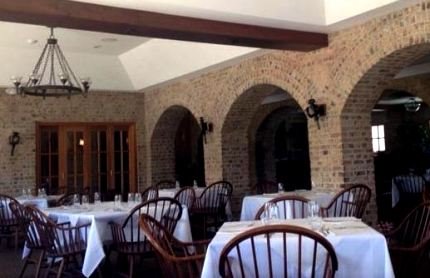 Desserts too are fabulous. They are home-made and sometimes it makes you wonder what they were putting together! The Bermuda banana bread and butter pudding is great and worth a try. The bar has nice wine selections and beer. 
The Service
Staff are quite friendly and accommodating. They can also advise you on the daily soup, appetizer and dinner specials. However the team is very small and they back up for each other. So when the restaurant gets full, you will often see more than one staff coming to you in rounds and the service may get broken and become patchy. However we have to say that they do try their best to manage all the tables well, get the food out at a good pace and make sure everything runs as it should. 
Trivia
Several restaurants had operated out of this space earlier (like the Polaris) but had to wind up their businesses due to lack of demand. However it looks like a different story with Tempest . You need to be early for lunch and dinner as the tables seem to get filled up quickly, particularly on the week ends. 
If you are in a large group this place is a good choice as they can handle large numbers with perfect gourmet quality tasty foods. Apart from the view, there are also nice art stores and bars in the immediate vicinity. You will also find a lot of locals here usually celebrating special occasions. The restaurant however might be a bit of a challenge if you have mobility issues as the restrooms here are up a decent flight of stairs. 
They accept cards and cash. Dress code is casual. 
Conclusion
When in the old town of St. George, this is a must-visit place for a nice hot meal in a quaint and cozy environment. The brick walled interiors make it feel nautical and historic. The restaurant is not much more expensive than most other similar category places on the island where you would have dined, but the flavors here are intense, the presentations beautiful, the staff wonderful and the ambiance stunning. It is a wonderful way to celebrate either the beginning or the end of your holiday in Bermuda! 
Open Hours
Monday (only dinner): 6pm - 9pm 
Wednesday - Saturday: 12noon to 2:00pm, 6pm to 9pm      
Sunday (only lunch):  11:30am - 2:30pm 
Location and Contact
22 Water Street, St. George 
Buses (#1, 3, 10, 11) operate between Hamilton and St. George. From Kings Square (town square), you can easily walk down to the restaurant. Orange Route Ferry also operates between Dockyard and St. George during summer. 
Road Map 

By Raj Bhattacharya 
Raj, a seasoned travel writer and Bermuda destination expert, has extensive global travel experience. This website reflects his profound insights, garnered over nearly two decades of dedicated findings and research on the island. Raj has assisted countless Bermuda-bound visitors by providing direct, personalized responses to their queries and imparting his wealth of knowledge through this platform. This site serves as an indispensable guide for those seeking informed and reliable insights into Bermuda's treasures. 
Related Articles
Visitors' Reviews and Comments
Share your experience.