Tempest Bistro
$$, French 
Opened in August 2014, this restaurant is located at the Old Carriage House in St. George and run by the same owners who have earned good reputation for their restaurant
Mad Hatters
in Hamilton. So far, Tempest Bistro has added on to the reputation and has become another example of serving great homemade style French food that are moderately spicy but rich in flavor with a friendly welcoming service. 
It's a spacious restaurant and the ambience inside is elegant. This used to be the store house of horse drawn carriages that were once a popular form of transport in this old town. The same structure of the building and its aura have been retained. You can see the large arches on walls and cedar beams on the ceilings. Elegant & cozy interior finishing have been done like comfortable chairs with enough elbow rooms, chandeliers on the ceilings, wall lamps etc. 
Several restaurants had operated out of this space earlier (like the Polaris) but had to wind up their businesses due to lack of demand. However it looks like a different story with Tempest . You need to be early for lunch and dinner as the tables seem to get filled up quickly, particularly on the week ends. 
During lunch the menu includes daily specials (the staff would be mostly talking about this), and other dishes like fish chowder, spinach salads, crab cakes, chicken wings, shrimp preparations, codfish with avocado & bacon, sausages, fish & chips, risotto etc. In dinner several other nice dishes get added like carrot soup, arugala salad etc in appetizers, pan seared rockfish, strip loin etc in entrees. They have nice vegetarian options as well. Food is consistently good.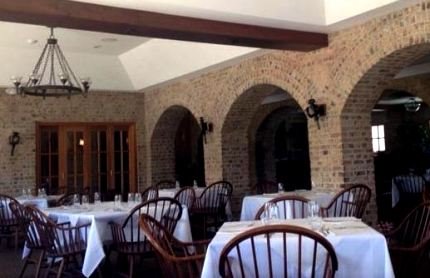 Staff are quite friendly. However the team is very small and they back up for each other. So when the restaurant gets full, you will often see more than one staff coming to you in rounds and the service may get broken and become patchy. 
The bar has nice wine selections and beer. They accept cards and cash. Dress code is casual. 
Open Hours
Monday (only dinner): 6pm - 9pm 
Wednesday - Saturday: 12noon to 2:30pm, 6pm to 9pm      
Sunday (only lunch):  11:30am - 2:30pm 
Location and Contact
22 Water Street, St. George 
Buses (#1, 3, 10, 11) operate between Hamilton and St. George. From Kings Square (town square), you can easily walk down to the restaurant. Orange Route Ferry also operates between Dockyard and St. George during summer. 
Road Map 
Raj Bhattacharya
Raj is an avid traveler and a full-time travel blogger. He has traveled to numerous countries across the world and loves to keep travelling. His mission here is to help viewers like you visiting Bermuda or seeking insights into related matters with the most comprehensive content compared to any other online resources. Since years now he has been helping countless viewers by posting quality articles on this website, answering questions and sharing experiences. Launched in 2008, this website is Bermuda's leading source of online information since many years. 
Related Articles
Visitors' Reviews & Comments
Share your experience.