Mad Hatters Restaurant Bermuda
$$, European with Thai and American Fusion 
The Restaurant and Ambience
This is a small elegant restaurant tucked at the western end of Hamilton City. Although it's a bit of a walk from Front Street, it's worth considering the quality of food, the nice friendly ambience and great service. True to its name, the walls and ceilings of the restaurant are full of different kinds of hats of all shapes and sizes, some quite crazy looking. Actually the co-owner Mark Turner would encourage you to pick and wear one of them as you dine. 
In the evenings when you walk into the dining room, you are likely to see guests wearing colorful hats as they sit around the tables and dine. It creates a festive and casual atmosphere which is the whole objective here. The restaurant is jointly owned by Mark and the head chef Ben Jewett. Mark's management skills and Ben's culinary skills combined has created a restaurant which has earned a great name for itself. 
Mad Hatters 
Source: Mad Hatters 
The inside dining is relatively small and has just 8 tables. The seating, carpet and decor is a bit dated and might need an upgrade, but thematically it still works with all the hats. There is also an outdoor dining in the patio. During summer the outdoor patio would be a great place to dine as it is cozy and comfortable and the space inside gets quite full and looks a little crammed at times. However note that the patio seating sometimes subjects you to smokers' exhaust from the porch of the adjoining club and background music from within it. 
Inside Dining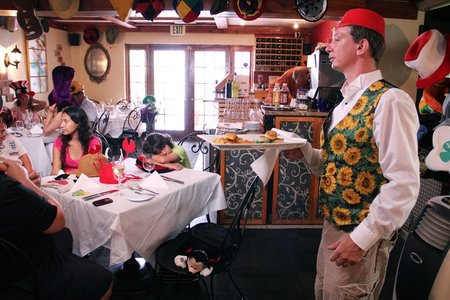 Source: Mad Hatters 
The restaurant has an open kitchen and while seated in the dining room, you can see the chefs preparing the dishes. So don't be surprised if the chef suddenly pops out his head to say "hi" and asks how everything is going. While there is a set menu, there are also daily specials which change quite frequently. Mark will explain the specials. He speaks a be a bit too fast at times to understand, but if you call him he will happily come to let you know about the day's specials. 
Food and Drinks
They don't have a proper menu card or booklet, but have the items and the rates printed out on a piece of paper. There is also a set dinner menu which includes soups and salads, appetizers and entrees. You will find  a little Asian touch on their classics and the portions are just right. 
However, the restaurant is all about their "specials". The list is extensive and changes daily based on the fresh selection of fish and vegetables, all nicely prepared and it feels like a new experience each time. So don't judge the menu until you hear the specials as there is bound to be something on the specials menu that each person in your group will want. 
Patio Dining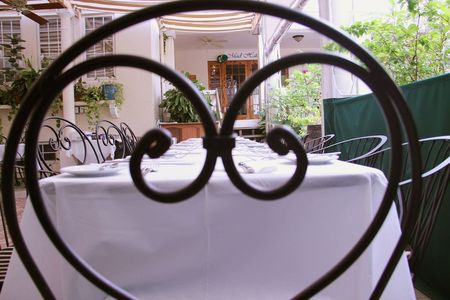 Source: Mad Hatters 
Here are some of the great favorites in Mad Hatters... 
In soups and salads, go for wild mushroom consomme which is laced with coconut and red chili milk, or the Spinach and Arugula with fire roasted pepper that comes with toasted almonds crisp ginger and teriyaki dressing. You can also try the onion soup or the carrot and nutmeg soup which come packed with flavor. In salads, the arugula salad with bacon wrapped scallops is a great choice, especially because of the sauce on the scallops. 
In appetizers some popular items are Portobello mushroom served with olive and sun-dried tomato, arugula and goat cheese, crab cakes with sweet chili and lime aioli, and mussels served with a choice of garlic cream sauce or Thai curry coconut milk. The crab meat appetizer is delicious too. 
In entrees  the lamb chops, mashed potatoes and gravy is incredible. One of their snapper specials (don't miss this one if you happen to find it on the menu) - red snapper, crab meat and cucumber beurre blanc sauce is delectable. 
Besides these, there are quite a few great choices. some of our personal favorites here include sea scallops and shrimps, sautéed rockfish, roasted breast of duck (served with candied pears and foie gras), rack of lamb, beef steaks (tenderloins), veal medallions , duck a l'orange etc. The rockfish, shrimp, lobster tower entree is perfectly prepared in a wine sauce with mixed vegetables cooked al dente and served family style, the portion size is enough for two to share. All entrees come with some accompaniments like vegetables, rice, sauté cajun potatoes, croquettes etc. 
Source: Mad Hatters 
In desserts you get items like Mango Cheescake Chocolate, Strawberry Sponge Roll etc.However, the bread pudding that comes with a custard side is really good and so is the frozen mocha cheesecake which is like an ice cream cake that starts with a chocolate taste but finishes with a cheesecake flavor. You can also finish with a chocolate walnut brownie with chocolate glaze and ice cream, that rounds off the meal just perfectly. 
When it comes to vegetarian main meals , there's however not much to offer on the menu, although the chef can rustle up a good (usually turns out exquisite!) vegetarian dinner of salads, risotto, spring rolls, croquettes and other veggie items, for you on request. Moreover  everything on the menu can be prepared gluten free, so that's a great thing on offer. 
There is a bar tucked at the corner offering nice selection of spirits, wine by the glass and beer. 
The Service
The staff here is very professional and attentive yet friendly. They are quite amicable and can give you excellent recommendations of nearby activities, bars and places to visit. They are usually well aware of the menu, but ensure you take care in mentioning food allergies if any. 
Trivia
Due to relatively small size of the restaurant and high demand, you should make a reservation in advance. Dress code is smart casual. Like all other restaurants in Bermuda, this too is a bit pricey but in our opinion they provide relatively good value. There is plenty of parking space available if you are planning to drive down. 
Conclusion
Probably what makes this "hidden gem"  better than most is because it is a little off the beaten path, quite literally. So apart from food, service, menu choices, presentations, make the most of this unique little place with some great photo shoots while having your drink and waiting on your food . The 'hat concept' is actually a fun way to remember a great meal on the island. You might just end up exchanging hats with your neighboring table and creating a ripple effect throughout the restaurant! With its reclusive setting, this could just be one of Bermuda's best kept secrets and though the restaurant is small, that's probably part of its charm. 
Indicative Prices
Lunch: You can go for a choice of two courses for $26 and three courses for $30. Lunch specials can be availed at a additional charge of $5-$10 
Dinner: Appetizers come for anything between $18-$22 while soups and salads range between $9-$25. Entrees will cost you around $40-$46 
Wines: House Wines by the glass costs around $12 or by the bottle around $49.  
If you are in a big group of 10-14 or more, they even have special platter rates and if you happen to be on the island during Christmas time, they offer special Christmas Lunch, Dinner and platter menu. 
Unlike most restaurants in the island, Mad Hatters does not add gratuity to the bill. They leave it to you for how much you like to pay, which I think is a welcome approach rather than adding 15% irrespective of whether you liked the service or not. But I must say that our experience of the service has been quite good and friendly. 
Open Hours
Lunch: Monday to Friday from 12noon – 2:30pm 
Dinner: Monday to Saturday from 6pm to 10pm. 
Closed on Sundays and Public Holidays 
Location and Contact
From the western end of Front Street, walk down the Bermudian Road (with the harbor behind you). The road will merge with Richmond Road which then turns left. Take the turn and you will find the restaurant on the left. 
Road Map 
Mad Hatters Restaurant 
22 Richmond Road, Hamilton, HM 08 
Phone: (441) 297-6231 
Related Articles
2) Check out
Top Cheap Restaurants
to know about the inexpensive dining choices in Bermuda that serve great dishes and are quite popular in the island. 
Visitors' Reviews and Comments
Gretchen (April 2016) 
We dock at Kings Wharf..going to dinner at the Mad Hatter. Can we do this via ferry and walking? 
Raj (bermuda-attractions.com) April 2016 
Yes, it's about 350 yards walk from Hamilton ferry terminal along Bermudiana road. Check the last ferry timing on your return.