St Georges Harbor Bermuda
This natural harbor is located in eastern Bermuda and is part of the St George Parish. St. George Harbor is surrounded by St. George Island at its north and St David's Island at its south. 
The St George port and the cruise ship terminal are located on the harbor shore at the St. George Island. The channel though which the cruise ships enter is at the eastern end next to the Paget Island. 
St. George's Harbor, Bermuda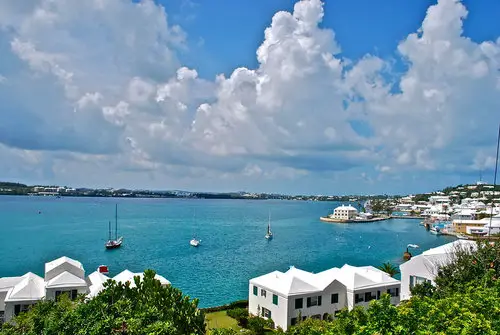 Photo: Photo: Five Furlongs, cc by-nd 2.0 
Since the St. George Channel has narrowed down considerably and also become quite shallow, only small to medium size passenger ships can enter the harbor these days. Most of the large ships dock at the Royal Naval Dockyard at Ireland Island located at the west end of Bermuda. 
The port at the St George harbor is the only port of entry for all Yachts coming to Bermuda. They must clear customs and immigration at the Ordnance Island before proceeding to the other places within Bermuda's water area. 
There is a long channel called
Ferry Reach
that goes from St. George Harbor towards south and connects with the beautiful
Castle Harbor
. There are number of small islands in St George harbor. Few of them at the eastern end block the opening to the Atlantic and also isolate the Smith's Sound. 
One historically significant island in the harbor is
Ordnance Island
which is connected to Town of St George by a bridge. This is where the ammunitions of the forts around St George's used to be stocked during the British period.  
In 1609 George Somers and his men landed on the shore of the St. George harbor once their ship
Sea Venture
got wrecked at the reefs. This is when the first British settlement in Bermuda started. 
Soon after the settlement, the British had built a number of forts around St. George's to protect the north-eastern coastline as this was the main gateway to Bermuda. 
Other than from St. George's Town, the Royal Navy also initially operated out of the facilities of Convict Bay at St George Harbor in 1700s. This place which is now a residential area, was named Convict Bay because the navy brought in obsolete warships and used them as floating prisons for convicts. The navy later moved out this place once the Royal Naval Dockyard was built at the western end. 
Road Map Location
Related Articles
1) Check out
St George's Town
to know about the historical Town of St. George, its attractions, activities, restaurants, hotels and more. 
2) Check out
St. George's Parish
to know about the parish where the town of St. George is located and all its attractions and activities. 
Visitors' Reviews and Comments
Review and share your experience.